There's no reason to leave these creatures to chance: if wasps begin to swarm around your property, it's time to run!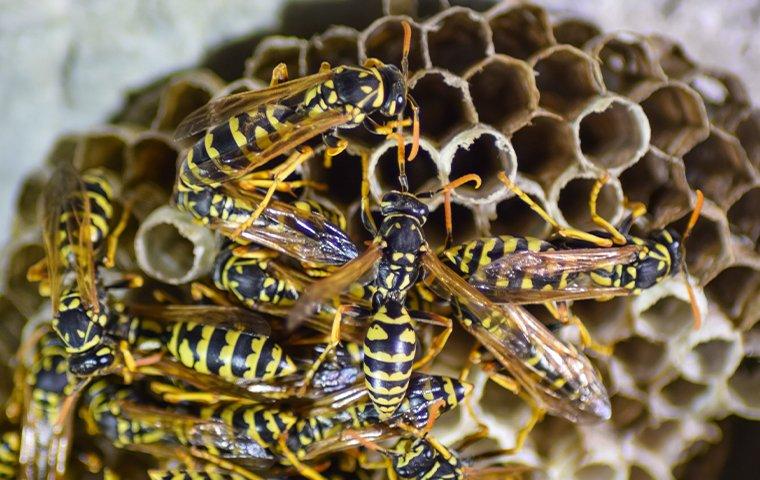 Common wasp species that nest in our Elk Grove area include black wasps, yellow jackets, paper wasps, potter wasps, and spider wasps.

Do you know why these creatures are just so dangerous? The life cycle of the average wasps involves slow starvation at the end of the year, driving many of the pests insane with hunger. Emerging from nests built with cellulose around the eaves of homes and trees, these highly aggressive pests are prepared to sting anything (and anyone) in their path. Victims will experience pain, swelling, and a possible restriction of breathing.
The Good, Bad, And Ugly Of DIY Wasp Control
Thanks to their many dangers, there are thousands of articles online detailing DIY methods of removing wasps from the premises. However, many of these techniques may be dangerous, or even make the situation worse. Some of these include:
Essential Oils: This type of topical treatment has been lauded for its use in reducing the number of stinging pests about the yard. However, essential oils do not kill wasps, nor are they capable of deterring the entire population.

Over The Counter: Some types of wasp treatments and traps work to eliminate individual pests but not their entire colonies. What's more, some of the chemicals sold in stores may be dangerous to the health of you and your family.

Soap And Water: Some believe that a mixture of insecticidal soap and water will effectively eliminate wasp nests. However, this idea is iffy at best. You may discover you have spent a good amount of money on 'holistic' soaps that deliver no positive outcomes.

Ultrasonic Waves: Technology that blasts invisible soundwaves at encroaching wasps have not been scientifically proven to work.
Even if you believe wasp nests are inactive or empty, there is still a possibility of late-season breeding and stinging dangers. If you think or know that an 'inactive' nest is lingering about your property, consult with the professionals at Pro Active Pest Control right away.
Protect What Matters– Use Pro Active Pest Control!
Any form of pest may be problematic for homeowners, but wasps and their nests pose are among the most dangerous stinging insects to have around your Elk Grove home. Multiple stings, painful venoms, and nasty attitudes will likely ruin any outdoor event. Fall is in the air, and the last days of warmth are coming to a close. Don't let wasps take away your opportunity to socialize and relax outside.
For wasp control or nest removal that is both safe and effective, contact the professionals at Pro Active Pest Control right away. Years of dedicated treatments and helpful customer services have made our company one of the most trusted local businesses in the Elk Grove area. We're proud to be a family-owned business in the pest control industry, and we make every effort to deliver quality results through quality treatments. We implement a three-step treatment system for wasps and their nests, beginning with inspection, elimination, and the removal of any hazardous materials. No matter what size of infestation you may be dealing with, Pro Active Pest Control is prepared to handle it.
Call the Elk Grove office of Pro Active Pest Control today to schedule your wasp treatments and removal procedures right away. Our friendly representatives will answer your questions online, over the phone, or in-person during your home inspection. We believe in protecting what matters, no matter what. Come see for yourself today!