You may have noticed the buzzing, the wings flapping, the brownish-yellow color. It's not a bee or a yellowjacket, though it appears somewhat similar. It is actually a paper wasp, and they seem to be attracted like a magnet to your home. But, why? And how can you prevent them from infesting your property?
At Pro Active Pest Control, we have the experience and know-how to put an end to paper wasps and other pests in the Gilbert area. Our professionals can create a treatment plan catered to your precise pest control needs.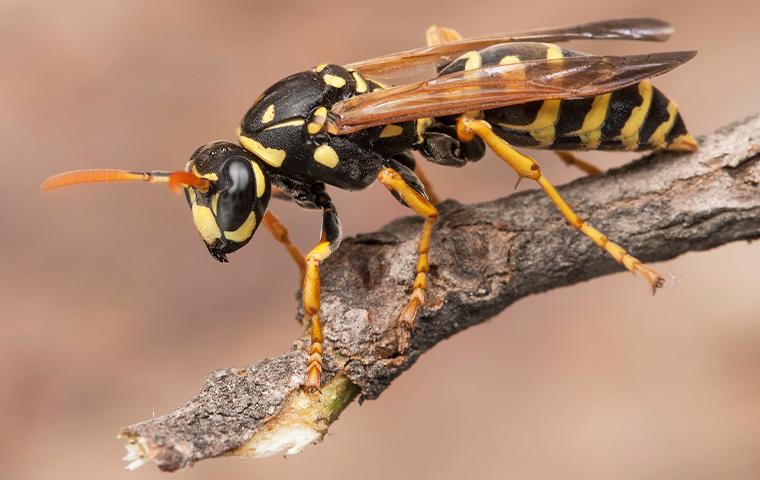 What Attracts Paper Wasps?
Paper wasps are attracted to things that they think they are pollinating. For example, sweet smells, bright colors, and flower-like objects will attract these dangerous pests. Things such as powerful perfumes, colorful clothing, and sweet fruits will make the paper wasp flock to your property, whether the items are inside or out.
Can I Remove A Wasp Nest On My Own?
If you suspect that you have paper wasps in or around your Gilbert home, we highly recommend that you reach our pest control experts as soon as possible. These pests defend their homes with a vengeance, and if they think that you are a threat, they will not hesitate to sting. Even nests that appear inactive can pose a danger to you, so nest removal is always best handled by professionals.
How Can A Professional Help?
At Pro Active Pest Control, we know how difficult these pests can be to remove from your home. Your home should be a safe haven, where you feel comfortable and protected. An infestation of paper wasps is no one's idea of a welcoming addition.
By contacting our professionals with one simple phone call, we will immediately schedule an inspection of your property. Our experts will conduct a search, both inside and out, to find out just what pests are a threat and what the best methods of extermination will be for your needs specifically.
Following an inspection, our pros complete a thorough and comprehensive treatment plan, complete with routine follow-ups. We want to take the burden of paper wasps off of your plate. Let our years of experience and professional treatments remove paper wasps from your home and property.
Can I Prevent Wasps?
You may have seen many methods for preventing wasps from entering your home, or from seeking a habitat in your yard or surrounding property. The best wasp control methods are those that make your property unappealing to wasps in the first place. Some prevention tips include:
Check your yard for any holes in the ground and fill them with dirt.
Inspect trees and brush for any existing nests. If you find any, we do not recommend approaching the nest yourself, but you should reach out to our professionals for assistance.
Keep all doors and windows to the home closed or tightly screened.
Frequently remove trash from the home and the property. When on your property, be sure that trash is kept in lidded trash cans with tightly fitted lids.
Remove food sources from the yard, patio, or deck. Be sure any fruit trees or brush is kept away from the home and that dead or dropped, rotting fruit is frequently removed.
From trash removal to home security, there are a number of ways to be sure paper wasps do not enter your home and are not attracted to your property. If your Gilbert home is beyond prevention steps, or you have seen the signs of the paper wasp during your own routine inspections, we are standing by ready to lend the helping hand.
After years of efficient and effective extermination practices, we are more than ready to take on these paper wasps for any Gilbert homeowner. With Pro Active Pest Control, you can rest assured the job will be done properly with a 100 percent guarantee. At Pro Active Pest Control, we are ready to spring into action with your single phone call. Don't hesitate, and don't try to take these dangerous pests on alone. Call us today to begin your comprehensive treatment plan.