Trust The Professionals At Pro Active Pest Control To Protect Your Woodland, CA Property From Pests
Woodland is located in California and is the county seat of Yolo County. Our area provides residents with plenty of business opportunities and calm residential areas. Woodland is also only 15 miles away from the capital city of Sacramento. Whether you live in the middle of our little town or on the outskirts, Woodland is still an area that sees it's fair share of invading pests. Pests such as rodents, ants, and stinging insects invade Woodland home and business properties, bringing several problems with them. For assistance with your pest infestation, there's no one better than Pro Active Pest Control. We make it a priority to ensure your home or business building remains free of pests year-round. Give us a call today for more information about our commercial and residential pest control services.
Complete Pest Control Solutions In Woodland, CA
If pests are invading your Woodland home or business property, Pro Active Pest Control has a solution for you. We offer extensive pest services for residential and commercial properties to cover everything from bed bug control to rodent control and more. Whether termites are damaging your property or wasp nests are obstructing your doorways, we have a pest control plan that is right for you. Our goal is to keep your property protected from pests year-round. Avoid the stress, damage, and contamination caused by pests when you reach out to the licensed pest professionals here at Pro Active Pest Control!


Residential Pest Control In Woodland, CA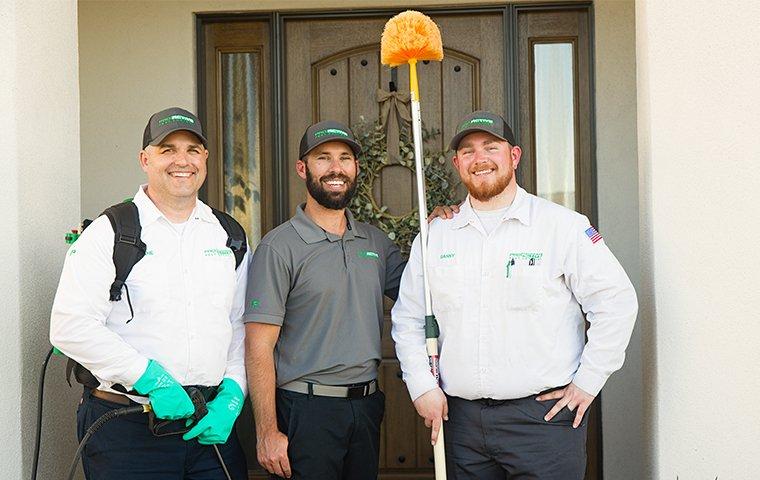 There are many types of pests that invade Woodland homes. Some of those pests are destructive, while others are nuisances. Either way, setting a year-round pest control plan in place for your residential property is an important step to take. Pro Active Pest Control offers effective residential pest control options for Woodland homeowners. Whether you need services for rodents, spiders, termites, or bed bugs, our highly-trained pest technicians have the experience you need for a pest-free home. We are dedicated to providing you with effective pest control treatments that are long-lasting and eco-friendly. Consider Pro Active Pest Control for all of your residential pest control needs. Give us a call today for immediate assistance!
Guide To Avoiding Paper Wasps In Woodland, CA
Many types of stinging insects can be beneficial to the environment by pollinating plants and killing insect pests. However, when wasps build nests on or close to your Woodland property, they can become a major problem. Paper wasps are just one of the wasp species that commonly invade man-made structures. These wasps usually won't sting you, although they will become aggressive if you wander too close to their nesting site.
To avoid attracting paper wasps to your Woodland property, consider implementing the following prevention tips:
Cover drinks and open food containers while outdoors.

Pick up empty soda cans before going inside.

Keep your trash bins sealed and stored away from the exterior of your property.

If you own fruit trees, pick up fallen and rotted fruits.

Repair tears in door and window screens.
The best defense against paper wasps is professional wasp control. Here at Pro Active Pest Control, we offer a variety of stinging insect control and removal services. Give us a call today to ensure your Woodland property stays protected against paper wasps and other invasive pests.
Commercial Pest Control In Woodland, CA
If you're looking to protect your healthcare facility, daycare, office building, or other business from invasive pest species, Pro Active Pest Control is the way to go. When you partner with Pro Active Pest Control, we will ensure your Woodland company receives the complete pest protection it needs. Our Integrated Pest Management strategies and eco-friendly service options keep pests out of your business while remaining non-toxic to the environment. All of our commercial pest control services are performed by professional, state-certified pest technicians. We also provide a 100% Pest-Free Guarantee, which means if covered pests return between scheduled services, so will we, at no additional cost to you. Keep your Woodland business protected from pests when you reach out to Pro Active Pest Control today!
Are Wolf Spiders In Woodland, CA Dangerous?
Discovering a spider infestation on a Woodland property is not an encounter anyone wishes to experience. Especially when the spiders you are finding in your home or business are dangerous. Wolf spiders are often intimidating because of their large size and quick movements. Despite their frightening appearance, however, wolf spiders are considered nuisance spiders rather than dangerous ones. Wolf spiders typically avoid human interaction and would rather hide from you than bite you. If you do get bitten by a wolf spider, it can be painful but won't inflict serious damage. Spider infestations can be frustrating to handle and should be left to professional pest control. Pro Active Pest Control provides comprehensive spider control and management options for both residential and commercial properties. Contact us today for more information about all of our spider and pest control options.
Neighborhoods We Service
Ashley | Beamer | Beamer Park | Campbell | Farmers Central | Christiansen | Colfax | College | Conaway | Corkwood Place | Cottonwood | Country Road | Edwards Circle | Farmers | Gibson Ranch | Islands | King Farms | Matmor | Midway Drive | Newton Neighbors | Pioneer | South Woodshire | Springlake Bel Air | Starlyn Park | Topaz Way | Wild Wings | Willow Oak | Woodland | Zamora


Included Zip Codes
95695 | 95776
Request Your Free Quote
Complete the form below to schedule your no obligation quote.
Latest Blog Articles
Stay informed about pests and pest related issues in our area!