Trust The Professionals At Pro Active Pest Control To Protect Your West Sacramento, CA Property From Pests
West Sacramento is a fast-growing, economically diverse, friendly city located in Yolo County, California. It is separated from Sacramento by the Sacramento River. To protect West Sacramento residents and their property from the many pests that also call this riverside city home, Pro Active Pest Control provides eco-friendly, effective, and guaranteed pest control solutions. We are a local, family-owned company that understands the unique needs of Northern California home and business owners. To learn more about Pro Active's residential and commercial pest control solutions, reach out to the area's pest professionals today!
Complete Pest Control Solutions In West Sacramento, CA
There are a number of pests that call West Sacramento home. The pest control experts at Pro Active Pest Control have developed several services to help you eliminate and control pests such as ants, fleas, occasional invaders, rodents, spiders, and stinging insects. Give us a call today for a free quote!


Residential Pest Control In West Sacramento, CA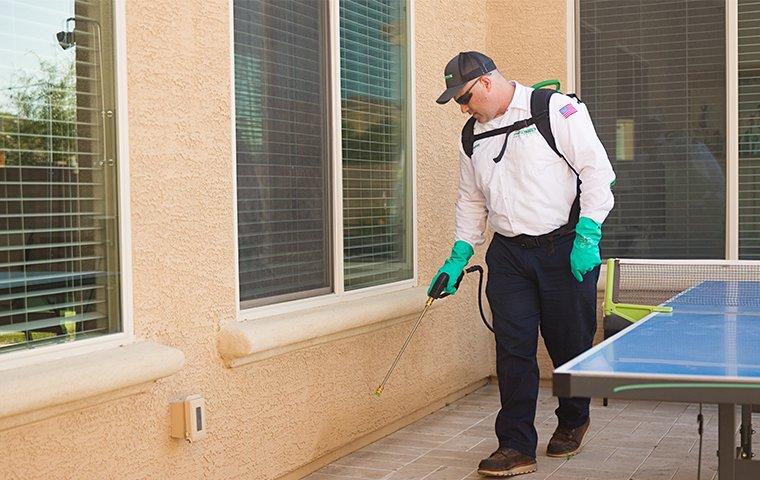 There are many benefits to a residential pest control plan for your West Sacramento home. Year-round pest control stops pests like ants, spiders, mice, centipedes, and wasps before they have the chance to invade your home, saves you money in the long run, and gives you the peace of mind to know that your home is pest free. Benefits of choosing Pro Active Pest Control to protect your home from pests include:
Eco-friendly and green pest control services.

Year-round plans that are 100% guaranteed.

We treat our customers like they are an extension of our own family.
To control pests in Northern California homes we offer 3 plan options:
Monthly Service: 12 scheduled exterior treatments

Bi-Monthly Service: 6 scheduled exterior treatments

Quarterly Service: 4 scheduled exterior treatments
To learn more about our year-round residential pest control options, reach out to us today and speak with one of our helpful experts.
Guide To Preventing Cat Fleas In West Sacramento, CA
Cat fleas are the most common species of fleas that cause problems for people and pets. Cat fleas are most often introduced onto properties by wild animals. They then find their way onto a person or a pet and are accidentally introduced into your home. Preventing problems with cat fleas is important because they are responsible for spreading diseases and parasites to both people and pets. To help prevent cat fleas from taking over your West Sacramento home, here are some helpful tips:
Under the guidance of your pet's veterinarian, place pets on a year-round flea preventative.

Remove bird feeders and wild animal feeders from your property.

Inspect your clothing and pet's fur for fleas before coming inside.

Vacuum your floors regularly.

Wash your pet's bedding regularly.

Never purchase used furniture or rugs for your home, they have the potential to be infested with adult fleas or their eggs.
If fleas do find their way into your West Sacramento home, the easiest and most stress-free way to eliminate them is to contact Pro Active Pest Control. Our professionals will perform an inspection and create a tailored program to eliminate the infestation from your home. To learn more about flea control services, give us a call today.
Commercial Pest Control In West Sacramento, CA
Through our eco-friendly services, you can ensure that your business, its reputation, your customers, and your employees will be protected from local pests. Our highly effective commercial pest control services are performed by specifically trained, state-certified, and friendly professionals. We offer a 100% guarantee and exceptional customer services. At Pro Active Pest Control, we provide effective pest control in a wide variety of industries using an honest approach to provide the most complete solution possible. Our professionals rely on Integrated Pest Management (IPM) to provide long-lasting pest control results while always taking into account the needs of the environment and people. To learn more about our commercial pest control services and why they are the right fit for your West Sacramento business, give us a call today.
Problems Oriental Cockroaches Can Cause In West Sacramento, CA Properties
Oriental cockroaches, like most other species of cockroaches, are considered to be dangerous pests because of the large number of human pathogens, diseases, and parasites that they carry on their body and legs and transmit to people. In addition, Oriental roaches' excrement and shed skins can trigger asthma attacks and allergies in people; especially in young children. Oriental cockroaches are commonly called "water bugs" because they prefer to live in damp dark environments. These roaches are shiny black or dark brown in color and emit a strong musty odor that often gives away their presence in a home. To keep these dangerous pests out of your home, away from your family, food, and personal belongings, let Pro Active Pest Control implement a year-round pest control plan. Our professionals perform a thorough inspection and provide the guaranteed services needed to get Oriental roaches out of your home and keep them from returning. To learn more about how year-round pest control can prevent problems with Oriental cockroaches in your West Sacramento home, contact Pro Active Pest Control today.
Neighborhoods We Service
Broderick | Bryte | City Center | Riverview | Mikon | Old West Sacramento | Peethill | Southport | The Bridge District | The Rivers | Washington Square


Included Zip Codes
95605 | 95691 | 95798 | 95799 | 95818 | 95831 | 95899
Request Your Free Quote
Complete the form below to schedule your no obligation quote.
Latest Blog Articles
Stay informed about pests and pest related issues in our area!