Trust The Professionals At Pro Active Pest Control To Protect Your Vacaville, CA Property From Pests
Vacaville is a city in Solano County and is part of the San Francisco Bay area. Our area is also considered to be part of the Sacramento Valley by some people. Vacaville sits between Sacramento and San Francisco, which gives residents the ability to visit and enjoy all the opportunities these larger cities provide. No matter where you live, however, pest infestations will always be a problem that needs to be solved. Turn to Pro Active Pest Control for effective solutions to all your pest control problems, big or small. We are dedicated to providing you with what you need for a pest-free property.
Complete Pest Control Solutions In Vacaville, CA
Every Vacaville home and business deserves to be protected against the damage, disease, and stress caused by common pests. At Pro Active Pest Control, we offer everything from residential and commercial pest control to termite control and more! Whether you need effective bed bug solutions, rodent-removal services, or general pest control treatments for your Vacaville property, we have you covered! Our number-one priority is the satisfaction of our customers and the protection of the environment, which is why we offer eco-friendly treatment options. No matter what pest service you need, the pest professionals here at Pro Active Pest Control are ready to help. Consider contacting us today for complete protection from pests!


Residential Pest Control In Vacaville, CA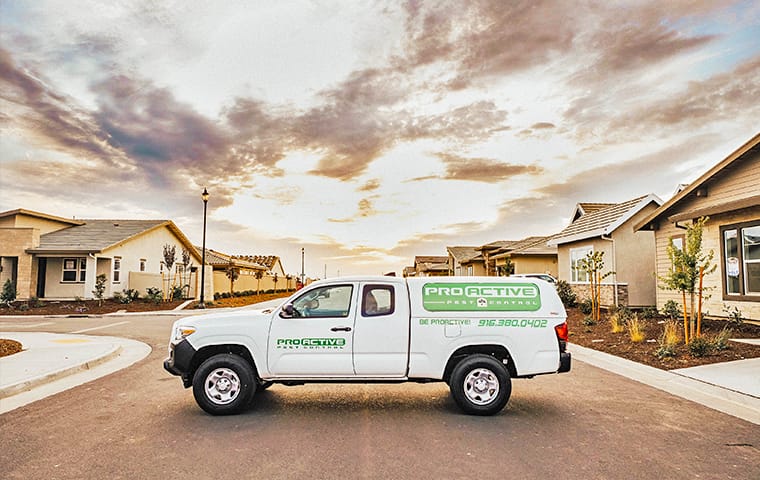 Pests such as cockroaches, rodents, and ants are carriers of many harmful pathogens and bacteria that can spread severe diseases to you and your family. Having pests in your Vacaville home can mean damage to property and the contamination of food items. Here at Pro Active Pest Control, we're here to make sure your home is as protected from pests as possible. With our eco-friendly pest control solutions, you can rest assured your home, family, and personal items will be protected against the threat of invasive pests. Our residential pest treatments are not only effective—but also safe for the environment! Start your journey to a pest-free home when you contact the service representative at Pro Active Pest Control!
How Dangerous Are Black Widow Spiders In Vacaville, CA?
Spiders are some of the most terrifying pests to come across on your Vacaville property. With eight legs, unsightly webs, and the potential to be dangerous, spiders are not a pest you want in your home or business. When black widow spiders invade your property, they aren't trying to get close and bite you. Black widow spiders tend to keep to themselves for the most part, and will only bite if provoked. However, if you happen to get bitten by a black widow spider, there is a long list of severe symptoms that can follow.
Swelling around the bite

Sweating

Restlessness or shock

Muscle cramps and spasms

Fever, chills, nausea, and vomiting

Headache

Severe back, chest, or abdominal pain
If you are bitten by a black widow spider, it is important to seek medical attention immediately. For black widow spider and general spider removal, contact Pro Active Pest Control. We have the experience and tools you need for a spider-free property.
Commercial Pest Control In Vacaville, CA
At Pro Active Pest Control, we understand how important it is to protect your Vacaville business property from pests and the threats they cause for your employees, customers, and the reputation of your business. Whether you're dealing with ants, rodents, spiders, or any other type of commercial pest, we've got your back. We offer effective pest control solutions for a wide variety of industries, including retail stores, warehouses, health facilities, office buildings, and many more. We set the needs of our customers and the environment as our number one priority. We will always provide your Vacaville property with effective pest solutions and exceptional customer service. To avoid the disastrous effects pests can have on your business, reach out to Pro Active Pest Control today!
How To Avoid Roof Rat Problems In Vacaville
Any invasive rodent on your Vacaville property is a major problem. But when you add the ability to climb and squeeze into tight spaces, that rodent problem can become a lot worse. Roof rats are sleek, agile rodents that are capable of climbing trees to reach a roof. When it comes to preventing the problems caused by these dexterous rodents, it's important to avoid attracting them to your home or business. Avoid roof rats with these simple rodent prevention tips:
Keep your garbage cans sealed and stored away from your building.

Store pet food in airtight plastic containers.

Sweep and clean your property regularly.

Remove clutter, papers, and equipment on the interior and exterior of your Vacaville property that may give rodents spaces to hide.

Trim tree branches away from your roof so roof rats don't have access to your attic spaces.

Seal crevices, cracks, and gaps along your foundation, roof, and exterior walls.
Roof rat infestations are best left to professional pest control. If rodents are invading your residential or commercial property, give the pest technicians here at Pro Active Pest Control a call for immediate assistance.
Neighborhoods We Service
Alamo Creek | Alamo Place | Allendale | Allison | Beelard Park | Browns Valley | Buck Extension | Bucktown | Cantelow | Canterfield | Casa Grande | Country Village | Craig Lane | Diamond Grove | Dream Street II | El Matador Mobile Park | Elmira | English Hills | Fairmont | Foxboro | Fruitvale | Fry | Golden Hills | Grammercy Park | Grandview | Hillview | Jepson Estates | La Cresta | La Cruz | Laurel Wood | Leisure Town | LeisureTown II | Lemen | Los Robles | Lovers Lane | Lower Cantelow Road | Mason and Depot | Meadowhawk | Meadowlands | Meridian | Midway | Mix Gates Canyon | Morgan Park | Nelson Park | North Pointe | North Village | Nut Tree | Oak Meadows | Off Of Alamo Drive | Padan Park | Peaceful Glen | Pleasant Valley | Ponderosa Green Tree | Portsmouth Avenue | Quinn Crossing | Rio Dixon | Ridgeview Park Browns Valley | Saratoga | Southtown | Steiger Hill | Sterling | Sterling Chateau | The Estates | Timm East | Twin Creeks | Ulatis | Vaca Valley Parkway | Vaca Villa | Weber | Westgate | Woodcrest | Woodridge | Woodstock Green | Youngsdale


Included Zip Codes
94533 | 95625 | 95687 | 95688
Request Your Free Quote
Complete the form below to schedule your no obligation quote.
Latest Blog Articles
Stay informed about pests and pest related issues in our area!