What do Turkestan cockroaches look like?
Turkestan cockroaches are often called "rusty red cockroaches" or "red runner cockroaches." They are closely related to the Oriental cockroach. What a Turkestan cockroach looks like greatly depends on whether it is a female or male. Females grow to about 1 inch in length and are dark brown to black in color. They have cream-colored markings along the edges of their body and behind their head. Females have short round wings with light-colored stripes along the wing edges. The males of this species are smaller than the females. They are brownish-orange in color and have yellowish-colored wings that extend past their slim abdomen. Males have the same cream-colored markings along the edges of their body as the females.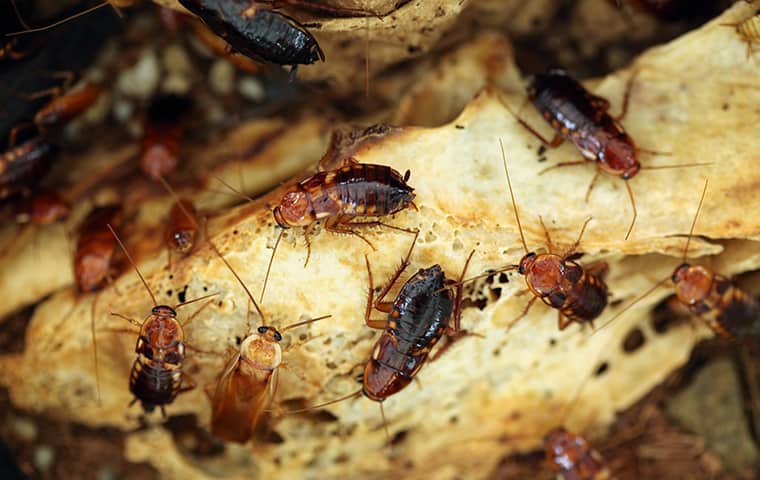 Are Turkestan cockroaches dangerous?
Like other species of cockroaches, Turkestan cockroaches are found inside homes and businesses and can cause significant health problems for people. Their saliva and excrement can trigger allergies and asthma and they introduce bacteria, parasites, and human pathogens that can make people quite ill. They will also contaminate food sources and food-prep areas. Keeping Turkestan cockroaches out of your home and away from your family is important for everyone's health and safety.
Where do Turkestan cockroaches nest?
Turkestan cockroaches prefer to live outside in dark moist areas. They are often found nesting in compost piles, potted plants, leaf litter, in the cracks of concrete, in sewers, inside electrical boxes, or in or around the perimeter of homes and other structures.
Why do I have a Turkestan cockroach problem?
Turkestan cockroaches are commonly sold as food for pet reptiles because they are easy to care for and reproduce very quickly. However, regularly transporting these roaches across the country allows them to continually invade and infest new structures. While these roaches do prefer to live outside, when their population reaches its peak in the summer, they are more likely to find their way inside while out and about foraging for food sources. Male Turkestan cockroaches are attracted to light and are active at night. This makes it easy for them to find their way into a home through spaces around windows and doors.
How do I get rid of Turkestan cockroaches?
When dealing with a Turkestan cockroach infestation, the best thing to do is contact your local pest control company as soon as possible. At Pro Active Pest Control, our experts will come to your aid, perform a thorough inspection, and create a pest control program to help eliminate Turkestan cockroaches as well as prevent future invasions. We use the most modern pest control methods and products possible to control roaches and other common pests found in our area. To learn more about implementing our pest control services covered by our 100% service guarantee for your Roseville, El Dorado Hills, Rancho Cordova, Lincoln, Rocklin, or Sacramento home or business, contact us at Pro Active!
How can I prevent future problems with Turkestan cockroaches?
Preventing problems with Turkestan cockroaches can be a daunting task, but there are some steps you can take to help deter them and prevent them from finding their way inside. Seal any gaps found in your home's foundation, exterior walls, and around utilities, windows, and doors entering into your home. It is also important to eliminate easy access to water sources by repairing leaky pipes and drains and by making sure your gutters are functioning properly. Since these pests are attracted to damp areas, it is important to reduce the humidity levels in your home by running a dehumidifier in the basement and making sure crawl spaces are well-ventilated. Keep outdoor lights off whenever they are not needed. Inside your home, eliminate easy access to food sources by keeping all food items stored in the refrigerator or in containers with airtight lids. Also, make sure to vacuum and wipe down your counters on a regular basis.
Helpful German Cockroach Articles
Request Your Free Quote
Complete the form below to schedule your no obligation quote.
Latest Blog Articles
Stay informed about pests and pest related issues in our area!