Trust Pro Active Pest Control To Protect Your Tracy, CA Home Or Business
Tracy, California is the second most populated city in San Joaquin County. Our motto: "Think inside the triangle," comes from our location within a geographical triangle formed by three different interstates. Despite our lovely community and many agricultural business opportunities, we still face the common pressures of pests. Pests don't belong in Tracy home or business buildings, which is why Pro Active Pest Control provides several different pest control options for Tracy residents. Keep pests away from your property with the help of the skilled pest technicians here at Pro Active Pest Control.
Complete Pest Control Solutions In Tracy, CA
No property is 100% protected from pest problems without having an effective pest control plan. Pests are capable of spreading dangerous diseases, destroying personal property, and disturbing guests. The best way to combat pest problems is with the help of a trusted pest control provider like Pro Active Pest Control. Our licensed pest technicians have what it takes to ensure Tracy homes and businesses stay protected from pests, year-round. We provide residential and commercial pest control services to cover all of the most common pest problems in our area, including fleas, rodents, spiders, ants, occasional invaders, and stinging insects. We make it our top priority to provide what you need to enjoy a pest-free home or business all year long. For more information about our year-round pest control services, reach out to Pro Active Pest Control today.
Home Pest Control In Tracy, CA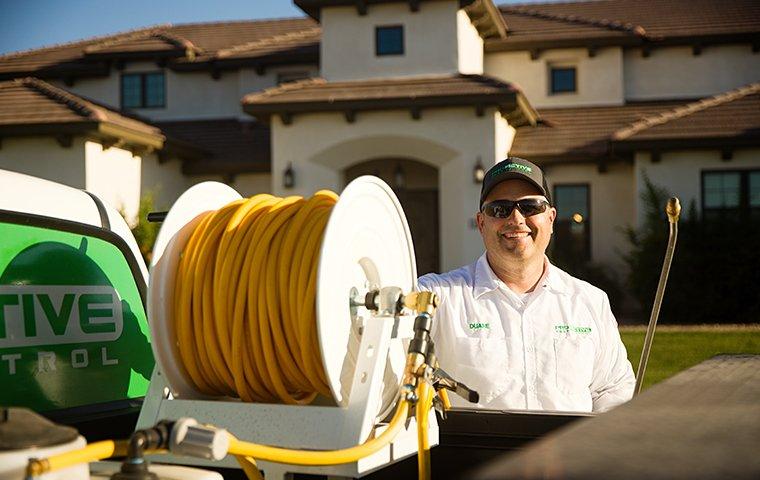 At Pro Active Pest Control, we are always striving to improve our services so that you will receive the best pest control and treatments available. Our goal is to keep your Tracy home free of pests and the problems they bring with them. We utilize Integrated Pest Management (IPM) methodology in all of our home pest control services to provide pest treatment and prevention options that are safer for your family and your pets. We are committed to finding residential pest control solutions that are eco-friendly and non-toxic to ensure that pests are removed from your Tracy property in a safe and efficient manner. Our home pest control solutions include exterior and interior treatments, seasonal pest management, and foundation treatments to create a protective barrier around the exterior of your property. If covered pests return between regular service visits, we'll return to deal with them, at no extra charge. Contact us today to enjoy a pest-free home.
Commercial Pest Control In Tracy, CA
Pests such as rodents, cockroaches, and spiders are capable of spreading harmful diseases into your Tracy business as well as disturbing employees and customers. No matter what industry your business is in, pests are a threat to your company and your reputation. Even the most loyal customers probably won't stick around if they spot pests in your facility. At Pro Active Pest Control, we customize our commercial pest control programs to meet the unique needs of specific businesses. With our skilled pest technicians on your side, you can rest assured that your commercial building will remain pest-free all year long. When you partner with Pro Active Pest Control, you can expect the use of eco-friendly treatments, Integrated Pest Management, and our 100% pest-free guarantee. To keep problematic pests away from your Tracy business, give Pro Active Pest Control a call. You won't be disappointed.
Homeowners Guide To Avoiding Black Widow Spiders In Tracy, CA
There are many spiders found in our area, but black widow spiders are some of the most dangerous. Black widow spiders are recognized by their shiny black bodies and the distinctive red hourglass marking on their abdomens. To avoid being bitten by a black widow spider, consider the following tips:
Avoid areas where black widows might hide, such as rocky overhangs, woodpiles, and other dark, damp areas.

Always wear gloves while working in your lawn or garden areas.

Never try to remove a black widow's spider web on your own.

Check your shoes for spiders before putting them on.

Reduce moisture around your property.
If spiders are showing up on your Tracy property, turn to the pest experts at Pro Active Pest Control. We have what it takes to keep your home or business pest-free. Give us a call today to schedule an inspection.
Why Every Property Needs Rodent Control In Tracy, CA
We've all seen a movie or television show where a mouse or rat is spotted in the dining room and everyone starts climbing onto chairs, usually screaming. But why are rodents so feared? After all, they can look pretty cute in the pet store. How much harm could one little mouse do? Well, rodents are capable of causing harm to you, your family, and your Tracy property. Rodents invade homes and businesses while searching for food and water. If your property provides easily accessible food and water sources, rodents will choose to stay. And rodent infestations can lead to many problems. Rats and mice often carry bacteria, pathogens, and parasites. Some of the diseases that can be caused by these bacteria include hantavirus, plague, and tularemia. Additionally, rodents are constantly finding things to chew on in order to wear down their ever-grown front teeth. Rodents chew on wires, pipes, structural beams, and anything else they can reach, which can be costly to repair. To keep your Tracy home or business building rodent-free, turn to the pest experts at Pro Active Pest Control. We offer several rodent control and prevention services to ensure your property is protected from rodents year-round. Contact us today to learn more about our effective rodent treatment options.
Neighborhoods We Service
Alden Glen | Arnaudo Village | Banta | Belconte North | Blossom Valley | Bridle Creek | Brittany | California Collections | California Espirit | California Marquis | Californa Renaissance | Candlewood Estates | Carbona | Countrywood | Eastgate | Eastlake | Edgewood | Elissagaray Ranch | Fox Hollow | Gabriel Estates | Garden Square | Glean Creek | Glenbriar Estates | Harvest Country | Harvest Glen | Hearthstone | Heartland | Heritage | Huntington Park | Larkspur Estates | Laurelbrook | Lyoth | Meadow Glen | Mossdale | Mountain House | Muirfield | Normandy | Parkside Estates | Parkview | Pheasant Run | Presidio | Quail Run | Reddridge | Rebeiro | Ryland Junction | San Joaquin River Club | San Marco | Sienna Park | Summergate | Summer Lane | Traditions | Vernalis | Victoria Park | West Gate | Woodfield Estates


Included Zip Codes
95304 | 95376 | 95377
Request Your Free Quote
Complete the form below to schedule your no obligation quote.
Latest Blog Articles
Stay informed about pests and pest related issues in our area!