Trusted, Experienced Pest Control Services In Suisun City, CA
Suisun City is a city located in Solano County, and named after the adjacent Suisun Bay. Prevent pests from taking over your Suisun City property by implementing effective pest control services from Pro Active Pest Control. Our licensed pest technicians have the experience, treatments, and pest-knowledge needed to handle pest problems of all shapes and sizes. Whether you want to get rid of an existing pest infestation or prevent pests from invading your property in the first place, Pro Active Pest Control can help. Don't wait for cockroaches, rodents, or other pests to spread diseases and cause damage in your Suisun City home or business. Instead, reach out to Pro Active Pest Control today to learn more about how we protect people and properties from pests.
Complete Pest Solutions In Suisun City, CA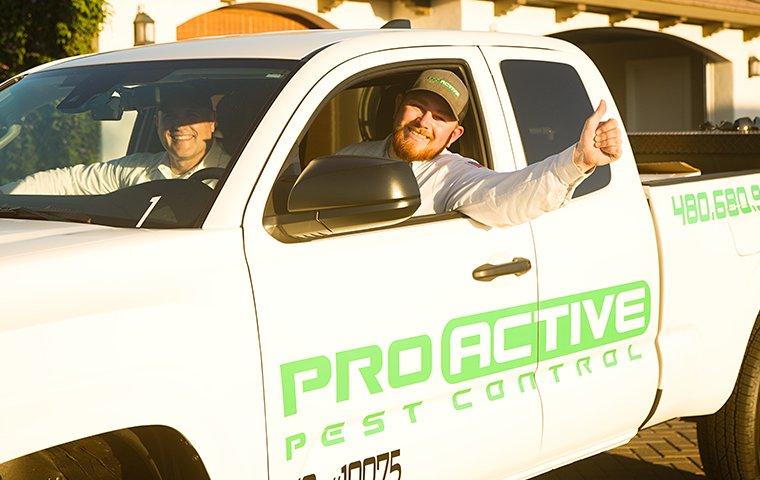 Pests are always going to find ways to invade your property and cause problems no matter where you live. To protect Suisun City homes and businesses from common pests, the professionals here at Pro Active Pest Control have developed a wide range of effective pest control services to control and eliminate pests such as rodents, fleas, ants, spiders, stinging insects, and occasional invaders. Trust the local pest technicians here at Pro Active pest Control and never worry about pests causing problems in or around your Suisun City property again.
Residential Pest Control In Suisun City, CA
You deserve high-quality pest control products and services to keep your Suisun City home free of the many pests that live in our area. At Pro Active Pest Control, all of our home pest control plans are designed to eliminate pests at their source and prevent them from returning. Using a combination of eco-friendly solutions and frequent inspections, you can depend on us to handle all of your pest problems year-round. And, because we understand that every homeowner has unique pest control needs, we provide monthly, bi-monthly, and quarterly residential pest control plans depending on the needs of your specific pest situation. Rodents, insects, spiders, and other pests don't stand a chance against our experienced pest technicians and long-lasting pest control solutions. Give the professionals at Pro Active Pest Control a call today to learn more about our home pest control options or to request your free quote!
Commercial Pest Control In Suisun City, CA
Anyone can apply blanket pest control treatments and call it a day. But at Pro Active Pest Control, we utilize Integrated Pest Management (IPM) methodologies and eco-friendly service options to target and eliminate pests for good without harming the environment. Our effective commercial pest control services are designed to eliminate the root of your pest problems and ensure they won't return in the future. Protect your inventory, customers, and reputation from pests by putting into place a complete commercial pest control plan from Pro Active Pest Control. We will work with you to find the perfect pest control plan for your Suisun City business.
Are Earwigs In Suisun City, CA Dangerous?
Earwigs are dark brown or reddish-brown in color with large, frightening pincers that extend from their abdomens. It's a common myth that these insects will crawl into the ears of sleeping individuals to lay eggs in their brains. However, despite the terrifying origin of their name and frightening appearance, earwigs are not dangerous. Earwigs pose no threat to people or property and are considered nuisance pests. Earwigs typically live outdoors but will invade Suisun City properties when outdoor conditions become unfavorable. These nocturnal pests prefer to live in damp, dark areas and feed on other insects and decaying organic matter. At Pro Active Pest Control, we have what it takes to handle a wide range of pests, including earwigs. Get in touch with us today to learn more about how we get rid of earwigs and other pest invaders.
Keep Oriental Cockroaches Away From Your Suisun City, CA Property
Cockroaches are common pests that can thrive in a wide variety of environments. They prefer to live in warm, moist, and dark areas, such as bathrooms and laundry rooms. Cockroaches typically invade properties while searching for food. To prevent cockroaches from infesting your Suisun City home or business, don't hesitate to implement a few of the following cockroach prevention tips:
Pick up pet food when not in use.

Tighten pipes and repair leaky plumbing.

Store leftover food items in airtight containers.

Clean crumbs and food residue out from under heavy appliances.

Keep your garbage cans sealed and stored away from your exterior walls.

Install door sweeps on all exterior doorways.

Seal gaps around your foundation, including around holes made for utilities.
The best way to handle cockroach problems is with the help of the professionals here at Pro Active Pest Control. Don't hesitate to reach out to us today to learn more about our cockroach control and prevention services.
Neighborhoods We Service
Allendale | Benicia | Birds Landing |Collinsville |Cordelia |Dixon | Elmira |Fairfield | Liberty Farms |Rio Vista | Vallejo |Vacaville
Included Zip Codes
95688 | 94510 |94512 |94585 |94534 |95620 |95625 |94533 |95620 | 94571 |94585 |94589 | 94533
Request Your Free Quote
Complete the form below to schedule your no obligation quote.
Latest Blog Articles
Stay informed about pests and pest related issues in our area!