Trust The Professionals At Pro Active Pest Control To Protect Your Scottsdale, AZ Property From Pests
Scottsdale, Arizona is a historic city with a lively and growing population. It is rich with history as well as things to do and wilderness to explore. Unfortunately, it is also rich with dangerous and destructive invasive pests.
If you're a Scottsdale home or business owner, don't leave the fate of your property up to chance: contact the pest elimination specialists at Pro Active Pest Control for help.
Residential Pest Control In Scottsdale, AZ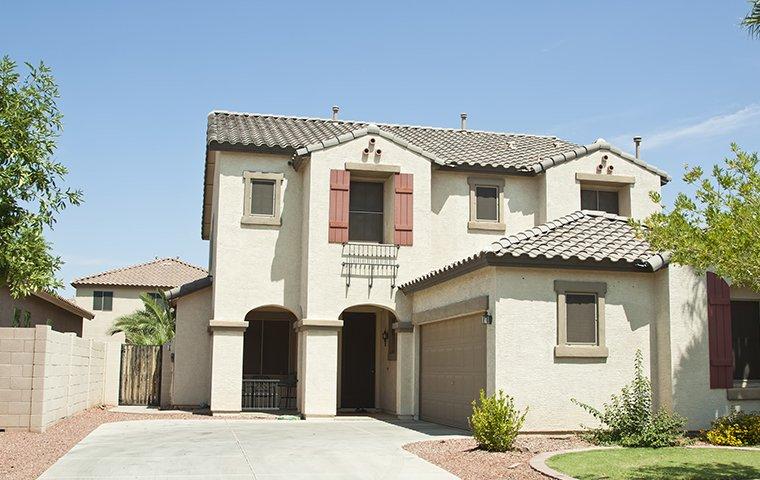 Here at Pro Active Pest Control, we provide effective, eco-friendly solutions for existing pest problems and preventative services to stop them from invading in the future. We offer customizable service plans and quality customer support with every visit. Our pest control plans cover numerous invasive pest species native to Arizona, including spiders, stinging insects, fleas, ants, rodents, and more.
When pests invade homes, they bring numerous problems with them. Keeping pests out of your Scottsdale home is just as important to the professionals here at Pro Active Pest Control as it is to you. When we service residential properties, we stop at nothing to keep your home protected against pests today, tomorrow, and into the future using eco-friendly products and a dedication to Integrated Pest Management principles.
A typical residential visit from Pro Active Pest Control includes:
Targeted pest treatments that hit them where they're most active
Seasonal pest treatments to prevent high-risk pests
Treatments along your foundation to create a protective barrier around your property
Exterior inspections and the elimination of spiders, their webs, and wasp nests
For effective pest control solutions and control options, consider trusting Pro Active Pest Control with all your residential pest problems!
Commercial Pest Control In Scottsdale, AZ
When it comes to businesses and commercial properties, pests are a problem no one can afford to have. Pests spread harmful bacteria and pathogens that can cause serious health concerns for you, your employees, and your customers.
Having a pest infestation on your commercial property is bad for the reputation of your business, not to mention the health of your employees and customers.
At Pro Active Pest Control, we are dedicated to providing your Scottsdale business or commercial property with effective pest control options that are eco-friendly. Our pest specialists utilize Integrated Pest Management (IPM) methodology to ensure we stop your pest infestation at its source. When you partner with Pro Active Pest control, we will customize our green service plans to fit the specific needs of your business industry. Keep your company and customers protected with the help of the reliable pest control technicians here at Pro Active Pest Control!
Ant Prevention Tips For Scottsdale, AZ Residents
Ants are nuisance pests found throughout Arizona, especially in the spring and summer months. These pests require specialized pest control solutions to completely eliminate them and keep them from returning. Luckily, you can make some simple but effective changes both inside and outside of your home to help deter them and avoid an infestation.

Here are some tips you should follow to keep your Scottsdale home ant-free:
Clean up spilled food or drinks immediately
Keep all trash stored in sealed containers
Store all food (including pet food) in sealed containers
Remove trash from your home on a regular basis
Clean, vacuum, and mop regularly
Regularly clean under and around appliances
Caulk openings around doors, windows, and utilities entering your home
Seal openings in your home's foundation and exterior walls
Trim trees and shrubs back away from its exterior
Store firewood, gardens, compost piles, and outdoor trash cans well away from the outside of your home
At Pro Active Pest Contro,l we can protect homes and families from invasive ants through our comprehensive pest control services. Our pros will create an ant barrier around the exterior of your home by performing exterior inspections and completing seasonal outdoor pest treatments in typical areas where ants are found nesting. Contact us today and eliminate ants from your property - permanently.
Common Spiders Found In Scottsdale, AZ
While spiders serve a vital role in the ecosystem as a form of natural pest control. With that said, they make better neighbors than room mates, and can bring serious problems when they share living space with humans. Two of the most common species of spiders found in our area of Arizona include the wolf spider and the black widow spider.
Black Widow Spiders
Adult black widow spiders have round bodies, eight legs, are shiny black in color, and have eight eyes arranged in two rows. Black widow spiders have a unique reddish-orange, hourglass-shaped marking on the underside of the abdomen. There may be light red or white spots found on their abdomens and backs. Black widow spiders are a venomous spider. A bite from a black widow spider can cause serious health consequences. It is very rare to experience long-term complications or death because of a bite from this spider. However, it is important to seek medical attention immediately if you believe you have been bitten by a black widow.
Wolf Spiders
Wolf spiders are a large species of spider and are black or dark brown in color with cream, gray, or yellow-colored markings. Adults have a "stocky" body covered in hair and eight long spiny legs that they use to chase and hunt down their prey. A unique feature associated with the wolf spider is the placement of their 8 eyes. The eyes are arranged in 3 rows, 4 small eyes on the bottom row, 2 large eyes in the middle row, and 2 medium-sized eyes on the top row. Wolf spider bites rarely occur, but in the event that a bite does occur, their venom is not strong enough to cause any serious health consequences in humans.
If spiders have become a problem around or inside your Scottsdale home, contact us today. We will perform a thorough inspection and implement a pest control program to exclude spiders and the insects that they are feeding on, using the most modern pest control methods possible.
Neighborhoods We Service
7600 Lincoln | Ancala | Cachet At Grayhawk | Camelback House | Carefree Ranch Homestead | Central Scottsdale | DC Ranch | Desert Highlands | Downtown Scottsdale | Encore At Grayhawk | Fashion Square | Gainey Ranch | Grayhawk | Hallcraft Villas Scottsdale | Lake Serena Estates | Legend Trail | McCormick Ranch | McDowell Mountain Ranch | Montana Del Sol | North Scottsdale | Old Town Scottsdale | Papago Buttes | Paradise Valley Farms | Pinnacle Peak Estates | Polynesian Paradise | Rio Montana | Scottsdale Bay Club | Scottsdale Casitas | Scottsdale Country Club | Scottsdale Hills | Scottsdale House | Scottsdale Links | Scottsdale Mission | Scottsdale Mountain | Scottsdale Park Place | Scottsdale Ranch | Scottsdale Shops | Scottsdale Villa Mirage Resort Condo | Scottsdale Villas | Shea-Scottsdale | Sheraton Desert Oasis | Sincuidados | Sonoran Hills | South Scottsdale | Tesoro At Grayhawk | The Boulders | The Rocks Club Condominium | Troon North | Villa Monterey | Village At Grayhawk | Whisper Rock
Included Zip Codes
85250 | 85251 | 85252 | 85253 | 85254 | 85255 | 85256 | 85257 | 85258 | 85259 | 85260 | 85261 | 85262 | 85263 | 85264 | 85266 | 85267 | 85268 | 85269 | 85271
Request Your Free Quote
Complete the form below to schedule your no obligation quote.
Latest Blog Articles
Stay informed about pests and pest related issues in our area!