Trust The Professionals At Pro Active Pest Control To Protect Your Roseville, CA Property From Pests
Pro Active Pest Control is a local California pest control company that is dedicated to providing homes and businesses with green, affordable, and highly effective pest control services. We have the experience needed to protect homes and businesses located in small towns or large cities like the beautiful, family-friendly Roseville with the help of our state-certified rodent and pest specialists, our year-round programs that are 100% guarantee, and eco-friendly solutions. To learn more about how we can resolve pest-related problems in your Roseville home or business in a timely manner and keep them from returning in the future, give us a call today to learn more about our services.
Complete Pest Control Solutions In Roseville, CA
There are a number of pests that call Roseville home. The pest control experts at Pro Active Pest Control have developed several services to help you eliminate and control pests such as ants, fleas, occasional invaders, rodents, spiders, and stinging insects. Give us a call today for a free quote!


Residential Pest Control In Roseville, CA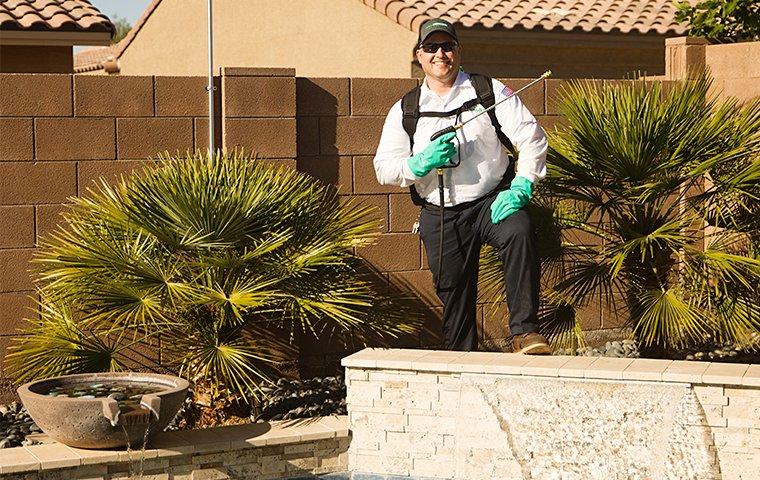 Keeping rodents and insects out of your Roseville home throughout the year is a constant struggle for most homeowners, costing people time, money, and sanity. The easiest way to keep common household pests out of your home is to partner with Pro Active Pest Control and implement one of our family and pet-friendly, year-round home pest control plans. Through education, eco-friendly solutions, and regular inspections, we can work together to eliminate pests from your Roseville home and keep them from returning. Our most popular plan is our bi-monthly service. It provides customers with year-round protection against more than 20 pests, six scheduled exterior treatments, and exterior spider de-webbing. Other benefits to our bi-monthly service plan includes interior and garage treatments as needed, rodent control as needed, and the knowledge that the services included are 100% guaranteed. To learn more about keeping pests out of your Roseville, CA home throughout the entire year with the help of the Northern California pest control experts, Pro Active Pest Control, get in touch with us today.
Why Choose Pro Active Control In Roseville, CA
There are many great reasons why you should put your trust into the expert hands of Pro Active Pest Control to help protect your Roseville property, family, and pets from common area pests. Some of the many great reasons why you should choose Pro Active include:
The safety of our customer's families, pets, and property are always our top priority.
Our mission is to offer exceptional customer service and effective solutions to a wide variety of pest problems. All of our technicians are honest, caring, and trained in the most modern pest control techniques.
We believe in educating all of our customers to help ensure that everyone's unique pest control needs are being met.
Through the principle of Integrated Pest Management, we are able to use fewer pesticides, while still providing long-lasting pest control results for all of our customers.

All of our service plans are 100% guaranteed. If pests covered by the service return between scheduled visits, so will our professionals, at no additional cost to you.
To learn more about protecting your Roseville home or business from pests with the help of the professionals found at Pro Active Pest Control, give us a call today.
Common Spiders Found In Roseville, CA
There are many species of spiders found living all across the country. Two of the most common species of spiders found in our area of California include the wolf spider and the black widow spider.
Black Widow Spiders
Adult black widow spiders have round bodies, eight legs, are shiny black in color, and have eight eyes arranged in two rows. Black widow spiders have a unique reddish-orange, hourglass-shaped marking on the underside of the abdomen. There may be light red or white spots found on their abdomens and backs. Black widow spiders are a venomous spider. A bite from a black widow spider can cause serious health consequences. It is very rare to experience long-term complications or death because of a bite from this spider. However, it is important to seek medical attention immediately if you believe you have been bitten by a black widow.
Wolf Spiders
Wolf spiders are a large species of spider and are black or dark brown in color with cream, gray, or yellow-colored markings. Adults have a "stocky" body covered in hair and eight long spiny legs that they use to chase and hunt down their prey. A unique feature associated with the wolf spider is the placement of their 8 eyes. The eyes are arranged in 3 rows, 4 small eyes on the bottom row, 2 large eyes in the middle row, and 2 medium-sized eyes on the top row. Wolf spider bites rarely occur, but in the event that a bite does occur, their venom is not strong enough to cause any serious health consequences in humans.
If spiders have become a problem around or inside your Roseville home, contact us today. We will perform a thorough inspection and implement a pest control program to exclude spiders and the insects that they are feeding on, using the most modern pest control methods possible.
Commercial Pest Control In Roseville, CA
Pests are very problematic for any business owner. Pests can carry and spread bacteria and disease, contaminate food, damage structures, and can severely damage your business's reputation. Pro Active Pest Control has the necessary pest control solutions to protect a wide variety of businesses including warehouses, storage facilities, shopping centers, daycares, office buildings, funeral homes, and places of worship from pests. We provide our customers with customized green pest control solutions that are guaranteed to meet your Roseville business's unique needs. Our eco-friendly commercial pest control services include services performed by highly trained, state-certified, and friendly professionals, a 100% Pest-Free Guarantee, exceptional customer service, and the use of Integrated Pest Management to control and eliminate pest populations in and around your Roseville commercial facility. To learn more about protecting your business, customers, and employees from pests, reach out to Pro Active Pest Control today.
Neighborhoods We Service
Blue Oaks | Cherry Glen | Cirby Ranch | Creekside | Cresthaven | Diamond Oaks | East Roseville Parkway | Enwood | Folsom Road | Foothills Junction | Galleria | Harding | Highland Reserve | Hillcrest | Hilltop Circle | Industrial Area East | Industrial Area West | Johnson Ranch | Junction West | Kaseberg | Kingswood | Lead Hill | Los Cerritos | Maidu | Meadow Oaks | Olympus Pointe | Pleasant Grove | Quail Glen | Roseville Heights | Sierra Gardens | Sierra Vista | South Circy | Stanford | Stanford Crossing | Sun City | Thieles Manor | Vineyard | Westpark-Fiddyment Farms | Woodcreek Oaks


Included Zip Codes
95661 |95677 | 95678 | 95746 | 95747 | 95765
Request Your Free Quote
Complete the form below to schedule your no obligation quote.
Latest Blog Articles
Stay informed about pests and pest related issues in our area!