Trust The Professionals At Pro Active Pest Control To Protect Your Rocklin, CA Property From Pests
Rocklin, located in South Placer County, is a beautiful California community tucked in between the Sierra Mountains and the Sutter-Butte mountain range. Rocklin is a great place to live, work, visit, and play. It offers excellent schools, plentiful recreational opportunities, and a safe living environment. To help protect this lovely community from being invaded and damaged by the many pests that also, unfortunately, call Rocklin home, turn to the local pest control experts at Pro Active Pest Control. We provide highly effective, progressive pest control services needed to keep any Rocklin home or business free of pests. To learn more about our modern approach to affordable pest control, get in touch with us today.
Complete Pest Control Solutions In Rocklin, CA
There are a number of pests that call Rocklin home. The pest control experts at Pro Active Pest Control have developed several services to help you eliminate and control pests such as ants, fleas, occasional invades, rodents, spiders & stinging insects. Give us a call today for a free quote!
Why Rocklin, CA Residents Choose Pro Active Pest Control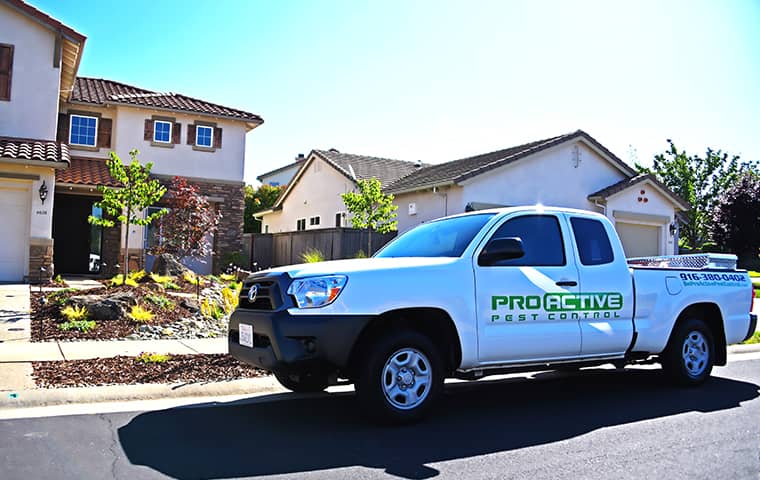 Pro Active Pest Control is a family-owned and locally operated company that was created with a specific mission in mind, providing exceptional customer service and pest solutions that are both effective and affordable. The experts at Pro Active take pride in being a company that all of our customers can count on and trust. Through honest communication, we work with customers to solve any pest problem. Some more reasons why Rocklin residents count on Pro Active Pest Control to handle all their pest control needs include:
We educate our customers to help provide the most complete solutions possible to your business's pest problems.
Through Integrated Pest Management, we reduce the use of pesticides while still providing long-lasting pest control results.
We only use pest control solutions that are safe for your family, your pets, and your home to control and eliminate common pests- rodents, roaches, ants, spiders, and more.
All of our service plans are 100% guaranteed. If pests covered by the service return in-between scheduled visits, so will our professionals at no additional cost to you.
To learn more about protecting your Rocklin, CA property from common area pests in the most eco-sound, cost-friendly, effective manner possible, reach out to the local experts at Pro Active Pest Control today.
Residential Pest Control In Rocklin, CA
Partner with the pest control experts at Pro Active Pest Control to implement Integrated Pest Management techniques to protect your house, family, and pets from invasive pests including rodents, cockroaches, and ants. Each of our three quality home pest control plans provides customers with a 100% service guarantee, year-round protection, coverage against more than 20 pests, and exterior spider de-webbing. It also includes interior and garage treatments and rodent control on an as-needed basis. Our 3 year-round pest protection plans include:
The Monthly Service which provides homeowners with 12 scheduled exterior treatments
The Bi-Monthly Service which provides homeowners with 6 scheduled exterior services
The Quarterly Service which provides homeowners with 4 scheduled exterior services
Get started protecting your property from a wide variety of common pests today by giving Pro Active Pest Control a call and speaking to one of our helpful professionals.
Ant Prevention Tips For Rocklin, CA Residents
Ants are nuisance pests found throughout California. These pests require specialized pest control solutions to completely eliminate them and keep them from returning to cause stress, damage, and contamination. Ants are a difficult pest to keep from invading your home in their search for food, water, or shelter. But there are some changes that you can make both inside and outside of your Rocklin home to help deter them and avoid an infestation.

Indoor ant prevention tips:
Remove trash from your home on a regular basis
Quickly clean up spilled food and drink as soon as it happens
Regularly clean under and around appliances, removing crumbs, grease, and other food remains
Regularly vacuum and mop your floors; especially kitchen and pantry floors
Store food, including pet food, in glass or plastic airtight containers
Outdoor ant prevention tips:
Caulk openings around doors, windows, and utilities entering your home
Seal openings in your home's foundation and exterior walls
Eliminate easy access into your home by trimming trees and shrubs back away from its exterior
Keep firewood, gardens, compost piles, and outdoor trash cans well away from the outside of your home
Make sure your trash cans have tight-fitting or locking lids
At Pro Active Pest Control we can protect homes and families from invasive ants through our comprehensive pest control services. Our pros will create an ant barrier around the exterior of your home, by performing exterior inspections, and by completing seasonal outdoors pest treatments in typical areas where ants are found nesting. To get started protecting your property from invasive, nuisance ants, give us a call today.
Commercial Pest Control In Rocklin, CA
Putting into place a professional pest control service for your Rocklin business from the local pest professionals found at Pro Active Pest Control will provide the following:
A comfortable atmosphere inside your business for your customers and employees to enjoy.
The prevention of pests from spreading disease and bacteria inside your facility which could lead to your employees and customers becoming ill.
Stopping the over-application of pesticides inside your business that often occurs with DIY pest control.
The peace of mind to know that your business's structure and the contents stored inside won't be damaged by pests again.
At Pro Active Pest Control, our highly effective commercial pest control services are performed by trained, state-certified, friendly professionals, offer a 100% guarantee, and are always backed by our exceptional customer services. To learn more about protecting your Rocklin business from common area pests, contact Pro Active Pest Control today.
Neighborhoods We Service
Stanford Ranch | Whitney Oaks | Whitney Ranch | Sierra College | Pacific Street | Sunset Boulevard | Blue Oaks Boulevard | Lonetree Boulevard | Park Drive | Sunset Whitney Country Club


Included Zip Codes
95650 | 95663 | 95677 | 95765
Request Your Free Quote
Complete the form below to schedule your no obligation quote.
Latest Blog Articles
Stay informed about pests and pest related issues in our area!