Long-Lasting, Eco-Friendly Pest Control Services In Ripon, CA
Ripon is a city in central San Joaquin County and was previously known as Stanislaus City but was renamed Ripon in 1876. Our area boasts of traditional values and access to a variety of recreational activities for residents to enjoy. Unfortunately, our city is also home to many nuisance and dangerous pests. If you want to avoid discovering pests in your Ripon home or business, you can depend on the experienced pest technicians here at Pro Active Pest Control for effective, eco-friendly, and long-lasting pest control solutions. No matter what type of pest problems you're facing, we're here to help. Reach out to us today for more information about our residential and commercial pest control, bed bug control, and rodent control services.
Complete Pest Control Solutions In Ripon, CA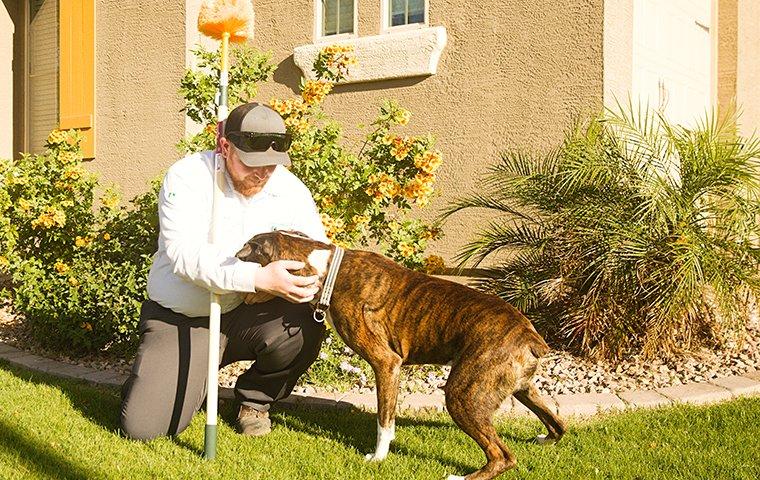 Pro Active Pest Control is a local, family-owned pest control provider that has what it takes to get rid of your pest problems once and for all. We are experienced with providing effective services to cover a wide range of area pests, such as spiders, rodents, occasional invaders, stinging insects, fleas, cockroaches, and more. Don't allow pests to infest your Ripon property where they can cause problems and spread diseases. Instead, turn to Pro Active Pest Control today for immediate pest control solutions.
Residential Pest Control In Ripon, CA
At Pro Active Pest Control, it is our top priority to protect your home, family, and pets through the use of advanced treatment methods and eco-friendly solutions. We will eliminate your pest problems with regular inspections and effective treatments. Then we will apply foundation treatments to create a protective barrier around your home. Keep common Ripon pests away from your home and family by putting into place a home pest control plan from Pro Active Pest Control. We provide monthly, bi-monthly, and quarterly pest control plans, depending on the specific needs of your home. If pests are threatening to take away your peace of mind, contact us today.
Commercial Pest Control In Ripon, CA
As a business owner, the satisfaction and safety of your customers should be your top priority. However, invading pests put your Ripon business at risk. Rodents, insects, and other pests can spread dangerous diseases, destroy your inventory, disturb your employees, and scare away your customers. Left unchecked, pest infestations can ruin your reputation and result in your business being shut down for health violations. Let the professionals here at Pro Active Pest Control take care of your commercial pest control problems so that you can focus on your other important business responsibilities. Our commercial pest control plans rely on Integrated Pest Management (IPM) strategies and eco-friendly services to ensure pests problems are dealt with in a way that isn't harmful to the environment. Get in touch with Pro Active Pest Control today to ask for more details about our commercial pest control process.
4 Interesting Facts About Paper Wasps In Ripon, CA
Paper wasps are annoying stinging insects that can become a major nuisance if they build their nests in or around your Ripon property. However, understanding more about these pests is the first step in learning how to get rid of them. If paper wasps are causing problems around your home or business, here are a few things you should know:
Paper wasps are semi-social, which means they live together in small colonies.

Paper wasps are beneficial to the ecosystem by preying on insects and keeping populations under control.

Paper wasps are not aggressive pests, but they will sting if they feel threatened. Their venom isn't fatal but can be dangerous to individuals who have an allergic response.

Paper wasps build their nests out of a paper-like material they create by chewing on leaves, bark, and plant stems, hence their name.
To remove paper wasps from your Ripon home or business, don't hesitate to contact the pest experts here at Pro Active Pest Control.
Why Do Wolf Spiders Invade Ripon, CA Properties?
Wolf spiders are one of the largest spider species found in and around Ripon properties. These fearsome-looking pests have squat, hairy bodies, and long legs, which allow them to chase down their prey. Unlike most other species of spiders, wolf spiders run after their prey instead of building webs to catch them. Although wolf spiders are often found outdoors, hiding under rock piles and fallen trees, these strong predators will move into Ripon homes and businesses that have existing insect pest problems. Unfortunately, once wolf spiders get into your property, they will typically stay inside, hiding in areas that reflect their natural outdoor habitat. If wolf spiders have gotten into your home or business, it's important to contact the professionals here at Pro Active Pest Control. We understand how to deal with all kinds of common pest threats, including spiders. We use modern pest control methods to eliminate spiders and the insects they feed on. Give us a call today to ask for more information about how we deal with spiders.
Neighborhoods We Service
Acacia Park | Barton Oaks | Chesapeake | Cornerstone | Downtown | Harvest Park | Ripon West | Stouffer Park


Included Zip Codes
95366
Request Your Free Quote
Complete the form below to schedule your no obligation quote.
Latest Blog Articles
Stay informed about pests and pest related issues in our area!