Trust The Professionals At Pro Active Pest Control To Protect Your Rescue, CA Property From Pests
To keep your Rescue, California home or business protected from insects and rodents found throughout Northern California, turn to the pest control experts at Pro Active Pest Control. We provide eco-friendly, modern, affordable pest control solutions that are guaranteed to keep pests out of any home or business. Protect your Antelope residential or commercial property from pests with the help of our local, family-owned company. Reach out and speak with one of our knowledgeable professionals today.
Residential Pest Control In Rescue, CA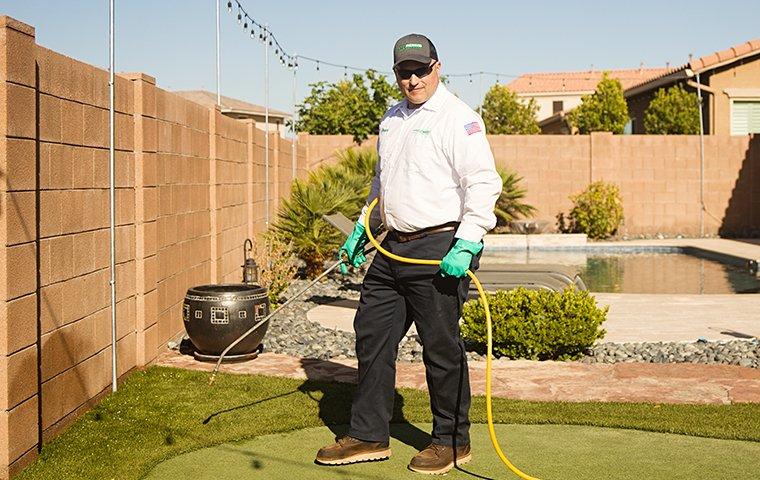 When we treat residential properties, our primary concern is for the safety and protection of your family and pets. We use effective methods of pest removal, exclusion, and treatments that are eco-friendly and non-toxic to children, pets, or the environment. Here at Pro Active Pest Control, we believe the best way to enjoy a pest free home is with a year-round pest control plan and quality customer service every step of the way. We offer a long list of comprehensive pest services, including exterior and interior inspections, foundation treatments, and the option of quarterly or bi-monthly service plans. The pest technicians here at Pro Active will always work with you to find a solution that will ensure the protection of your home, your family, and your peace of mind. With Pro Active Pest Control covering all your pest control needs, you can rest easy knowing our trusted pest technicians have your back. Reach out to us for more information about our quality, year-round pest services!
Common Stinging Insects In Rescue, CA
As with any state that's considered more tropical, California is home to hundreds of thousands of distinctive insect species. While most species of insects you really don't need to worry about, it's a different story when it comes to stinging insects. Rescue hosts the presence of several species of wasps, bees, and hornets, which can prove a major issue for both residential and commercial property owners.
Some of the most common stinging insects you'll find in our area include:
Bald-faced hornets

Common Eastern bumble bees

Cow killers

European hornets

Honey bees

Yellow jackets

Blue-winged wasps
For any stinging insect problems you are facing this year, it's important to contact a pest control provider like Pro Active Pest Control instead of attempting to handle these pests on your own. If stinging insects are nesting on your Rescue property, consider contacting Pro Active!
Commercial Pest Control In Rescue, CA
Here at Pro Active Pest Control, we understand the importance of a proper pest control plan for commercial business industries. After all, pests often create nests on machinery, damage essential products, and contaminate food items, which can be problematic for any Rescue business owner to handle alone. All of the pest technicians here at Pro Active are state-certified and highly trained to operate effectively within a professional environment. With the use of Integrated Pest Management and eco-friendly services, we ensure that your Rescue company remains protected while keeping pests out year-round. For long-lasting results and services that prioritize your satisfaction, contact the skilled pest professionals here at Pro Active Pest Control!
Problems Cockroaches Cause In Rescue, CA
Cockroaches seem to be pests that you just can't avoid, no matter where you choose to live. Here in Rescue, cockroaches thrive in our California weather and humid environment, especially during summer months. Unfortunately, cockroaches bring a plethora of problems with them when they invade your home or business, which is why it is important to keep them out. Aside from their filthy habits and disgusting appearance, cockroaches are known to spread diseases by contaminating food items, counter surfaces, and belongings. Some of these diseases include salmonella, dysentery, and Staphylococcus. Additionally, certain allergens contained in cockroach feces, skins, and limbs have been known to trigger allergic reactions and asthma attacks. Don't allow cockroaches to overrun your property this year when you can receive help from the licensed pest technicians here at Pro Active Pest Control. Keep cockroaches out of your home or business building by giving Pro Active a call!
Complete Pest Control Solutions In Rescue, CA
Located in El Dorado County and recognized for its unusual community name, Rescue, California, is a sunny area that resides between Shingle Springs and Cameron Park. With every good thing that comes with living in Rescue, we can't avoid the issue of pests in our homes and businesses. Pests spread diseases, damage property, and create major stress for many Rescue residents. Pro Active Pest Control provides pest services to cover stinging insects, rodents, ants, spiders, fleas, and even occasional invaders. With everything from thorough inspections to customized Green Pest Control solutions, Pro Active has a service that will work for your property. Take a proactive step against pest infestations by contacting Pro Active Pest Control for the most effective pest control and management options you'll see in Rescue!
Zip Codes We Service
95672
Request Your Free Quote
Complete the form below to schedule your no obligation quote.
Latest Blog Articles
Stay informed about pests and pest related issues in our area!