Trust The Professionals At Pro Active Pest Control To Protect Your Rancho Murieta, CA Property From Pests
To keep your Rancho Murieta, California home or business protected from insects and rodents found throughout Northern California, turn to the pest control experts at Pro Active Pest Control. We provide eco-friendly, modern, affordable pest control solutions that are guaranteed to keep pests out of any home or business. Protect your Antelope residential or commercial property from pests with the help of our local, family-owned company. Reach out and speak with one of our knowledgeable professionals today.
Residential Pest Control In Rancho Murieta, CA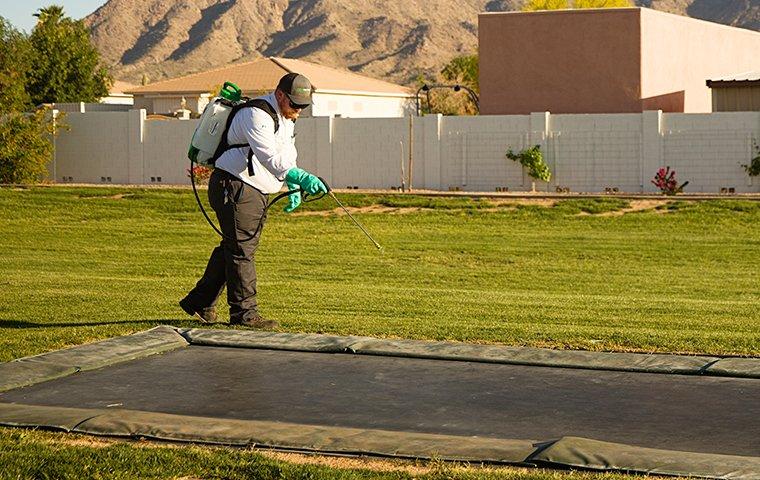 Your Rancho Murieta home is the place you return to after a stressful day at work or a fun day out at the beach to relax within the comfort and security of your own property. When pest animals such as cockroaches, spiders, and fleas invade, the security you would typically find within the walls of your home vanishes immediately. Pro Active Pest Control is a trusted pest control provider in the community of Rancho Murieta. We are always striving to improve our services and products to better serve the people in our area. With foundation treatments to create a barrier around your home, Pro Active is the pest control provider you need. Our bi-monthly and quarterly pest control programs allow you to have the flexibility you deserve for the treatments around your property, while our exterior treatment options ensure that your pest control needs are covered throughout every season. If your Rancho Murieta home needs pest protection, reach out to Pro Active Pest Control!
Protect Your Rancho Murieta, CA Property From Black Widow Spiders
No matter whether you've lived in Rancho Murieta your whole life or you have recently moved here, you've probably heard about the dangers of finding a black widow spider infestation on your property. These venomous spiders are widely recognized by their shiny black bodies and the bright red hourglass symbol found on their abdomen. One bite from one of these spiders is enough to create intense pain, nausea, and muscle stiffness in most individuals. Black widow spiders follow their food source - insects. To gain a better understanding of why these arachnids invade, you must first understand the aspects that encourage insect activity on your property.
To keep your Rancho Murieta property safeguarded against these dangerous spiders, keep the following prevention tips in mind:
Remove potential water sources. Clogged gutters, empty cans, and kiddie pools provide plenty of water to attract insects.

Cut thick brush and foliage away from your exterior walls to deter insects and spiders from hiding close to your foundation.

Seal entry points that spiders and insects may use to invade. These areas could be around your windows, doors, foundation, or vent openings.
For spider infestations, especially if your spider infestation includes black widow spiders, it's always best to contact Pro Active Pest Control to avoid getting bitten. Reach out for effective solutions and treatment methods for your spider problems!
Commercial Pest Control In Rancho Murieta, CA
If you run a restaurant, daycare, or retail business, Pro Active provides comprehensive pest control solutions that will fit the specific needs of your Rancho Murieta business industry. Commercial business environments require a different touch than what we typically provide for residential properties. While home pest control services focus on the aspect of family-friendly protection, commercial pest control services also include aspects that take your customers and company amenities into account. Here at Pro Active, we understand that the customers that walk through your doors are your top priority. We are determined to provide you with effective pest control treatments to ensure that pests don't ruin your reputation. Pro Active Pest Control keeps pests out, so you can draw more customers in. Contact us for your unique service plan!
How Dangerous Are Roof Rats In Rancho Murieta, CA
Often mistaken for Norway rats due to their similar size and appearance, roof rats are actually the smaller of the two. Either way, if roof rats have managed to sneak their way into your Rancho Murieta home or business, it's only natural to feel a bit apprehensive. After all, most rodents, including roof rats, cause major issues when they invade. Unfortunately, some of these issues can be harmful to your health and safety.
A few of the reasons that roof rats are considered dangerous pests include:
Roof rats may become aggressive if they feel cornered or threatened, which could mean you are left with several painful scratches and bites.

Roof rats are capable of causing damage to your property, belongings, furniture, wiring, and piping systems, which are separate issues on their own.

Roof rats contaminate food, counter surfaces, and water sources with bacteria that have been linked to several different diseases.
Rodent problems are best dealt with by the pest technicians from Pro Active Pest Control. If you suspect roof rats or other pests have invaded your Rancho Murieta property, reach out to us for help!
Complete Pest Control Solutions In Rancho Murieta, CA

When you need complete pest protection for your Rancho Murieta home or business property, turn to the reliable pest technicians here at Pro Active Pest Control to cover each and every one of your pest control needs. We provide commercial and residential services that protect Rancho Murieta properties from spiders, stinging insects, ants, fleas, and rodents - whichever pest has invaded your property, we can provide an effective solution. Here at Pro Active Pest Control, we pride ourselves on our reliability, integrity, and faithfulness to our customers. If you live in Rancho Murieta and face pest problems on a regular basis, contact Pro Active for complete pest protection year-round!
Neighborhoods We Service
Rancho Murieta Lodge | Rancho Murieta Mobile Homes | Rancho Murieta South | The Crest | The Greens


Included Zip Codes
95682 | 95683
Request Your Free Quote
Complete the form below to schedule your no obligation quote.
Latest Blog Articles
Stay informed about pests and pest related issues in our area!