Trust The Pros At Pro Active Pest Control To Protect Your Queen Creek, AZ Property From Pests
Queen Creek is a small but fast-growing community located just northwest of San Tan Valley. As a suburb of Phoenix, its close proximity to the airport makes it a cozy yet convenient place to live, leading to its explosive growth - it has roughly doubled in size between the 2010 and 2019 censuses.
Unfortunately, the same factors that make Queen Creek a convenient place for humans also make it a convenient home for pests. In fact, your home or business gives pests everything they need to thrive, and they won't hesitate to invade if you give them the opportunity.
To help protect your Queen Creek home or business from the insects, rodents, and other pests that call the area home, partner with the local pest control experts at Pro Active Pest Control. Our trained technicians have the experience needed to protect your home or businesses from pests using eco-friendly, guaranteed year-round residential and commercial pest control programs. No matter the size or scope of your pest problem, we have the tools you need to remove it for good. Contact us today and schedule your free inspection!
To learn more about protecting your Queen Creek home or business from the dangers and damage that pests can inflict, reach out to Pro Active Pest Control today.
Residential Pest Control In Queen Creek, AZ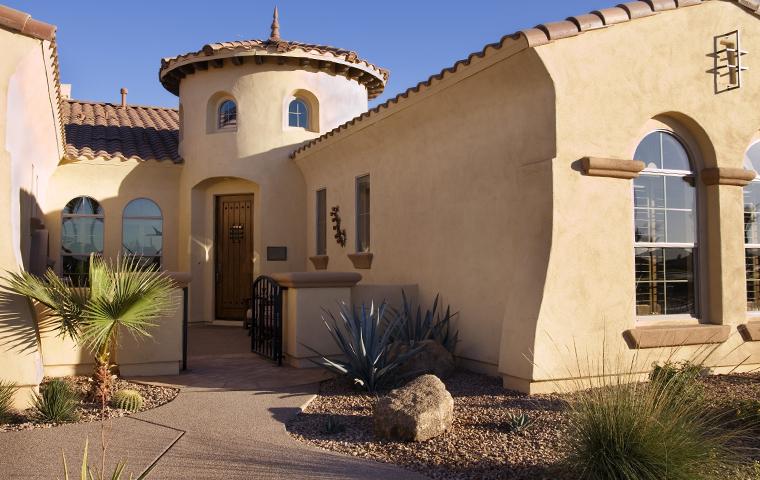 Pests in the home mean nothing but trouble, destroying your property and putting your family at risk. At Pro Active, we only use pest control solutions that are safe for your family, your pets, and your home to control and eliminate common pests including rodents, roaches, ants, spiders, and more.
Each of our three home pest control plans provides our customers with year-round protection against more than 20 common Arizona pests as well as exterior services (including de-webbing), interior and garage treatments, and rodent control (as needed).
Choose from our year-round pest protection plans, including:
Monthly Service - 12 scheduled exterior treatments
Bi-Monthly Service - 6 scheduled exterior services
Quarterly Service - 4 scheduled exterior services
Pro Active Pest Control is committed to resolving all of our customer's pest problems quickly, safely, and affordably through the use of Integrated Pest Management, eco-friendly services, and pest prevention. Maintain a pest-free Queen Creek home by working with the local pest control experts at Pro Active Pest Control. To learn more about protecting your Queen Creek home from local-area pests with the help of our local experts and local services, give us a call today!
Commercial Pest Control Solutions In Queen Creek, AZ
Pests that invade businesses do more than just cause a nuisance: they can harm people and products, and ultimately do irreparable damage to your reputation. Don't leave your investment at the mercy of Arizona pests: call the professionals at Pro Active for help.
At Pro Active Pest Control, we create customized green pest control solutions that are guaranteed to meet your business's unique needs. No matter what pests are threatening your business, we have the tools to remove them today while deterring them for the future.
Our eco-friendly commercial pest control services include:
Integrated Pest Management practice that focus on treating both the symptom and the cause of pest infestations
Services that are performed by highly trained, state-certified, and friendly professionals
Exceptional customer service
Full reporting on your property's pest status
100% Pest-Free Guarantee
Don't let pests scare away your customers, lower your employees' morale, and damage your property. Our expert technicians work tirelessly to ensure that the businesses we treat stay pest-free long into the future. Contact us today and find out why businesses turn to Pro Active first for effective commercial pest control services.
Common Stinging Insects In Queen Creek, AZ
Stinging insects can be a serious problem in the greater Phoenix area during the spring and summer. Two of the most common affecting Queen Creek homes are mud dauber wasps and paper wasps.
Mud daubers are between 1 ½ and 2 inches in length with a narrow waist with a thread-like segment (petiole) between their thorax and abdomen. They are typically brown and can be identified by the mud tubes they create along the exterior walls and sidings of homes they infest.
Paper wasps have a pinched waist and long thin legs that dangle below their body when flying. Adults grow to be between 1/2 and 1 inch in length, with black or brown coloration combined with yellow markings creating a distinctive pattern. While often smaller than mud daubers, their stings are infamously painful, and can even be dangerous if someone is stung by many at a time - such as if you accidentally wander too close into the hive's territory.
Stinging insects like these are not only difficult to attempt to treat on your own: it's dangerous to attempt. For any stinging insect problems you are facing this year, it's important to contact a pest control provider like Pro Active Pest Control for help. Contact us today and find out how our safe and effective stinging insect treatments can keep your yard free of wasps and mud daubers for good!
Problems Cockroaches Cause In Queen Creek, AZ
Cockroaches bring a plethora of problems with them when they invade your Queen Creek home or business. Aside from their filthy habits and disgusting appearance, cockroaches are known to spread diseases by contaminating food items, counter surfaces, and belongings.
Diseases roaches spread include salmonella, dysentery, and Staphylococcus. Additionally, certain allergens contained in cockroach feces, skins, and limbs have been known to trigger allergic reactions and asthma attacks.
Between the diseases they can spread and the sheer disgust they leave you with, cockroaches are among the worst pests you can suffer as a homeowner. Unfortunately, they're also among the most difficult to avoid. Don't allow cockroaches to overrun your property this year when you can receive help from the licensed pest technicians here at Pro Active Pest Control. Keep cockroaches out of your home or business building by giving Pro Active a call!
Neighborhoods We Service
Arroyo De La Reina | Ash Creek Estates | Charleston Estates | Cornerstone At Queen Creek | Cortina | Creek View Ranches | Crismon Heights | Crismon Meadows | Crismon Ranch Estates | Ellsworth Suburban Mini-Farms | Emans Estates | Emperor Estates | Encanterra | Hastings Farm | Indigo Trails | Inverness Industrial Park | Ironwood Crossing | La Princessa Ranchitos | La Sentiero | Langley Gateway Estates | Lucia At Queen Creek | Montelena | Nauvoo Station | Ocotillo Landing | Ocotillo Heights | Orchard Ranchettes | Paseo De Pecans | Pecan Cove | Pecans | Power Marketplace At Queen Creek | Power Marketplace Business Park | Power Marketplace Professional Plaza Condominium | Queen Creek Fiesta | Queen Creek Marketplace | Queen Creek Office Park Condominium | Queen Creek Pecans | Queen Creek Professional Village Condominium | Queen Creek Ranchettes | Queen Creek Village Center | Queenland Manor | Ranchos Jardines | Ranchos Legante | Roman Estates | San Tan Vistas Ranch | Shoppes At Indigo Trails | Sossaman Estates | Terraranch At Queen Creek | Victoria Pad | Villages At Queen Creek | Villagio | Will Rogers Equestrian Ranch


Included Zip Codes
85142
Request Your Free Quote
Complete the form below to schedule your no obligation quote.
Latest Blog Articles
Stay informed about pests and pest related issues in our area!