Trust The Professionals At Pro Active Pest Control To Protect Your Plumas Lake, CA Property From Pests
Plumas Lake is a census-designated place located in Yuba County and rests on the Feather River, only 30 miles from Sacramento. Our area is home to several outdoor amenities, parks, and rivers for residents to enjoy. Although Plumas Lake is a wonderful location to live and work, our area is also home to a wide variety of common invading pests. If pests such as cockroaches, rodents, or ants are causing problems in your home or business, it's time to turn to licensed pest control experts here at Pro Active Pest Control. We will target and eliminate the root of your pest control problem, which removes your existing pest infestation and ensures no future infestations occur. Reach out to Pro Active Pest Control today and get started on your pest-free journey!
Complete Pest Control Solutions, Plumas Lake, CA
Are you dealing with invasive pests on your Plumas Lake property? Do you wish there was an eco-friendly solution that would keep your home or business protected (pest control solutions that are not harmful to the environment)? With the licensed pest technicians and service plans from Pro Active Pest Control, you can have just that! All of our residential and commercial pest control programs are created to keep all of the most common Plumas Lake pests off your property. We work hard to keep your home or business pest-free with eco-friendly treatments and management options. If effective, long-lasting pest solutions are what you're after, Pro Active Pest Control is right for you. Get in contact with us today for immediate assistance with your pest problems.
Residential Pest Control In Plumas Lake, CA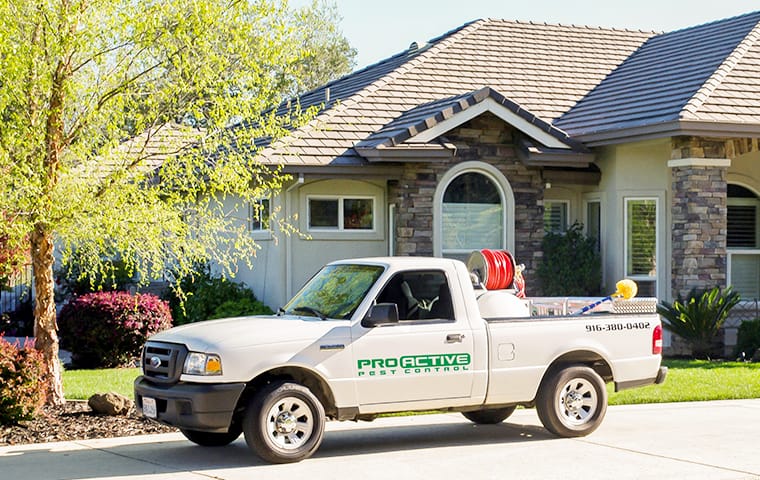 When pests invade your Plumas Lake home, they bring many problems with them. Some of those problems are just nuisances, but others can be a danger to you, your family, or your property. Invasive pests can carry harmful diseases and may become aggressive if threatened. For residential pest infestations, it's important to contact professional pest control services as soon as you realize you have a problem. Here at Pro Active Pest Control, we offer guaranteed pest control solutions for residential properties. Our services will protect your Plumas Lake home from common rodent and insect pests year-round. If pests return between our scheduled services, so will we, at no extra cost to you! Avoid the problems pests cause when you reach out to Pro Active Pest Control today for one of our effective residential treatment options!
Are Earwigs In Plumas Lake, CA As Dangerous As They Look?
Spotting an earwig on your Plumas Lake property for the first time can be a frightening experience. Earwigs can appear intimidating due to their speed and the large pincers (also called forceps) protruding from their abdomens. You may have heard the myth that earwigs can crawl into your ears and lay their eggs, but this is a myth. Earwigs can't bite, sting, or harm you in any way. If an earwig pinches you with its forceps, it might be uncomfortable, but shouldn't break your skin. Earwigs are not dangerous to you, but they can be a danger to your saplings and young garden plants. Avoid the nuisance of earwigs by contacting Pro Active Pest Control for all your general pest control needs!
Commercial Pest Control In Plumas Lake, CA
Whether you would like to remove a pest infestation from your commercial property or implement a protection plan to ensure pests never enter your business, to begin with, Pro Active Pest Control has a program for you. Here at Pro Active, we care about our commercial partners and the environment, which is why we provide effective eco-friendly treatments. The best approach to any commercial pest problem is proactive prevention and control. Here at Pro Active Pest Control, we understand how pests affect every business differently and that every pest problem is unique. Our professional service technicians will work with you to build a customized service plan to provide the best possible treatment options for your business property. Protect your Plumas Lake business from pests by reach out and partnering with Pro Active Pest Control!
Problems Oriental Cockroaches Cause In Plumas Lake, CA
If you've never seen Oriental cockroaches on your property, consider yourself lucky. These filthy insects are common invasive pests that thrive in the climate-controlled conditions of Plumas Lake properties. If your home or business building has a moisture problem, your property provides cockroaches with the perfect environment to reproduce.
A few of the problems Oriental cockroaches cause include:
Contaminating food and counter surfaces.

Spreading diseases such as Salmonella, E.coli, and many other immune illnesses.

Creating allergic reactions and asthma attacks with allergens found in cockroach saliva, shed skins, and feces.
Oriental cockroaches can be difficult to remove from your Plumas Lake property, especially without the help of a trusted pest professional. If you suspect Oriental cockroaches are in your home or business, it's important to contact the pest technicians here at Pro Active Pest Control. We are ready to take care of your pest problems.
Neighborhoods We Service
Draper Ranch | Plumas Lake | Wheeler Ranch


Included Zip Codes
95961
Request Your Free Quote
Complete the form below to schedule your no obligation quote.
Latest Blog Articles
Stay informed about pests and pest related issues in our area!