Trust The Professionals At Pro Active Pest Control To Protect Your Pleasanton, CA Property From Pests
From the Pleasanton Ridge Regional Park to Shadow Cliffs overlooking the water, our town is full of natural beauty. There is no doubt Pleasanton, CA, is a beautiful place to live. We're located right in Alameda County and are a lovely, lively suburb of the San Francisco Bay Area. This means we have mild weather year-round, and you know who loves mild weather? Pests.
Pests don't like it too hot, they don't like it too cold, but they do like anywhere they can find ample sources of food, water, and shelter. That means your Pleasanton home and/or business is susceptible to pest infestation, and that's a problem. Luckily, it's not a problem you have to face alone. Pro Active Pest Control has your back.
We are a local family-owned and operated company that offers complete pest control services to communities across the East Bay and Tri-Valley area of Northern California. Whether you own a residential or commercial property, we have the tools and expertise you need to tackle the any and all of your pest control needs. Contact us today for a free quote. Whether you're looking for bed bug control, rodent control or any other pest related service, we're happy to help.
Complete Pest Control Solutions In Pleasanton, CA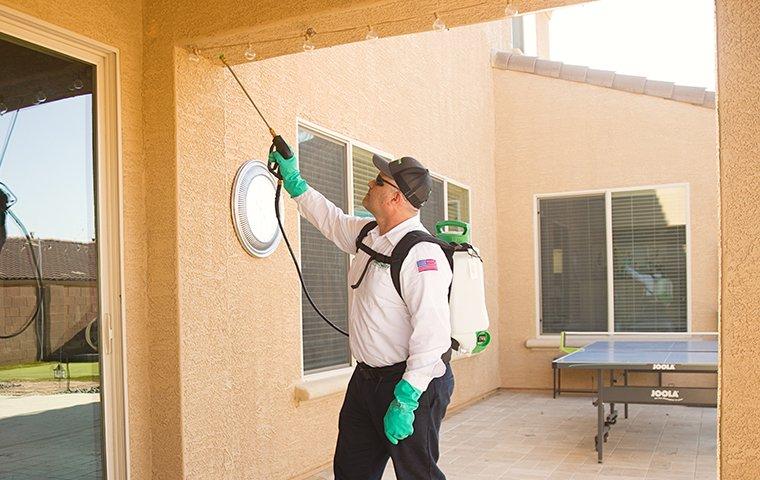 No matter the scope of your pest problem, Pro Active Pest Control is ready to solve it. We offer complete pest control solutions to a long list of satisfied clients, and all of our services are 100% guaranteed. We cover a wide range of common NorCal pests, some of which include:
Ants

Fleas

Rodents

Spiders

Stinging insects

Occasional invaders
Our pest experts conduct a thorough inspection to detect all pest activity. We then work with you to come up with the best treatment plan for your home or business. Our IPM (Integrated Pest Management) solutions are strategically developed to target the root of the infestation, so we can effectively eliminate it once and for all.
Home Pest Control In Pleasanton, CA
Your Pleasanton home deserves the best protection in the world. We are experienced in providing comprehensive residential pest control services to the people of Alameda County and the surrounding areas. If you're looking for year-round coverage from common area pests, you've come to the right place. We protect your home during all four seasons and our service plans dictate the frequency of our follow-up visits.
Monthly Service - 12 Scheduled Exterior Treatments

Bi-Monthly Service - 6 Scheduled Exterior Treatments

Quarterly Service - 4 Scheduled Exterior Treatments
Most of our clients go with the bi-monthly plan, but we can work with you to discuss the best choice for your particular pest situation. Each and every one of our residential treatments include:
Exterior inspection

Exterior Spider De-webbing

Foundation treatment

Interior & Garage Treatments (as needed)

Rodent Control (as needed)

Seasonal pest treatment
Commercial Pest Control In Pleasanton, CA
As a business owner, there is so much already on your plate. You hardly have time to breathe let alone deal with an unexpected pest infestation. Luckily, we're here to deal with it for you. Pro Active Pest Control's dependable commercial pest solutions have been perfected over our two decades in the business. We service a range of businesses, including:
Daycares

Funeral Homes

Medical Facilities

Office Buildings

Pharmacies

Religious Buildings

Retail & Shopping Centers

Warehouses & Storage Facilities
All of our services prioritize the safety of your employees, your customers, and your property. We are proud to offer green pest control solutions that place great importance on environmental conservation. Our treatments are eco-friendly, pet-friendly, and always effective. Call us today and we'll be happy to give you a quote for our services.
Problems Birds Cause To Pleasanton, CA Businesses
Birds are cute in cartoons, most of them anyway. But, when they get into your home or business, they're pests. Pests aren't so cute, and the consequences of infestation are even less so. If you think birds can't do much harm, think again. Here is a list of potential problems caused by a bird infestation:
Birds leave droppings all over the place and their feces smell extremely unpleasant.

Urine, feces, and droppings can contaminate food and water sources.

Birds build their nests in remote areas that are often hard to access.

They cause large-scale structural damage, that is unsafe and costly.

When looking for a place to nest, birds can get into your attic, vent systems, chimney, etc.

You'll often hear chirping inside of the property, coming from inside the walls or ceiling.
Guide To Avoiding Oriental Cockroaches In Pleasanton, CA
Cockroaches are dredful, no matter what specific species they are. Here in Pleasanton, one of the most common of the bunch is the Oriental cockroach. If you want to avoid these pests and prevent them from infesting your property, there are several things you can do. Try the following Oriental cockroach control efforts:
Apply weather stripping around windows and doors.

Don't leave any food out, pet food included.

Fix leaky pipes, faucets, and downspouts.

Install dehumidifiers in moisture-rich areas.

Keep your household appliances clean.

Keep your property clean and free of clutter.

Reduce sources of humidity and excess moisture.

Store your food in sealed, air-tight containers.

Sweep beneath the stove and fridge.

Take out the trash regularly and store it outside in a sealed bin.

Vacuum the floors regularly.

Wipe up messes and spills as promptly as possible.
Neighborhoods We Service
Amador Estates | Avila | Birdland | Bridle Creek | Castlewood | Country Fair | Del Prado | Downtown | Fairlands | Happy Valley | Highland Oaks | Ironwood Estates | Golden Eagle | Kottinger Ranch | Laguna Oaks | Mission Park | Muirwood | Parkside | Pheasant Ridge | Pleasant Meadows | Pleasanton Heights | Pleasanton Valley | Ruby Hill | Siena | The Preserve | Valencia | Valley Trails | Val Vista | Vineyard Terrace | Vintage Hills


Included Zip Codes
94566 | 94588
Request Your Free Quote
Complete the form below to schedule your no obligation quote.
Latest Blog Articles
Stay informed about pests and pest related issues in our area!