Trust The Professionals At Pro Active Pest Control To Protect Your Penryn, CA Property From Pests
Penryn is a suburban area located 5.5 miles northeast of Rocklin, California. Both home and business owners enjoy our central location, mild winters, and nearby recreational activities. Unfortunately, Penryn also faces its fair share of invasive pest species. Home and business owners often find pests such as fleas, cockroaches, spiders, and rodents on their properties. These pest problems can get out of hand quickly if they aren't eliminated. Without the help of a reliable pest control provider, pest infestations can lead to severe damage, disease, or health concerns.
Complete Pest Control Solutions Penryn, CA
Pro Active Pest Control is a family-owned pest control company in the Northern California area. We are focused on providing effective pest management services for home and business owners in Penryn. If a pest-free property is what you're looking for, Pro Active Pest Control is the right choice for you. We offer pest control services for ants, rodents, fleas, occasional invaders, spiders, stinging insects, and many more. No matter what pest problem you're dealing with, our skilled pest technicians have what it takes to provide you with an effective solution. Reach out to us today to learn more about how we can help!
Residential Pest Control In Penryn, CA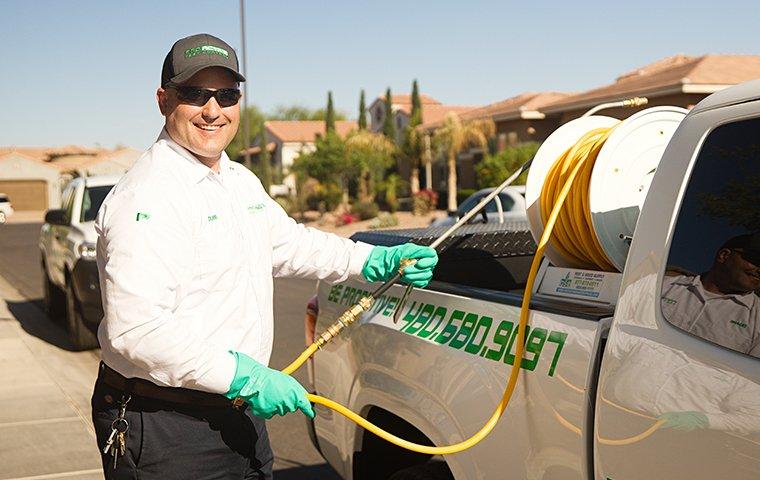 Pests such as rodents, stinging insects, and spiders are never a good addition to your Penryn home. Unfortunately, preventing pest infestations without the help of a trusted pest control provider is sometimes difficult, if not impossible, to accomplish. Here at Pro Active Pest Control, we offer a year-round residential pest protection plan to prevent pests from invading your home all year long. Your Penryn home deserves the best treatment possible, which is why we are committed to providing you with a pest control program that meets the exact needs of your unique pest problem. Pro Active Pest Control offers eco-friendly pest solutions in order to keep your home completely pest-free while also protecting the environment. Give us a call today for more information about our residential service plans!
How Can I Get Rid Of Black Widow Spiders In Penryn, CA?
There's no doubt that black widow spiders are dangerous. You don't want to find them on your Penryn property. But what should you do if you do find these frightening pests in your home or business? The first thing to remember is that you should never try to deal with a black widow infestation without the help of a licensed pest technician. Black widow spiders are known for their potent venom which can cause symptoms such as headaches, chills, fever, tremors, and stiff muscles. In most cases, black widow bites are not fatal, though it is still important to take steps to avoid getting bitten. The most effective way to avoid black widow spiders is contacting Pro Active Pest Control for professional spider removal services. Our certified pest technicians will eliminate your current spider infestation and apply a protective barrier around your Penryn property to prevent future infestations. Contact us today for a free quote!
Commercial Pest Control In Penryn, CA
Keeping your customers and employees in a healthy business environment is crucial to the success of your company and the satisfaction of your customers. When pests invade your property, customers notice. Avoid the stress and damage pests can bring to your Penryn commercial property by partnering with the pest professionals here at Pro Active Pest Control. Our local, family-owned company is always seeking out new paths to deliver effective pest control services throughout our area. With Pro Active Pest Control on your side, you can keep your business protected from pests such as rodents, cockroaches, ants, spiders, and various other common pest species. We provide honest and reliable pest solutions for Penryn businesses. That way, you can have a pest-free property without ever having to deal with pest problems yourself. Reach out to the professionals here at Pro Active Pest Control today for solutions to your pest infestation.
Damages Carpenter Ants Cause In Penryn, CA
Carpenter ants build their nests in wooden structures. Wood that is damp or decaying is more attractive to carpenter ants than dry wood, which means properties with excess moisture tend to experience more problems with these pests. While carpenter ants aren't capable of inflicting damage as quickly as termites, they can still be a serious threat to your home or business building.
When these wood-destroying insects infest Penryn properties, they chew tunnels and nesting galleries through wood, which weakens it over time. If multiple carpenter ant colonies infest your property long enough, severe structural damage can occur. Networks of carpenter ant tunnels and nest galleries weaken the structural integrity of your property, which could mean hundreds or thousands of dollars in damage repairs once discovered. Keep carpenter ants and other pest species off your Penryn property with a little help from the pest technicians here at Pro Active Pest Control. Give us a call today for immediate assistance!
Zip Codes We Service
95650 | 95663
Request Your Free Quote
Complete the form below to schedule your no obligation quote.
Latest Blog Articles
Stay informed about pests and pest related issues in our area!