Trust The Professionals At Pro Active Pest Control To Protect Your Orangevale, CA Property From Pests
Orangevale, California, located in Sacramento County, offers residents beautiful views of the Sierra Nevada Mountains and a rural escape from the surrounding urban areas. The plentiful outdoor spaces not only provide a great escape for people but also a lot of areas for insects and rodents to thrive. To keep the area's pests out of your Orangevale home or business, partner with the local pest control experts at Pro Active Pest Control. We have the eco-friendly and effective pest control solutions needed to protect people and properties found in Northern California. To learn how our comprehensive residential or commercial pest control services can guard your home or business against invasive pests, reach out to the experts at Pro Active Pest Control today.
Complete Pest Control Solutions In Orangevale, CA
There are a number of pests that call Orangevale home. The pest control experts at Pro Active Pest Control have developed several services to help you eliminate and control pests such as ants, fleas, occasional invades, rodents, spiders & stinging insects. Give us a call today for a free quote!
Residential Pest Control In Orangevale, CA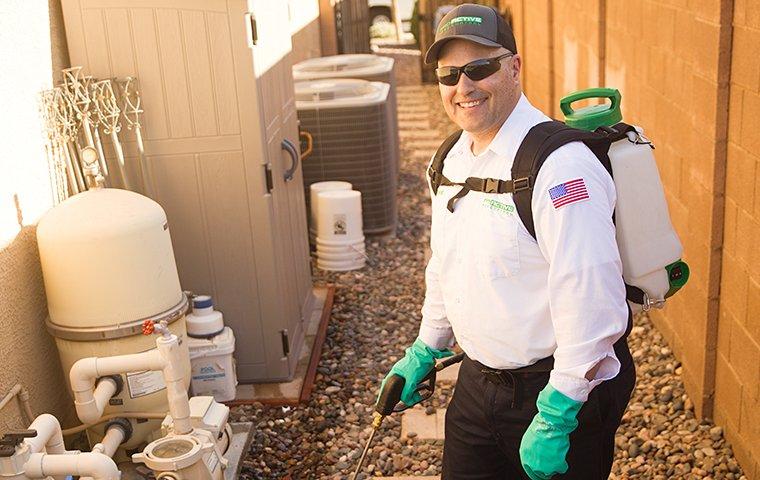 The best solution to keeping your Northern California home free of invasive insects and rodents is to implement a year-round pest protection plan. At Pro Active Pest Control, our professionals provide the guaranteed services needed to keep pests out of your home and away from your family throughout the entire year. Our most popular plan is our Bi-Monthly Service. It offers the following exceptional services.
Year-round protection

6 scheduled exterior treatments

Covers 20+ pests (including ants, spiders, cockroaches, rodents and wasps)

100% service guarantee

Exterior spider de-webbing

Interior & garage treatments (as needed)

Rodent control
Let the local professionals at our family-owned business keep local pests out of your home throughout the entire year. To learn more about any of our year-round home pest control plans, contact us today!
Earwig Prevention Tips For Orangevale, CA Residents
Earwigs are nuisance insects that often make their way into homes when the weather outside becomes too hot or dry for them to live comfortably. Earwigs have a flattened body that is elongated in shape. However, earwigs are probably most known for the distinctive pincer-like appendages that extend off of their abdomens. To stop these nuisance pests from making their way into your Orangevale home to live in its basement, crawl spaces, laundry room, or bathrooms we want to offer some helpful prevention tips.

Earwig Prevention Tips:
Place a stone or rock barrier between your home's foundation and any mulch or soil.

Seal any cracks or crevices in the foundation of your home.

Make sure that basement doors have door sweeps on them.

Place weather stripping around all exterior windows and doors.

Lower humidity levels inside your home by utilizing dehumidifiers in the basement and ensuring that crawl spaces are properly ventilated.
If you are experiencing problems in your Orangevale home with earwigs or would simply like to prevent future problems with these nuisance pests, Pro Active Pest Control can help. We can provide the inspection and routine treatment services needed to exclude earwigs and other common household pests. To learn more about our year-round, guaranteed pest control services, call our Northern California pest control experts today.
Commercial Pest Control In Orangevale, CA
Partner with Pro Active Pest Control and have peace of mind knowing that we offer long-term solutions to keep pests out of your Orangevale facility and away from people and products. We offer customized green pest control solutions that are guaranteed to meet your business's unique requirements. Our commercial pest control includes services performed by highly trained, state-certified, and friendly professionals, a 100% Pest-Free Guarantee, and exceptional customer services. At Pro Active Pest Control, we rely on Integrated Pest Management to control and eliminate pest populations in and around your commercial facility in an eco-friendly manner using only minimal amounts of pesticides. To learn more about our commercial pest control services, reach out and give us a call today.
How Dangerous Are Black Widow Spiders In Orangevale, CA
The black widow spider can be found throughout Northern California. This spider is considered to be dangerous because its venom is strong enough to cause health problems in people. The good news is that a bite from this spider, while painful, is rarely fatal. The venom from a black widow spider affects a person's nervous system and causes many symptoms such as fever, cramps, vomiting, abdominal pain and more. The symptoms they cause are serious, but under the care of a physician, the symptoms are manageable. To protect yourself from accidentally coming into contact with black widow spiders and being bitten, it is important to know where they are typically found hiding out. Common hiding spots for black widow spiders in and around Orangevale homes include:
Garages, sheds, and barns

Basements and closets

Attics

Under furniture

Gardens and tall grasses

Woodpiles
If black widow spiders become a threat for you and your family, take comfort knowing that Pro Active Pest Control can provide the eco-friendly and guaranteed services needed to get rid of them. Give us a call today to learn more about our black widow spider control solutions.
Neighborhoods We Service
Almond Estates | Almond Ridge | Amber Oaks | Arden Bluff | Barrhill Ranch | Castleton Heights | Central Park | Champion Hills | Cherry Manor | Chestnut Crossing | Chestnut Place | Douglass | East Grove | El Dorado Vista | Eula Estates | Executive Estates | Hazel Oaks | Hickory Estates | Hickory Farms | Hickory Glen | Hunt Estates | Le Parc | Linda Creek Estates | Madison Greens | Maxwell Meadows | Neal | Nimbus Park | Oak Tree Estates | Olive Orchard Estates | Orange Glen | Orange Heights | Orangevale Park | Orangevale Plaza | Ottomon Hills | Pershing Woods Estates | Pecan Estates | Pecan Terrace | Poni Estates | Robin Hill Estates | Robinwood Estates | Rollingwood Bluffs | Rollingwood Green | Rollingwood Oaks | Rollingwood Park | Sharon Estates | Sheltonham Estates | Springhills | Stratton Park | Windham Ranch | Woodbridge Ranch | Woodhaven Heights


Included Zip Codes
95628 | 95662
Request Your Free Quote
Complete the form below to schedule your no obligation quote.
Latest Blog Articles
Stay informed about pests and pest related issues in our area!