Trust The Professionals At Pro Active Pest Control To Protect Your North Highlands, CA Property From Pests
Whether you own a home or business in beautiful North Highlands, California you can count on the Northern California pest control experts at Pro Active Pest Control to protect it from common area pests. Our small family-owned company is committed to providing our customers with the modern, effective, and affordable services needed to keep their residential or commercial property free of rodents and insects. To learn more about our guaranteed, local pest control services, give us a call today!
Complete Pest Control Solutions In North Highlands, CA
There are a number of pests that call North Highlands home. The pest control experts at Pro Active Pest Control have developed several services to help you eliminate and control pests such as ants, fleas, occasional invades, rodents, spiders & stinging insects. Give us a call today for a free quote!
Residential Pest Control In North Highlands, CA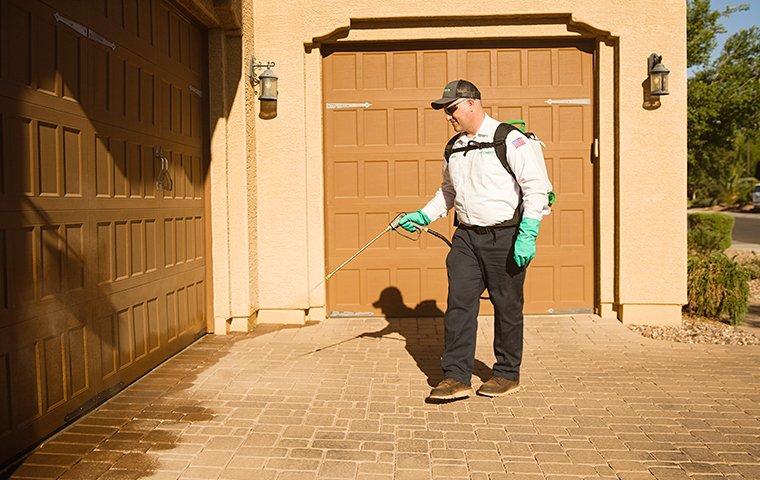 Maintain and enjoy a pest-free home with the help of the experts at Pro Active Pest Control. We have three different options to meet the specific needs of your home. When you choose our Monthly Service (12 scheduled exterior treatments), Bi-Monthly Service (6 scheduled exterior treatments), or Quarterly Service (4 scheduled exterior treatments) you will receive our 100% service guarantee and coverage against more than 20 pests, including ants, spiders, fleas, cockroaches and rodents. These year-round plans also provide exterior spider de-webbing, interior and garage treatments, and rodent control on an as-needed basis. Choosing Pro Active Pest Control for your home's pest control needs means that you will have the peace of mind knowing that:
Our pest control solutions are pet-friendly.

Our pest control services are eco-friendly and green.

Our pest control services are effective and affordable.

Our pest control services are the right fit for your family and home.
To learn more about our residential pest control services and how they can protect your North Highlands home from pests, contact us today.
Common Ants In North Highlands, CA
There are many species of ants found living throughout North Highlands some of the most common include:
Argentine ant

Carpenter ant

Pharaoh ant

Odorous house ant
Ants find their way onto properties and into homes while out foraging for food, water, and shelter. Once inside they can become a nuisance, contaminate food, introduce bacteria, and cause damage (as in the case of carpenter ants). To keep ants out of your North Highlands home, Pro Active Pest Control offers comprehensive pest control services. Our professionals create an ant barrier around the exterior of your home by completing exterior inspections and seasonal outdoors pest treatments in the usual areas where ants are found nesting. To get started protecting your property from Northern California ants, give us a call today.
Commercial Pest Control In North Highlands, CA
Pro Active Pest Control provides North Highlands business owners with customized green pest control solutions that are guaranteed to meet the specific needs of your commercial facility. Our eco-friendly commercial pest control services are sure to include:
Services that are performed by highly trained, state-certified, and friendly professionals.

A 100% Pest-Free Guarantee.

Exceptional customer service.

The use of Integrated Pest Management (IPM).
To prevent pests from damaging your Northern California business, partner with our experts to make sure that your business becomes and stays pest-free. To learn more about protecting your North Highlands business from damaging, dangerous, and disease-spreading pests, contact Pro Active Pest Control today.
How To Avoid Roof Rat Problems In North Highlands, CA
Roof rats are a lean, agile species of rat that, as their name suggests, are known for finding their way into homes and other buildings through holes found in roof areas. Keeping roof rats from finding their way into your North Highlands home is important for many reasons:
They will contaminate food with their excrement and saliva.

They can use their sharp front incisors to chew through wires, insulation, drywall, flooring, and other structural elements.

Roof rats will destroy personal items like clothing, shoes, furniture, pictures, and books.

Roof rats have the potential to introduce disease, bacteria, and parasites into your home.
To avoid problems with roof rats in or around your North Highlands property some helpful prevention tips are listed below.
In garden areas, pick up all fruits and vegetables that have fallen to the ground.

Make sure that all trash cans have tight-fitting lids on them.

Place gardens and compost piles a distance away from the outside of your home.

Seal any spaces found in your home's foundation, exterior walls, and roofline.

Repair any loose roof shingles and spaces found along roof intersections.

Place a cap on your home's chimney.
Pro Active Pest Control can provide the targeted services needed to eliminate roof rats from your home and prevent their return. Our rodent control services include identification, the blocking of entry points, sanitation, and attic clean-up services. To learn more about roof rats and our rodent control services contact Pro Active Pest Control today.
Neighborhoods We Service
Aero Haven | Air Base Meadows | Ancker Estates | Ashcroft Village | Ashdale Apartments | Arcade Oaks Terrace | Arcade Park | Belmont Estates | Briarwood Estates | Creek Side Park | Creek View Estates | Fonseca Estates | Foothill Gardens | Foothill Village | Freeway Estates | Galaxy Park | Haggin Oaks | Hamilton Woods | Harrison Commons | Harvard Park Estates | Hemlock Condos | Hemlock Gardens | Hope Ranch | Indian Oaks | Irish Village Estates | Jackson Manor | Kennedy Meadows | Keystone | Larchmont Village | Madison Manor | Madison Woods Condos | Magpie Villa | Mcclellan Industrial Park | Mcclellan Meadows | Mieko Estates | Mohamed Oaks Estates | North Haven | Oakridge Condominiums | Old Oak Court | Palmdale | Planehaven | President Park | River College Square | Santa Fe Estates | Scotland | Shady Creek | Sunrise Antelope | Terra Bianco | Willow Rock | Willow Rock Estates | Wood Dale


Included Zip Codes
95660 | 95821 | 95838 | 95841 | 95842
Request Your Free Quote
Complete the form below to schedule your no obligation quote.
Latest Blog Articles
Stay informed about pests and pest related issues in our area!