Trust The Professionals At Pro Active Pest Control To Protect Your Newcastle, CA Property From Pests
Newcastle is a census-designated area located in Placer County. Residents of our area have access to hiking trails, local breweries, and enjoy a friendly community atmosphere. Newcastle is rich with culture and outdoor recreational activities but it is also rich with invading, possibly dangerous and damaging pests. Many home and business owners here in Newcastle face the frustrations and stress pests create on a daily basis, which makes proper pest control important for every Newcastle home and business.
Complete Pest Control Solutions Newcastle, CA
Here at Pro Active Pest Control, we provide effective, eco-friendly solutions for existing pest problems, as well as preventative services to stop them invading in the future. We offer customizable service plans and quality customer support with every visit. Our pest control plans cover many species of invasive pests, including spiders, stinging insects, fleas, ants, rodents, and occasional invaders. Don't hesitate to contact us today for answers to all your pest problems.
Residential Pest Control In Newcastle, CA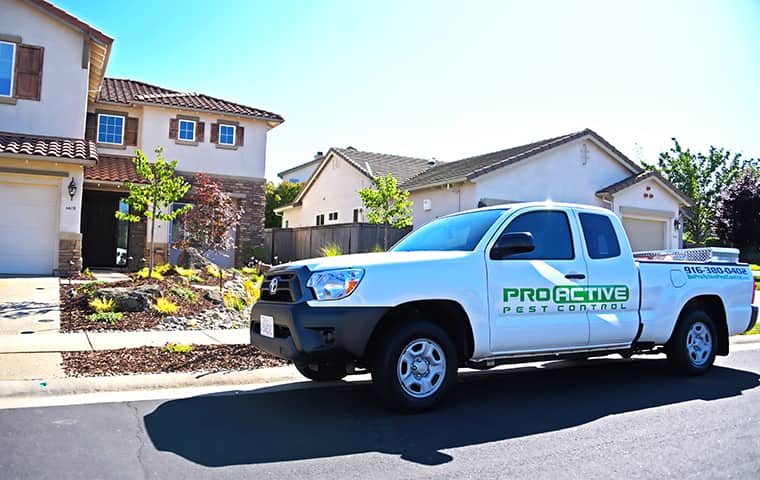 Keeping pests out of your Newcastle home is just as important to the professionals here at Pro Active Pest Control as it is to you. When we service residential properties, we make your satisfaction our number-one goal. With regular applications of eco-friendly products and a 100% service guarantee, our solutions remove pest problems from your Newcastle home and keep pests from returning in the future. A typical residential visit from Pro Active Pest Control includes:
Treatments along your foundation to create a complete protective barrier around your property.

Seasonal pest treatment options for areas where pests are most active.

Exterior inspections and the elimination of spiders, their webs, and wasp nests.
For effective pest control solutions and control options, consider trusting Pro Active Pest Control with all your residential pest problems!
What Is Eco-Friendly Pest Control In Newcastle, CA?
Here at Pro Active Pest Control, our first approach to any pest situation is considering the needs of our customers and protecting the environment while doing so. We saw the need for a pest control provider that would set the needs of people and the environment as their number one priority, which is why we started Pro Active Pest Control. Our eco-friendly pest control services are customizable so you can reach the perfect solution for your unique pest problem. The green solutions we implement use fewer pesticides than conventional pest products and are long-lasting in order to keep pests away from your property year-round. Trust Pro Active Pest Control with your pest problems by contacting us today!
Commercial Pest Control In Newcastle, CA
Pests spread harmful bacteria and pathogens that can cause serious health concerns for you, your employees, and your customers. Having a pest infestation on your commercial property is bad for the reputation, sanitation, and productivity of your company. At Pro Active Pest Control, we are dedicated to providing your Newcastle company with effective pest control options that are eco-friendly. Our pest specialists utilize Integrated Pest Management (IPM) methodology to ensure we stop your pest infestation at its source. When you partner with Pro Active Pest control, we will customize our green service plans to fit the specific needs of your business industry. Keep your company and customers protected with the help of the reliable pest control technicians here at Pro Active Pest Control!
Guide To Avoiding Roof Rats In Newcastle, CA
Roof rats are sleek rodents known for their agility and climbing prowess. When these rodents invade your Newcastle home or business, your property and security are threatened. Like other types of rodents, roof rats must gnaw on things to keep their teeth worn down. Some of the items roof rats may chew on when they invade your property include wiring, structural beams, piping, furniture, and personal belongings. To avoid the threat of these invasive rodents in your home or business, consider the following prevention tips:
Keep your garbage cans sealed and stored away from the exterior of your home or business.

Pick up pet food at night and store it in an airtight container.

Sweep up crumbs frequently and wipe up drink spills right away.

Remove clutter from the exterior and interior of your property to avoid giving roof rats areas to hide.

Seal gaps and cracks around your foundation and exterior walls with a caulking gun.

Roof rats often invade through dislodged shingling on your roof, hence their name. Repair any holes in your roof, cover your vents, and replace old shingling.

Trim trees away from your property. Roof rats will climb trees in order to reach the top of your home or business building.
The most effective way to avoid roof rat infestations is with proper rodent prevention and management services from Pro Active Pest Control. We offer eco-friendly pest solutions that protect your property from invasive pests year-round. Reach out to us today for more information about our rodent control services!
Neighborhoods We Service
Newcastle | North Gold Hill | Ridge Road | Virginiatown | Wise Road


Included Zip Codes
95658
Request Your Free Quote
Complete the form below to schedule your no obligation quote.
Latest Blog Articles
Stay informed about pests and pest related issues in our area!