Customized And Effective Pest Control Services In Modesto, CA
Modesto is the largest city located in Stanislaus County with a thriving downtown area, great restaurants, and an amazing community. Unfortunately, pests also live here in Modesto and have no problem invading your property and making themselves at home. Protect your Modesto home or business from pests by partnering with the local pest control experts here at Pro Active Pest Control. Our residential and commercial pest control services utilize Integrated pest Management (IPM) techniques and eco-friendly solutions to ensure your property remains free of pests without harming the environment. If you're ready to say goodbye to common area pests, Pro Active Pest Control can help. Our goal is to offer effective residential and commercial pest control services, including services such as bed bug control, rodent control, and much more. Give us a call today to ask about all of the pest control options we have to offer.
Complete Pest Control Solutions In Modesto, CA
No matter where you live, pests are bound to cause problems in your home or business at some point. The experienced pest professionals here at Pro Active Pest Control have what it takes to control and prevent all kinds of pests, including rats, stinging insects, cockroaches, spiders, fleas, and occasional invaders. Contact us today to learn more about how we handle pest problems of all shapes and sizes.
Residential Pest Control In Modesto, CA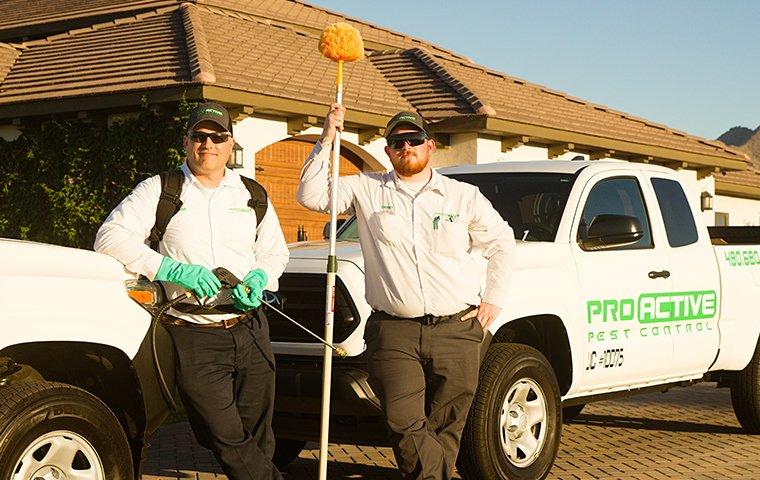 When pests are causing problems in and around your Modesto home, your best option is to reach out for professional help from Pro Active Pest Control. We've made it our goal to provide eco-friendly residential pest control options to meet the needs of Modesto homeowners and will keep pests away from your property year-round. And, because we understand that every home has unique pest control needs, we provide three different home pest control plans:
Monthly Service

Bi-monthly Service

Quarterly Service
Our year-round home pest control plans include foundation treatments, exterior elimination of spiders and wasp nests, and seasonal pest treatments around common pest harborage areas. Protect your Modesto home from all kinds of pests by getting in touch with the professionals here at Pro Active Pest Control today.
Commercial Pest Control In Modesto, CA
Owning a business comes with a lot of responsibilities and tasks to accomplish. The last thing you need to deal with in your Modesto business is pest problems. At Pro Active Pest Control, we are committed to taking care of your commercial pest control needs so you can focus on running your business and providing excellent services to your customers. Our commercial pest control plans can be customized to meet the specific needs of your industry and commercial property. Never deal with the stress of pest infestations again when you partner with the local pest control technicians here at Pro Active Pest Control. We're ready to protect your Modesto business from all kinds of pests.
Are Black Widows In Modesto, CA Dangerous?
Many spiders live in and around Modesto properties, such as wolf spiders and orb weaver spiders. In most cases, spiders are nuisance pests that can't inflict too much harm on you or your property. Typically, spider bites are painful and may swell but are not a serious threat to your health. All spiders have venomous bites used to paralyze their prey, but not all venom is potent enough to cause lasting harm in humans. However, there are a few species of spiders that are dangerous and can inflict potent, venomous bites. Black widow spiders are widely recognized for their shiny black bodies and distinct red marking on their abdomens. Although black widow spiders would rather hide from you than bite you, they will bite if they feel threatened or cornered. Bites from black widow spiders are painful and are often followed by symptoms such as:
Swelling and redness around the bite

Sweating

Muscle spasms or cramps that start near the bite and spread outward

Headaches

High blood pressure

Nausea, vomiting, fever, or chills

Shock and restlessness

Severe pain in your back, stomach, or chest
If you believe you have been bitten by a black widow spider, seek medical attention right away. Although fatalities due to black widow bites are rare, it's still important to reach out for medical help. Reach out to Pro Active Pest Control for complete spider control solutions you can trust.
Learn How To Avoid Field Mice In Modesto, CA
Field mice are small rodents with large eyes and gray or tawny-brown fur. They have white underbellies and relatively short tails. Although field mice typically choose to live outdoors, they will invade homes when the weather cools down or after their current nests are destroyed. To avoid finding field mice in your Modesto home or business, consider a few of these rodent prevention tips:
Repair holes in your roofline.

Seal gaps around your foundation and exterior walls.

Trim tree branches away from your building.

Ensure your trash cans are equipped with tight-fitting lids.

Remove all possible food sources, such as crumbs, pet food, and sticky residue.
The best way to get rid of field mice is with a little help from Pro Active Pest Control. Our professionals have what it takes to identify, eliminate, and prevent pest problems throughout the entire year. Contact us today to learn more about our rodent control process.
Neighborhoods We Service
Airport | Aurora | Bret Harte | Central Modesto | Coffee-Sylvan | Cowan Tract | Downtown Modesto | East Modesto | Harp | Monterey Park Tract | North Side | Northwest Modesto | O. G. Southside | Riverdale Park | Robertson Road | Shackleford | South Side | West Side


Included Zip Codes
95313 | 95351 | 95353 | 95355 | 95357 | 95397 | 95350 | 95352 | 95354 | 95356 | 95358
Request Your Free Quote
Complete the form below to schedule your no obligation quote.
Latest Blog Articles
Stay informed about pests and pest related issues in our area!