Trust The Professionals At Pro Active Pest Control To Protect Your Mesa, AZ Property From Pests
Located just east of Phoenix, Mesa is an excellent place to live with a short commute to the city proper but plenty of its own appeal, including the Mesa Grande Cultural Park and Arizona Museum of Natural History.
Don't leave your Mesa home or business at risk from the various insects and rodents found around the greater Phoenix area. Protect your property with eco-friendly, modern, affordable pest control solutions from the pest control experts at Pro Active. Read on to learn more about the many ways we can help keep your property pest-free today, tomorrow, and beyond.
Residential Pest Control In Mesa, AZ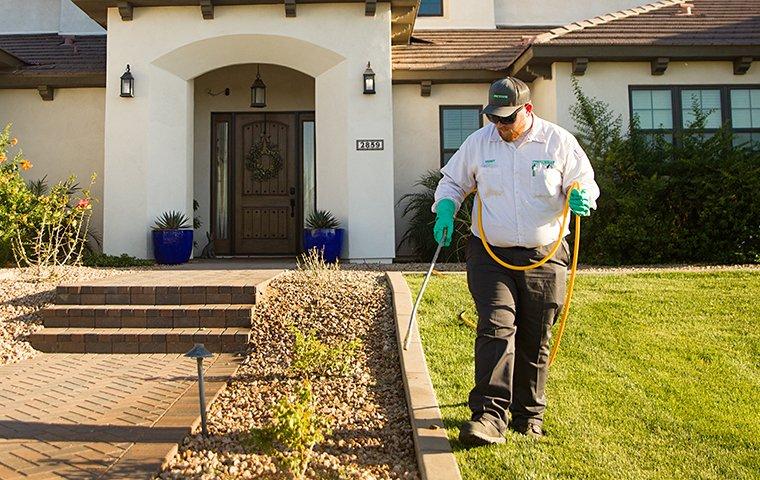 There are dozens of invasive pest species present around Mesa, and the problems they can bring to your home are no joke. Between property damage, disease, and direct dangers to your family and pets, pests in the home are a fate no one should have to deal with.
At Pro Active Pest Control, our driving mission is to protect homeowners from pests through quality care and professional pest control solutions customized to meet our customers' needs. Our technicians have years of pest control experience and a deep understanding of the pests that call Mesa home. No matter what's trying to get inside your home, we have the tools and know-how to make it disappear.
When you contact us for help, we'll work with you to create a customized pest control plan for your property that will remain in action long after our technicians leave. Avoid the disease, danger, and frustration pest animals bring with quality pest control programs from Pro Active Pest Control. Contact us to find out more!
Commercial Pest Control In Mesa, AZ
As a business owner, you are constantly under pressure to keep things running smoothly. Nothing brings business to a grinding halt faster than a pest infestation - not to mention the danger they can bring to customers and employees.
Don't leave your Mesa business at risk for pests - trust Pro Active to take care of your commercial pest control needs so that you can focus on running your business. As our name suggests, we emphasize proactive pest prevention techniques to not only remove existing pests from your business but keep them from coming back using Integrated Pest Management (IPM) practices. We treat the environment, not just pests.
Utilizing the latest and greatest advancements in pest control, Pro Active has just the tools you need to see a better, pest-free tomorrow. Contact us today and find out why a customized pest management program from Pro Active Pest Control is the perfect long-term solution for all your pest needs.
Damage Rodents Can Cause In Your Mesa, AZ Home
When it comes to rodents in Mesa, two things are most important to know as a homeowner. The first is that they're among the most frequent pest invaders homeowners face. The second is that they're also the worst of the worst in terms of the problems they bring.
Despite your best efforts to keep them out, rodents always seem to find a way inside, no matter what. Rodents can squeeze themselves into your home or business building through a hole the size of a quarter (or smaller!), making them almost impossible to completely keep out if they detect food or water inside your home. Once inside, rodents chew on practically everything they find in order to wear down their constantly-growing teeth, leading to further property damage.
Inside your home, rodents will chew on personal items, furniture, books, piping, electrical wiring, structural beams, and more - leaving lasting damage to your home and your possessions. In rare cases, rodents have even caused electrical shortages and house fires after chewing on major electrical wiring.
Rodents are also a difficult and dangerous pest to try to treat using DIY methods alone. Don't waste time and resources: contact the certified pest professionals here at Pro Active Pest Control for any rodent problems you're facing.
Problems Cockroaches Cause In Mesa, AZ Homes
Roaches are filthy pests that are unfortunately a common invader inside Mesa homes. Like all pests, they're constantly on the hunt for suitable sources of food, water, and shelter. Unfortunately, your home provides all three of these resources in huge supply, making it a constant potential target for any roaches that might be in the area.
Here are just some of the problems roaches bring into homes they infest:
Contaminating your home's surfaces and food with their saliva and excrement
Carrying transmissible pathogens and parasites inside
Triggering asthma attacks, especially in children
Don't leave your home at risk for these disgusting and dangerous pests. If roaches have gotten into your Mesa residence, contact the roach removal experts at Pro Active immediately for help.
Neighborhoods We Service
Alta Mesa Community Association | Apache Wells | Arizona Skyline Community | Ashland | Cachet at Las Senda | Carriage Manor | Casa Mia Subdivision | Dana Ranch at Villas Owners | Deserama Mobile Ranch | Dobson Ranch | Dobson Woods | Eastmark | Eaton Club Estates | Emerson Manor | Encanto Neighborhood | Fiesta Park Village | Forest Knoll North | Fountain of the Sun | Fuller Ranch | Garden Grove | Hacienda II| Kleinman Park Neighborhood | Las Palmas Grand | Mesa Grande I | Mesa Valley View | Mesa Vista II | MGM Neighborhood | Mira Mesa | Mountain Ranch HOA| Parkview Terrace | Parkwood Ranch | Passey Place | Pioneer Protectors | Rancho de Arboleda Unit #4 | Red Mountain Ranch | Reed Park | Signal Butte Shopping Center | Sonata II | Spyglass Estates | Stonebridge Gardens HOA | Stonecrest | Stonegate Estates | Summer Mesa | Sundance Homes | Sunland Village | Sunland Village East | Westbrook Town Homes HOA | Windsor Shadows | Woodglen Square II | Woodridge Lakes


Included Zip Codes
85201 | 85202 | 85203 | 85204 | 85205 | 85206 | 85207 | 85208 | 85209 | 85210 | 85211 | 85212 | 85213 | 85214 | 85215 | 85216 | 85274 | 85275 | 85277
Request Your Free Quote
Complete the form below to schedule your no obligation quote.
Latest Blog Articles
Stay informed about pests and pest related issues in our area!