Trust The Experts At Pro Active Pest Control To Protect Your Marysville, CA Property From Pests
Marysville, located in Yuba County, California, is a wonderful community, with beautiful Ellis Lake at its center. To protect homes and businesses from the many pests that also call Northern California home, partner with Pro Active Pest Control. We are a family-owned, local company that offers the complete and guaranteed solutions necessary to keep pests out of structures and away from people. Our pest control services include control over fleas, occasional invaders, rodents, spiders, and stinging insects. To discover how we can work together to protect your Marysville residential or commercial property from a wide variety of local pests, give us a call today.
Residential Pest Control In Marysville, CA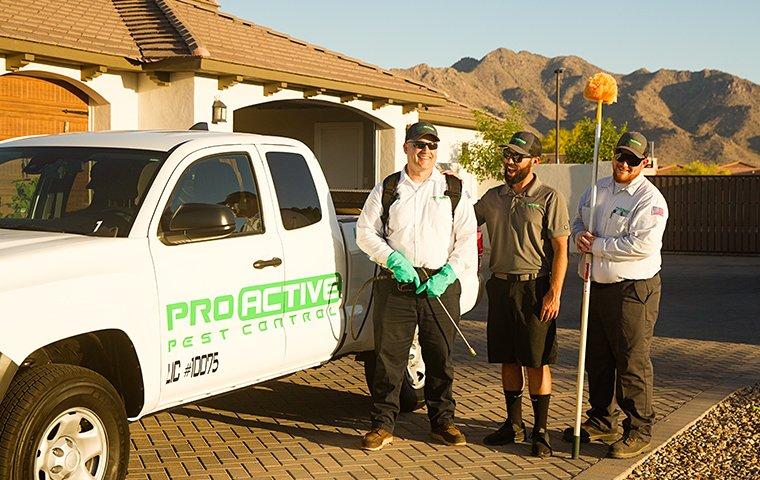 Pests like insects and rodents can become a problem in any Marysville home. They find their way inside through the tiniest crack or crevice. Once inside, they will contaminate food, damage the structure of your home, and introduce bacteria and disease. To protect your house from pests, put your trust in Pro Active Pest Control's professionals. Our highly-trained specialists know the pests common to Northern California and how to keep them out of your home in the safest manner possible.

To protect your home and family from insects and rodents, we rely on Integrated Pest Management techniques and eco-friendly solutions. We do thorough inspections to ensure your home becomes and stays pest-free. Our Bi-Monthly Service is our most popular pest control plan option. This program includes six exterior treatments, year-round protection, coverage against more than 20 pets, a 100% service guarantee, exterior spider de-webbing, interior & garage treatments (as needed), and rodent control (as required). For more information about our effective and affordable residential pest control services, please reach out to us today.
Is There Anything That Can Be Done About Paper Wasps In Marysville, CA?
Paper wasps are a species of stinging insects that live and breed outside. The good news when it comes to paper wasps is that they aren't an overly aggressive species and typically only sting when accidentally disturbed. However, having a nest located on your property where you, your kids, or pets frequent can be dangerous and increase the likelihood of a sting.

Stopping paper wasps from choosing your property or home to nest on is difficult. However, there are a few steps you can take to make your property less attractive to these potentially dangerous pests:
Trim back shrubs, bushes, and trees away from the exterior of your home.

Place tight-fitting lids on outdoor trash cans.

Keep outdoor eating and grilling areas cleaned up.

Place tight-fitting caps on all chimneys.

Fix loose roof shingles and repair holes along rooflines.

Make sure all windows and doors have intact screens placed in them.

Caulk gaps around windows and doors, and seal cracks in the exterior walls of your home.

Maintain gutters to prevent rainwater from pooling in them.
If paper wasps, or another stinging insect, decide to nest on your Marysville property, do not hesitate to contact us at Pro Active Pest Control. Our professionals will come to your aid, solve the problem, and implement routine services to stop them from returning. To learn more about our paper wasp solutions, give us a call today.
Commercial Pest Control In Marysville, CA
Owning a business means that you need to make a lot of tough decisions daily. However, when it comes to your business's pest control needs, the choice is easy—choose Pro Active Pest Control. Trust us to provide year-round pest control services that are 100% guaranteed. Some of the benefits of choosing us for your commercial pest control needs include:
Pest specialists that are highly trained and state-certified.

Control against a variety of common pests including rodents, ants, and roaches.

Utilization of Integrated Pest Management techniques to provide long-term pest control solutions using the fewest pesticides possible.

Effective pest control solutions for a wide variety of industries.
Let Pro Active Pest Control take care of your pest control needs so you can spend your time taking care of your business, customers, and employees. To request a free pest control quote, get in touch with us today.
Most Common Ants In Marysville, CA
Living throughout California are about 270 species of ants, but only a handful are significant. Some of the most common species of ant living throughout Northern California are the carpenter ant, Argentine ant, pharaoh ant, pavement ant, and odorous house ant. All these species have slight variances in their behavior and appearance, but all are capable of invading your Marysville home.
Ants can cause a variety of problems for homeowners, including their being difficult to eliminate. To stop your home from becoming a place where ants nest or forage for food, Pro Active Pest Control offers effective ant control services. With the help of Integrated Pest Management techniques and our advanced methods and products, we can keep ants out of your home for good. To keep ants out of your home throughout the entire year, we recommend implementing one of our year-round pest protection plans. To learn more about our eco-friendly, affordable, and effective solutions to ants, contact Pro Active Pest Control today.
Neighborhoods We Service
City Center | Lindhurst Avenue / North Beale Road | Hammonton Smartville Road / North Beale Road | Covillaud Street / East 17th Street | Linda | Loma Rica | Smartsville


Included Zip Codes
95901
Request Your Free Quote
Complete the form below to schedule your no obligation quote.
Latest Blog Articles
Stay informed about pests and pest related issues in our area!