Trust The Professionals At Pro Active Pest Control
To Protect Your Loomis, California Property From Pests
The charming town of Loomis, CA is marked by its beautiful landscape, quaint downtown, and proud citizens. Pastoral farmland and beautiful rolling hillsides serve as prime land for picturesque fruit orchards. This quaint yet progressive town provides affordable housing options, engaging community events, great schools, and an ideal location. If you're looking for city amenities, Sacramento is close by. Loomis has warm summers and mild winters, something we all enjoy! However, local pests also, unfortunately, enjoy Loomis' Mediterranean climate. Pests in our area cause problems for home and business owners alike. Protect your Loomis residential or commercial property from pests with the help of the local experts at Pro Active Pest Control. Our eco-friendly services and 100% service guarantee provides property owners with the peace of mind to know their pest problems will be completely solved! Learn more about our residential and commercial pest control services by calling Pro Active Pest Control today!
Complete Pest Control Solutions In Loomis, CA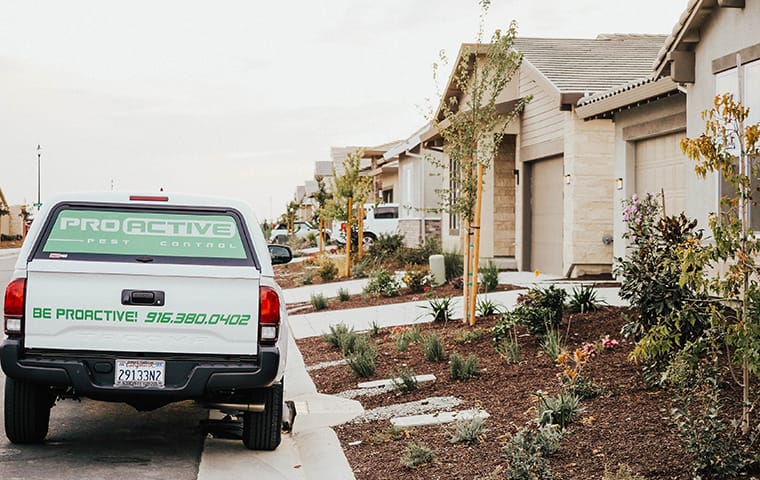 Our guaranteed solutions are the answer to Loomis property owner's pest problems. Common pests are no match for our advanced services, commitment, and understanding of local pest pressures. Guard properties against pests such as ants, fleas, occasional invaders, rodents, spiders, and stinging insects. Pro Active Pest Control is the solution to your property's pest problems. Schedule an inspection of your home or business by reaching out to us today!
Home Pest Control In Loomis, CA
Why wait until there are ants in your kitchen, cockroaches in the pantry, spiders in your basement, or rodents in your attic to take action against pests? Put into place professional pest control services today to correct pest problems you may be experiencing and prevent future problems from occurring. Our residential pest control services are eco-friendly, pet-friendly, and highly effective. Pro Active Pest Control is a local, family-owned company, driven to protect people and property from pests. Through bi-monthly or quarterly service visits, we meet your family's pest control needs through every changing season. Don't struggle for another day trying to maintain a pest-free home, instead, contact Pro Active Pest Control. We have the services needed to keep your home, yard, and family safe from our area's toughest pests.
Commercial Pest Control In Loomis, CA
As a company that is committed to protecting Loomis commercial facilities from the area's most common pest pressures, Pro Active Pest Control is a pest control company you can trust. Customer satisfaction is our highest priority. Performed by our state-certified, highly trained technicians, our commercial pest control services offer a long-term solution against pests. With a combination of Integrated Pest Management and eco-friendly products and solutions, your commercial facility will become free of pests and stay free of them throughout the entire year. Listed below are examples of the many different types of commercial properties we serve throughout Loomis, CA:
Warehouses and storage facilities

Shopping centers and retail stores

Daycares

Religious buildings

Funeral homes

Office buildings
Let Pro Active Pest Control take care of your commercial facility's pest control needs so you can take care of your business, customers, and employees. For business owners looking for exceptional pest protection, we have the commercial pest control services you are looking for. Call Pro Active Pest Control today to learn more.
Tips To Prevent Earwigs In Loomis, CA
With pincher-like appendages extending off of their long oval-shaped bodies, earwigs give the appearance of being a formidable pest. But looks are deceiving and earwigs are not a danger to people. They are however nuisance pests that have the potential to find their way into Loomis homes in large numbers. They move inside in the late fall to have a warm, safe spot to overwinter. Once inside, they can stain walls, upholstered furniture, and curtains with their excrement, and they hide in hard-to-reach areas and are difficult to get rid of.
The best way to prevent earwigs is to partner with Pro Active Pest Control. We will put into place the measures needed to stop earwigs before they enter your home, through our residential pest control services. In addition to our professional services, the following tips help to prevent problems with earwigs inside homes and other structures:
Earwigs are attracted to moisture, make sure not to overwater gardens and lawns on your property.

Make sure gutters and downspouts are in good working order and are directing water away from the outside of your home.

Leave a stone or crushed rock barrier between any mulch or soil and your home's foundation.

Place weather-stripping around windows and doors.

Install door sweeps on all exterior doors.

Repair any openings found in your home's exterior walls, foundation, or roofline.

Place mesh covers over vents leading into your home.
Stop earwigs from using your Loomis home as an overwintering spot by partnering with Pro Active Pest Control. To discover how we work with homeowners to prevent problems with earwigs, call us today!
Problems Rodents Cause In Loomis, CA
Sharp, gnawing front incisors give rodents the unparalleled ability to cause extensive and expensive structural damage in and around homes and businesses. To stop their teeth from overgrowing, they chew on anything they come across - wires, pipes, drywall, shingles, wooden trim, and more. Their chewing habits can trigger fires and cause water damage. In addition to being very destructive pests, they are carriers of a wide variety of diseases, bacteria, and parasites that can make people and pets ill. They also contaminate food and surfaces of homes or businesses with their excrement and saliva.
Rodents are not something any home or business owner wants living on their property. To combat rodents, we offer exceptional rodent control services. Our rodent control process provides the following:
Initial service visits and inspections.

Professional rodent monitoring and treatments.

Guaranteed rodent exclusion services.

Professional clean-out services.

Follow-up services to prevent re-infestations.
For more information about working together to protect your Loomis home or business from destructive and dangerous rodents, contact Pro Active Pest Control today!
Neighborhoods We Service
Cambridge Estates | Clos Du Lac | DeAnza Estates | Kingmont | Lemos Ranch | Loomis Hills | Placer Canyon | Monte Sereno | Saint Francis Woods | Sierra De Montserrat | Sterling Point | Teracina


Included Zip Codes
95650
Request Your Free Quote
Complete the form below to schedule your no obligation quote.
Latest Blog Articles
Stay informed about pests and pest related issues in our area!