Trust The Professionals At Pro Active Pest Control To Protect Your Gilbert, AZ Property From Pests
Gilbert, Arizona is one of the fastest-growing communities in the state, and for good reason: it provides an excellent place to live and work that's only a short drive away from Phoenix. The climate is hot but dry, leading to pleasant summers and mild winters, a perfect fit for most residents.
Unfortunately, the same can be said for pests in the area. When pests invade Gilbert homes and businesses, numerous problems inevitably follow, including property damage, health risks, general discomfort, and worse.
Luckily, Gilbert residents never have to face pests alone: Pro Active Pest Control has your back. We are a local family-owned and operated company that offers complete pest control services to communities across the greater Phoenix area. Whether it's your home, your business, or a property you manage, we have all the tools and expertise you need to eliminate any pest pressures you might come up against.
Home Pest Control In Gilbert, AZ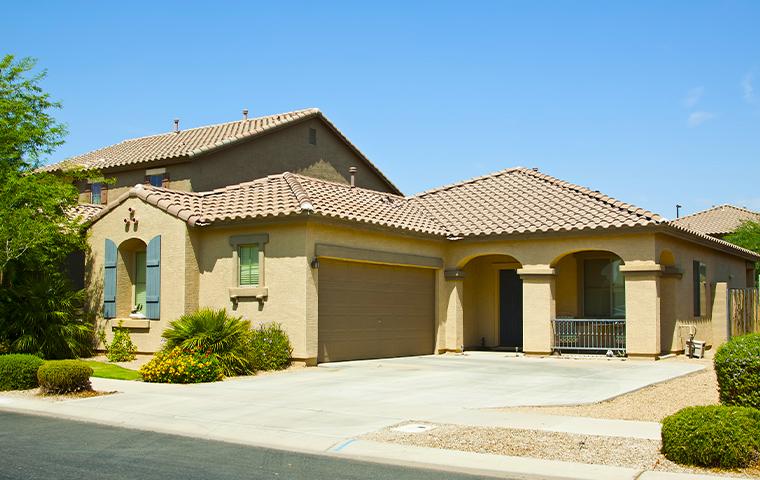 When pests come into your home, they threaten your family, your pets, and your home. Making matters worse, most pests infestations are practically impossible to eliminate for homeowners working on their own, and the longer they're allowed to stay in your home, the worse the problem will inevitably become.
Give your Gilbert home the protection it deserves with help from Pro Active. Our experienced technicians know all the pests in the Greater Phoenix area, and we have all the tools you need to remove them from your home and keep them from coming back with customizable residential pest control plans. Based on your needs, we offer our plans on a monthly, bi-monthly, or quarterly basis. Most of our clients go with the bi-monthly plan, but we can work with you to discuss the best choice for your particular pest situation.
All of our residential treatments include:
Exterior inspection
Exterior spider de-webbing
Foundation treatment
Interior and garage treatments (as needed)
Rodent control (as needed)
Seasonal pest treatment
Whether it's ants, fleas, rodents, spiders, stinging insects, or other common household pests, we've got you covered! After one of our pest experts conducts a thorough inspection of your property to detect all pest activity, we'll then work with you to come up with the best treatment plan for your unique situation. Our IPM (Integrated Pest Management) solutions are strategically developed to target the root of the infestation to eliminate it completely. Give us a call and protect your home today!
Commercial Pest Control In Gilbert, AZ
As a business owner, every day brings new challenges. With so much already on your plate, the last thing you need is a pest infestation. Pests in businesses bring all the same problems they do to homes, with the added possibility of scaring away customers and employees.
You've worked hard to sustain your business: don't let pests put all that work to waste. Pro Active Pest Control is your one-stop-shop for all your pest control needs. Whether you need to eliminate an active infestation or you're looking to prevent pests in the future, we've got just what your business or commercial property needs.
We service a range of businesses and industries, including:
Daycares
Funeral homes
Medical facilities
Office buildings
Pharmacies
Religious buildings
Retail and shopping centers
Warehouses and storage facilities
All of Pro Active's commercial pest control treatments prioritize the safety of your employees, your customers, and your property. Our treatments are eco-friendly, pet-friendly, and always effective. Call us today and we'll be happy to give you a quote.
Preventing Cockroaches In Gilbert, AZ
Between the health risks they bring and the sheer disgust they leave you with, cockroaches are a problem no one should have to live with. If you want to avoid these pests and prevent them from infesting your property, there are several steps you should take to minimize your risk:
Keep all food (including pet food) stored in sealed containers.

Clean up any spills immediately.

Vacuum often.

Wipe down countertops and tables after use.

Apply weather stripping around windows and doors.

Fix any leaky pipes, faucets, downspouts, or other moisture problems.

Install dehumidifiers in moisture-rich areas such as basements.

Regularly clean underneath and behind appliances.

Take out the trash regularly and store it outside in a sealed bin.
Unfortunately, once roaches get inside, they're next to impossible to eliminate on your own. If roaches are giving you worries, call Pro Active Pest Control immediately and take care of these troublesome pests for good.
Guide To Avoiding Ants In Gilbert, AZ
In spring and summer, ants are almost impossible to avoid in Gilbert. Your home provides all the resources they need to survive, and if they get a foothold in your yard, it's only a matter of time before they find their way indoors. Luckily, there are some steps you can take to prevent them:
Remove water sources by maintaining your gutters and fixing any leaky pipes or fixtures.

Limit access to food sources by keeping trash cans sealed with tight-fitting lids and taking out the garbage often.

Clean up spills immediately, and store all food in your home, even pet food, in stored airtight containers.

Remove any clutter or objects that could become the base for an ant hill; this includes fallen trees, stumps, and clutter or trash.

Maintain at least 12 inches between the foundation and any mulch or soil.
While prevention is important, once ants come inside they're incredibly difficult to remove. However, Pro Active Pest Control has modern and eco-friendly methods of removing ant infestations of every shape and size. Give us a call today and protect your home against ants today, tomorrow, and beyond.
Neighborhoods We Service
Adora Trails | Agritopia | Artemina | Ashland Ranch | Breckenridge Manor | Breckenridge Townhomes | Bridges At Gilbert | Carol Rae Station | Chaparral Estates | Cooley Station | Cooley Station North | Copper Ranch | Coronado Ranch | Country Shadows | Crystal Point Estates | El Dorado Lakes Gold Community | Farmhouse Meadows | Felty Farms | Fincher Farms | Gilbert Homes | Gilbert Ranch | Greenfield Acres | Greenfield Lakes | Highlands At Spectrum | Higley Groves | Higley Park | Jakes Ranch | Lago Estancia | Lakeview Trails North At Morrison Ranch | Layton Lakes | Lindsey And Warner | Marbella Vineyards | Neely Commons | Neely Ranch | Page Commons | Pecos Manor | Rancho Del Verde | San Tan Ranch | Santan Lakeside Estates | Seville | Shamrock Estates | Spectrum At Val Vista | Stratland Estates | Superstition Highlands | The Islands | Val Vista Classic | Val Vista Lakes | Val Vista Meadows | Via Sorento Condominium | Vincenz | West Lake Estates


Included Zip Codes
85233 | 85234 | 85295 | 85296 | 85297 | 85298 | 85299
Request Your Free Quote
Complete the form below to schedule your no obligation quote.
Latest Blog Articles
Stay informed about pests and pest related issues in our area!