Trust The Professionals At Pro Active Pest Control To Protect Your Foothill Farms, CA Property From Pests
Foothill Farms, a suburb of Sacramento, offers residents safe neighborhoods, plenty of parks, and a close-knit community to live, work, and play in. To protect your Foothill Farms home and family from the many pests that also live in Sacramento County, count on the area's pest control experts at Pro Active Pest Control. Our small family-owned company is committed to providing customers with the modern, effective, and affordable services needed to protect homes and businesses, keeping them free from pests. To learn more about our exceptional pest control services, give us a call today at Pro Active Pest Control.
Complete Pest Control Solutions In Foothill Farms, CA
There are a number of pests that call Foothill Farms home. The pest control experts at Pro Active Pest Control have developed several services to help you eliminate and control pests such as ants, fleas, occasional invades, rodents, spiders & stinging insects. Give us a call today for a free quote!
Residential Pest Control In Foothill Farms, CA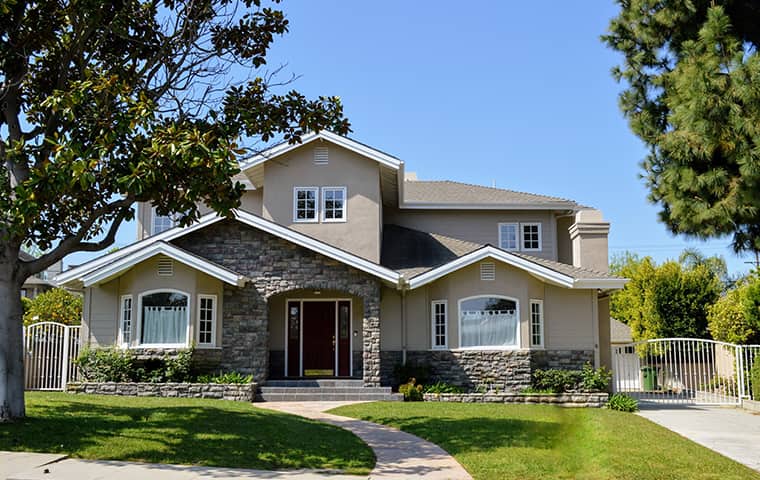 There are many different types of pests that can invade your Foothill Farms home. Common pest problems that you may experience as a homeowner in Sacramento County include:
Finding ants traveling throughout your kitchen and pantry areas.

Discovering centipedes and earwigs living in the basement, bathrooms, laundry room, or crawl spaces.

Having rodents contaminating the surfaces of your home and food sources with their saliva, urine, and excrement.

Stinging wasps creating nests near or inside your home.

Finding nuisance spiders such as wolf spiders or dangerous spiders such as black widow spiders living on your property, in outbuildings, or in your home.
To control the wide variety of pests that live in our area, and keep them out of your Foothill Farms home throughout the entire year, we offer 3 different plan options: Monthly Service (12 scheduled exterior treatments), Bi-Monthly Service (6 scheduled exterior treatments), or Quarterly Service (4 scheduled exterior treatments). Each of our plans includes our 100% service guarantee, coverage against more than 20 pests. To discover which residential pest control plan is the best choice for your home and family, reach out to Pro Active Pest Control today.
Problems Roof Rats Cause In Foothill Farms, CA
Roof rats are brown or black in color, have a light, thin build, and are great climbers. Their climbing abilities allow these rodents to easily invade the upper levels of a home. Keeping roof rats out of your home is important because of the myriad of problems they can cause. Roof rats have the potential to carry and spread a wide variety of serious diseases including murine typhus, Leptospirosis, salmonella, or rat-bite fever. Roof rats also cause a lot of structural damage. They can chew through and damage insulation, structural wood, wires, pipes, flooring and more. The damage they cause can lead to fires and water damage. Roof rats will contaminate food sources and the surfaces of your home with bacteria and excrement and they introduce parasites such as fleas and ticks into your home. To eliminate roof rats from your Foothill Farms home, contact Pro Active Pest Control. We offer the year-round services needed to eliminate them and prevent their future return. To learn more about our rodent control solutions, contact us today.
Commercial Pest Control In Foothill Farms, CA
Pro Active Pest Control offers customizable, green pest control solutions to protect commercial properties, products, and people from invasive pests. To help you maintain a pest-free business, we offer monthly service plan options and the knowledge that our services are performed by highly trained and state-certified professionals. Pro Active offers a 100% pest-free guaranteed and controls pests in an environmentally-sound manner through Integrated Pest Management (IPM). To learn more about our commercial pest control solutions, which provide long-lasting results and peace of mind, give us a call today.
Black Widow Spider Prevention Tips For Foothill Farms, CA Residents
The black widow spider is a dangerous species of spider that unfortunately is found living in Northern California. Their venom is strong enough to affect a person's nervous system and cause health problems such as fever, cramps, vomiting, and abdominal pain. Being bitten by a black widow spider should be taken seriously, but with proper medical attention, the symptoms are easily managed. To help prevent accidentally coming into contact with a black widow spider, we have put together some helpful prevention tips:
Remove piles of debris from your property that black widow spiders can hide inside.

Store firewood a distance away from the outside of your home.

Keep the doors of outbuildings (garages, sheds, barns) closed when not in use.

Seal cracks in your foundation.

Place weather stripping around all exterior windows and doors, and place door sweeps under all exterior doors.

Keep storage areas such as basements, attics, and closets clutter-free to limit hiding spots.

Wear gloves when working in garden areas, basements, and in outbuildings.
If you discover that black widow spiders have become a problem on your Foothill Farms property, contact Pro Active Pest Control. We provide eco-friendly services needed to eliminate and prevent their return.
Neighborhoods We Service
Andrea Boulevard Gold Run Avenue | Foothill Terrace | Hillsdale Oaks | Hillsdale Townhouses | Palmgate | Rancho Del Paso | Shasta Garden | Shenandoah Manor | Spruce Terrace| Village Greens Condominiums


Included Zip Codes
95841 | 95842
Request Your Free Quote
Complete the form below to schedule your no obligation quote.
Latest Blog Articles
Stay informed about pests and pest related issues in our area!