High-Quality, Long-Lasting Pest Control Services In Fairfield, CA
Fairfield is the county seat of Solano County and is located in the North Bay sub-region of the San Francisco Bay Area. Fairfield is conveniently positioned about midway between San Francisco and Sacramento. Keeping pests out of your Fairfield home or business shouldn't be a stressful task. With the help of the skilled pest professionals here at Pro Active Pest Control, you can rest easy knowing that the protection of your property is in good hands. We are committed to finding the perfect solution to solve all of your pest problems once and for all. Through dedication and high-quality services, the professionals here at Pro Active Pest Control can keep your Fairfield home or business free of pests year-round. We are proud to provide residential & commercial pest control, rodent control, bed bug control, and more. Give us a call today to learn more about all of our pest control options.

Complete Pest Control Solutions In Fairfield, CA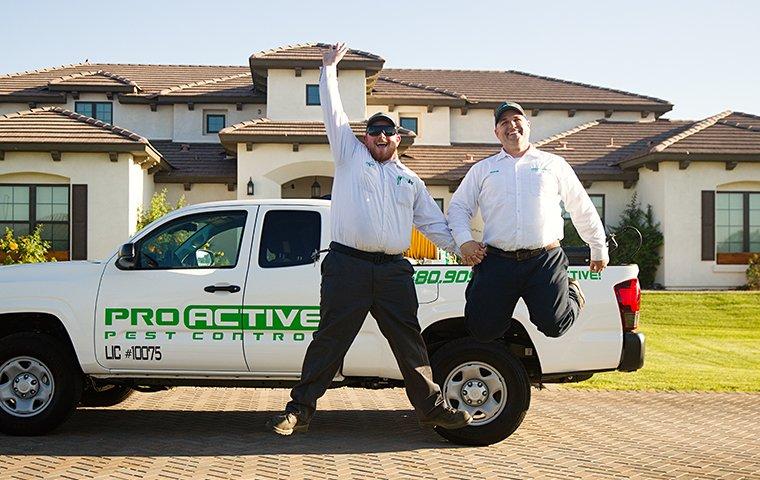 Many pests live in and around Fairfield properties. Some of the most common pest threats in our area include fleas, spiders, stinging insects, ants, rodents, occasional invaders, and cockroaches. At Pro Active Pest Control, we have a deep understanding of the pests in our area and have developed effective treatments to eliminate them. Don't hesitate to reach out to us today for more information about all of the pest control services we have to offer.
Residential Pest Control In Fairfield, CA
At Pro Active Pest Control, our focus is to protect people and their properties from common area pests. As a local, family-owned pest control provider, we understand the importance of protecting your Fairfield home and family from harm. Pests such as spiders, insects, and rodents often invade residential properties while searching for sources of food and water. Unfortunately, many pests will stick around once they discover these resources in your home. To prevent pests from taking over your home and threatening your family, reach out to the pest technicians here at Pro Active Pest Control. We offer several residential pest control services that are designed to eliminate current pest problems and prevent them from returning. Contact us today to get started on your journey to a future without pests!
Commercial Pest Control In Fairfield, CA
Pests aren't just bad for the reputation of your business, they're a major threat to the health of your customers and employees as well. Pests are capable of spreading a wide range of diseases and causing significant damage within your Fairfield commercial facility. Your best defense against pests of all shapes and sizes is to put into place a commercial pest control plan from Pro Active Pest Control. We provide superior pest protection through the use of eco-friendly and customizable commercial pest control solutions. We rely on Integrated Pest Management (IPM) strategies to ensure pest problems are dealt with in a way that is safe for the environment. To learn more about our high-quality commercial pest control services and long-lasting results, get in touch with Pro Active Pest Control today.
Learn How To Avoid Ants In Fairfield, CA
Ants are tiny insect pests that live in large colonies. They work together to build their nests, protect their colonies, and feed their young. Unfortunately, ants are common pests that often invade while foraging for food. To avoid attracting ants to your Fairfield home or business, implement a few of these ant prevention tips:
Store food items in sealed containers.

Pick up pet food when it's not being eaten.

Wipe down your counters and sweep your floors to pick up stray crumbs.

Keep your trash cans sealed.

Minimize moisture around the exterior of your property.

Seal gaps and crevices around your foundation, doors, and windows.

Install door sweeps on doorways that lead outside.
Protect your Fairfield property from ants and other pests by partnering with the experienced pest technicians here at Pro Active Pest Control. We utilize modern and eco-friendly solutions to control ants year-round.
What Problems Can Rodents Cause In Fairfield, CA?
Rodents are among the many pests that commonly invade Fairfield homes and businesses. Rodents are characterized by their long front incisors, which never stop growing. Although these small, furry mammals might not look like too much of a threat, it's important to remember that rodents can cause a lot of problems if they get into your property, such as:
Contaminating food items with harmful bacteria and pathogens.

Spreading a wide range of dangerous diseases, including hantavirus, salmonella, and plague.

Damaging furniture, wires, pipes, structural beams, and other personal property with their constant chewing habit.
Rodents have a quick reproduction rate, which means even small infestations can lead to big problems within a few short months. If rodents have gotten into your Fairfield property, you should always contact professional help right away. Rodents are dangerous pests that may bite or scratch if they feel threatened. Turn to the professionals here at Pro Active Pest Control today to ask about how we handle rodent infestations.
Neighborhoods We Service
Cordelia Junction | Subeet | Thomasson | Tolenas | Travis Field


Included Zip Codes
94533 | 94534 | 94535 | 94585 | 95687
Request Your Free Quote
Complete the form below to schedule your no obligation quote.
Latest Blog Articles
Stay informed about pests and pest related issues in our area!