Trust The Professionals At Pro Active Pest Control To Protect Your Fair Oaks, CA Property From Pests
In Sacramento County, California sits the friendly community of Fair Oaks. Fair Oaks is a mix of suburban and rural neighborhoods which provide family-friendly communities in which people can thrive. To protect your Fair Oaks property from rodents, fleas, earwigs, centipedes, cockroahces, silvefish, and other pests that also, unfortunately, live in Sacramento County, call Pro Active Pest Control to partner with the area's local pest control experts. Pro Active Pest Control offers reliable, modern, and eco-friendly services to protect your residential or commercial property from pests. To learn more about our effective approach to pest control, reach out to us today.
Complete Pest Control Solutions In Fair Oaks, CA
There are a number of pests that call Fair Oaks home. The pest control experts at Pro Active Pest Control have developed several services to help you eliminate and control pests such as ants, fleas, occasional invades, rodents, spiders & stinging insects. Give us a call today for a free quote!
Residential Pest Control in Fair Oaks, CA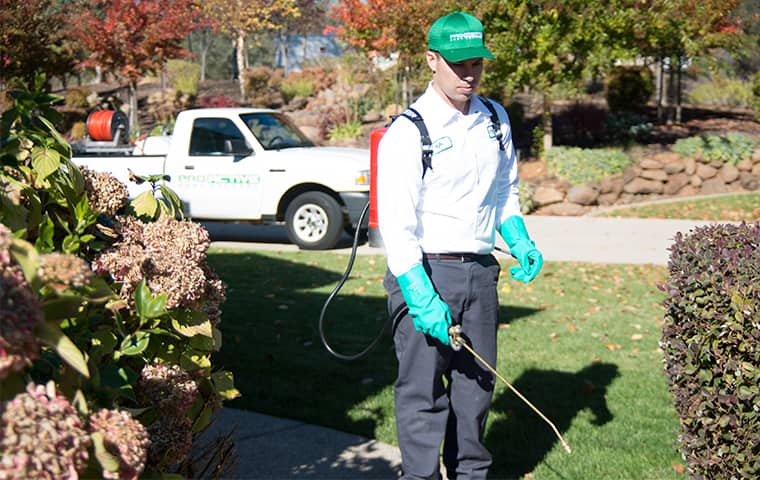 Protect your Fair Oaks home from being invaded by pests by putting in place a year-round pest protection solution from Pro Active Pest Control. Our year-round services are 100% guaranteed and eco-friendly, and our rodent and pest specialists are state-certified. We offer 3 different home pest control plan options: Monthly Service (12 schedule exterior treatments), Bi-Monthly Service (6 scheduled exterior treatments), and Quarterly Service (4 scheduled exterior treatments). All our programs offer coverage against more than 20 pests, exterior spider de-webbing, and interior and garage treatments and rodent control on an as-needed basis. To learn more about our residential pest control options, contact Pro Active Pest Control today.
How Effective Is Eco-Friendly Pest Control In Fair Oaks, CA
Eco-friendly pest control is an extremely effective way to keep a wide variety of pests out of your Fair Oaks home. Pro Active Pest Control takes pride in offering our California customers eco-friendly solutions that are tough on pests but safe for people and pets. Our eco-friendly solutions include:
Integrated Pest Management (IPM): an ecosystem-based strategy that focuses on controlling and preventing pests by combining biological control, habitat manipulation, modification of cultural practice, and more. If required, pest control materials are selected and applied in a manner that minimizes risks to humans, beneficial and non-target organisms, and the environment.
Essentria IC3: a natural liquid insecticide made from rosemary oil, peppermint oil, and other natural ingredients; it provides immediate relief from insect infestations and has a residual effect.

Essentria G: a natural insecticide, derived from essential oils including clove oil and thyme oil. This outdoor solution is effective for controlling ants, centipedes, roaches, earwigs, and other insects.
To learn more about our eco-friendly pest control solutions, reach out and speak with one of Pro Active's friendly experts today.
Commercial Pest Control in Fair Oaks, CA
Pro Active Pest Control provides Northern California with the pest control solutions needed to protect warehouses, shopping centers, daycares, churches, and many other commercial properties from insects and rodents. We deliver customized, green solutions that are guaranteed to meet your business's unique needs. Our commercial pest control solutions include services performed by our highly trained, state-certified, and friendly professionals, a 100% Pest-Free Guarantee (if pests come back between visits, so do we, at no extra charge), and exceptional customer service. We take pride in using Integrated Pest Management to control and eliminate pest populations in an effective and eco-friendly manner, using the least amount of pesticides possible. To learn more about our trusted commercial pest control services, call Pro Active Pest Control today.
How To Avoid Black Widow Spiders In Fair Oaks, CA
Avoiding black widow spiders is important because they are spiders that are considered to be dangerous. Their venom is powerful enough to cause health problems if injected into a person. Black widow spiders are shy and reclusive by nature and they try to stay out of the way of people as much as possible, but bites occur when people accidentally come into contact with them and the spider becomes startled and defends itself. To help you avoid black widow spiders and their bites, we offer the following tips:
Eliminate entrance points by sealing cracks in your foundation, placing weather stripping around windows and doors, and sealing openings found around utilities entering into your home.

Reduce clutter in basements, attics, and closets.

Place woodpiles at least 20 feet away from the outside of your home.

Remove fallen trees, leaf piles, and other piles of debris from your property.

Wear work gloves when outside in garden areas, when moving outdoor furniture, and when working in the garage or shed.

Before putting on clothing or shoes, shake them out to dislodge sleeping spiders.

Before getting into bed, pull down the sheets and check for hiding spiders.
If you discover black widow spiders on your property or inside your home, contact Pro Active Pest Control. Give us a call today to learn more about our black widow spider control solutions.
Neighborhoods We Service
Bella Vista Manor | Brainerd Estates | Briarcliff | Buena Vista Gardens | Canterbury Pointe | Chicago Heights | Country Oaks | Curragh Downs | Curragh Oaks | Doneva Estates | Estey Estates | Fair Oaks Village | Fair Oaks Vista | Frontier Greens | Highland Hills | Hoover School | Lake Natoma Heights | Livoti Estates | Livoti Place | Maryam Estates | Mills Dahlberg | Mortenson Estates | Northridge Executive Condo | Northridge Greens | Olive Grove Estates | Olive Street | Painter Ridge Estates | Paris Ranch Estates | Phoenix Field | Phoenix Hills | Phoenix Meadows | Phoenix Ridge | Portofino Plaza | Ramzi Hills | Ridgecrest | Rolling Hills Estates | Shady Hills Estates | Shady Knolls | Sierra Park | Sleepy Hollow | Sunrise Hills | Sunset Gardens | Sunset Heights | Sunset Hills | Sunset Oaks | Sunset Park | Sunset Place | Tamara Acres | Turner Estates | Winding Way Village | Woodridge Estates


Included Zip Codes
95628 | 95670
Request Your Free Quote
Complete the form below to schedule your no obligation quote.
Latest Blog Articles
Stay informed about pests and pest related issues in our area!