Trust The Professionals At Pro Active Pest Control To Protect Your Elk Grove, CA Property From Pests
Elk Grove, the second largest city located in the Sacramento region of California, is a family-friendly community. Elk Grove is a place where families can grow and thrive. The city offers excellent schools, beautiful parks, thriving businesses, and historical districts to enjoy. To help protect your Elk Grove property from being invaded and damaged by the many pests that also, unfortunately, call Elk Grove home, turn to the local pest control experts at Pro Active Pest Control. We can provide the highly effective, progressive pest control services needed to keep any Elk Grove home or business free of pests. To learn more about our modern approach to pest control, give us a call today.
Complete Pest Control Solutions In Elk Grove, CA
There are a number of pests that call Elk Grove home. The pest control experts at Pro Active Pest Control have developed several services to help you eliminate and control pests such as ants, fleas, occasional invades, rodents, spiders & stinging insects. Give us a call today for a free quote!
Why Pro Active Pest Control Is The Clear Choice For Elk Grove, CA Residents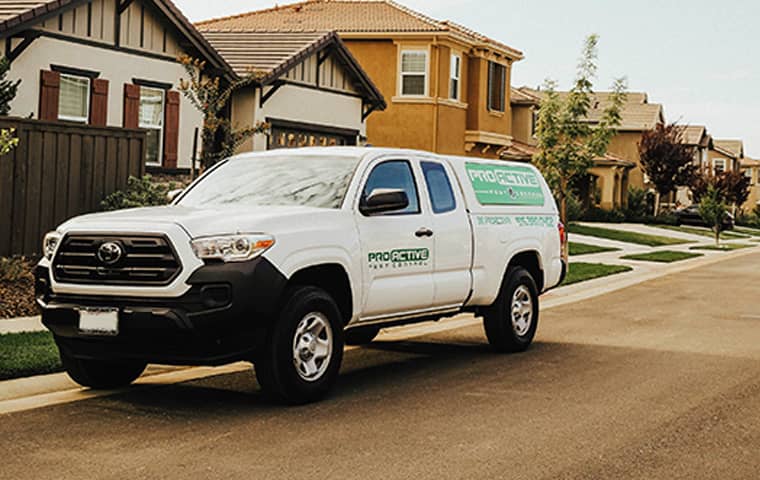 Having pests living on your Elk Grove property and invading your home can seem unavoidable, but the pros at Pro Active are here to tell you that with some professional help, your pest problems can be a worry of the past. When it comes to solving your Elk Grove home's pest problems, the first thing you need to do is find a company that you can trust. The clear choice for trustworthy pest control services in Northern California is Pro Active Pest Control. At Pro Active Pest Control we are proud to offer exceptional customer service, effective pest control solutions, and employ technicians that are honest, caring, and highly trained. All of our green pest control services utilize Integrated Pest Management to reduce the use of pesticides while also providing long-lasting protection against pests. Pro Active Pest Control understands the importance of providing customers with exceptional customer service and pest control solutions that are effective, affordable, and most importantly trustworthy. To get started protecting your Elk Grove property from pests, give the dedicated experts at Pro Active Pest Control a call today.
What Elk Grove, CA Residents Should Know About Oriental Cockroaches
Oriental cockroaches are often referred to as "water bugs" because of their preference to live in damp, dark, cool places. Outside, these roaches live underneath piles of leaves and grass, in gardens, and under mulch and soil located around foundations and stone walls. Unfortunately, oriental cockroaches don't stay outside, they enter homes and other buildings through sewer lines and drain pipes while foraging for new food sources. Once inside, they can cause a multitude of problems.
Oriental cockroaches have the potential to contaminate food and food-prep areas with foodborne pathogens like E.coli and Salmonella which can cause vomiting and diarrhea.
They can introduce viruses, bacteria, and human pathogens into homes and businesses.
Oriental cockroaches emit an unpleasant musty smell that can overwhelm a property.
They shed their skins and leave behind large amounts of excrement which can trigger allergies and, in some cases, even cause severe asthma attacks, especially in children.
To help protect your home from becoming home to a large population of dangerous Oriental cockroaches, partner with Pro Active Pest Control and put into place a comprehensive residential pest control plan. To win the war against Oriental cockroaches, we create a barrier around the home to prevent them from gaining entrance through the implementation of regular pest control services. Contact us today to learn more and to get started protecting your home from cockroaches and other common household invaders.
Residential Pest Control In Elk Grove, CA
Protect your Elk Grove home, family, and pets from local invasive pests by putting into place a year-round pest protection plan from Pro Active Pest Control. Whether you choose our Monthly (12 schedule exterior treatments), Bi-Monthly (6 scheduled exterior treatments), or Quarterly Service (4 scheduled exterior treatments) you will receive the following services:
100% Service Guarantee
Coverage against more than 20 pests
Exterior spider de-webbing
Interior and Garage treatments, as needed
Rodent Control, as needed
To learn more about our residential pest control solutions or to schedule a free quote, get in touch with Pro Active Pest Control today.
Commercial Pest Control In Elk Grove, CA
Pro Active Pest Control has the ability to protect a wide variety of Elk Grove businesses from invasive, dangerous, and destructive pests. Examples of businesses that we protect from common areas pests such as roaches, rodents, ants, and spiders include:
Warehouses
Shopping Centers
Retail Stores
Daycares
Office Buildings
Funeral Homes
Religious Buildings
Don't spend another day worrying about pests and whether or not they will invade your business. Instead, partner with Pro Active Pest Control and know that your businesses pest problems will be a thing of the past. Implement our highly effective commercial solutions that are completed by our state-certified pest specialists to protect your business from pests now and in the future. Trust our family-owned local company to provide you with the modern, eco-friendly services needed to protect your business and its good reputation from being threatened by pests. To learn more about our commercial pest control services, give us a call today.
Neighborhoods We Service
Allan Ranch | Arthur C Butler | Bilby Meadows | Bilby Ranch | Black Kite | Bradshaw Ranch Estates | Bradshaw Road - PGHS | Calvine Spa | Camden | Centex |Chesterbrook | Coventry | Cresleigh Ranch Village | Del Webb Glenbrooke | Diamante | East Park | Elan Estates | Elliott Ranch East | Emerald Vista | Fallbrook | Foxberry Glen | Franklin | Grant Line Rd. | Hearthstone | Helen Carr Castello | Hop Ranch | Jungkeit Dairy | Laguna | Laguna Creek South | Laguna Estates South | Laguna Lake | Laguna Meridian | Laguna Park Village | Laguna Riviera | Laguna Springs | Laguna Star Brockenhurst | Laguna Stonelake | Laguna Trails | Laguna Vista | Laguna West | Laguna Woods | Lake Point | Lakeside | Machado Dairy | Madeira East | Maritime Estates | Montage | Morsepark / Bellaterra | Newton Ranch | North Elk Grove | Perry Ranch | Pleasant Grove Estates | Poesia Ct / Risata Way| Preserve at Laguna Ridge | Quail Ranch | Quail Ridge | Rancho Verde | Renwick | Rio De Onar | River Oak Estates | Seasons at Laguna | Sheldon Heights | Sheldon North | Sheldon Woods | Silvergate | Somerfield | Sonoma Creek | Southmeadows | Springmont | Sunburst Solar Ranchette | Sunland Lakeshore | The Grove at Laguna Ridge Village | The Ridge | The Seasons | The Shires | Toby Johnson | Tributary Pointe | Valley Hi Estates | Valley Oak | Van Ruiten Ranch | Vineyard Estates | Vista Creek Village | Walnut Orchard | Waterman Meadows | Waterman Square | Wisteria Place | Woodside Creek


Included Zip Codes
95624 | 95757 | 95758 | 95759 | 95828 | 95830
Request Your Free Quote
Complete the form below to schedule your no obligation quote.
Latest Blog Articles
Stay informed about pests and pest related issues in our area!