Trust The Professionals At Pro Active Pest Control To Protect Your Dublin, CA Property From Pests
Far from our namesake, the capital of Ireland, our little suburb of Dublin, CA, is a little quieter. We experience a mild climate all year round, as is common in the East Bay and Tri-Valley region of Northern California. Whether it's the damp winters we're dealing with or the dry summers, pests are looking for water and one of their favorite places to find it is inside of your Dublin property. Pest infestation is hugely annoying, but also extremely dangerous on many levels. You need complete, year-round coverage from a professional pest control company, and that just so happens to be our specialty.
Pro Active Pest Control is a local, family-owned pest control company that is proud to serve the people of Alameda County and the surrounding areas. We service homeowners and business owners with the best residential and commercial pest protection around, and our services are 100% guaranteed every time. Contact us today for a no-obligation quote for everything from bed bug control to rodent control and everything in between. There's no time to waste when it comes to infestation.
Complete Pest Control Solutions In Dublin, CA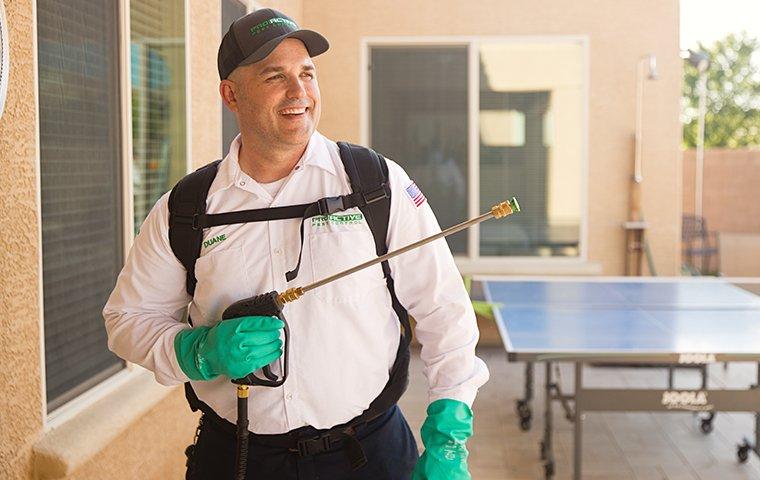 No matter what kind of pest situation you're facing, Pro Active Pest Control is ready to help. We offer complete pest control solutions that provide year-round coverage from a wide variety of pests. Some of the covered pests include:
Ants

Fleas

Occasional invaders

Rodents

Spiders

Stinging insects
If you don't see the pest that you're dealing with listed above, don't worry. Contact us today and we'll discuss what it is exactly that you're dealing with. From there, we'll come up with a treatment approach that is right for you. We offer Green Pest Services that are eco-friendly, pet-friendly, and always safe for you and your loved ones.
Home Pest Control In Dublin, CA
If you own a home in Dublin, CA, you need to be wary of pests. They love to come inside your home in search of food, water, and shelter. And once they find it, they call all of their friends over to join them. It's good for them but bad for you.
Your home needs complete residential pest control services, and you've come to the right place. Pro Active Pest Control has a variety of service plans that can each be customized to suit your needs. Each and every one of our treatment plans include:
Exterior Inspection

Exterior Spider De-webbing

Foundation Treatment

Interior & Garage Treatments (as needed)

Rodent Control (as needed)

Seasonal Pest Treatment
After an extensive inspection and a detailed identification of all pest conditions, we'll get right to it. Our initial treatment provides guaranteed results, and will we return for follow-up maintenance as often as you like.
Monthly Service - 12 Scheduled Exterior Treatments

Bi-Monthly Service - 6 Scheduled Exterior Treatments

Quarterly Service - 4 Scheduled Exterior Treatments
All of our service plans provide year-round protection from over 20 common pests in the Northern California region. We utilize IPM (Integrated Pest Management) strategies that target the problem and then effectively eliminate it and keep it away moving forward. Give us a call today to discuss your residential pest control needs, we're happy to assist you.
Commercial Pest Control In Dublin, CA
Dublin businesses are, unfortunately, very vulnerable to pest activity. You've got everything they want all in one, and usually in larger quantities than a single residence. Needless to say, your business needs professional pest protection, and we're here to provide it. Pro Active Pest Control services Dublin businesses with comprehensive commercial pest control solutions that work. Some of the industries we cover include:
Daycares

Funeral Homes

Medical Facilities

Office Buildings

Pharmacies

Religious Buildings

Retail & Shopping Centers

Warehouses & Storage Facilities
Benefits Of Eco-Friendly Pest Control In Dublin, CA
The environment shouldn't have to suffer because of pest control. We're trying to eliminate pests, not compromise the ecosystem. That's why Pro Active Pest Control prioritizes Green Pest Solutions. There are so many reasons why eco-friendly pest control is the way to go, here are a few:
Conserves grass and plants

Few or no chemicals used in pesticides

No development of pesticide resistance

No negative impact on the environment

Non-harmful to your health

Non-toxic fumes rather than harmful chemicals

Not as smelly or not as messy as traditional pesticides

Safer for the interior of the home
Guide To Preventing Silverfish In Dublin, CA
Silverfish are little insects that are metallic silver in color and mimic the motions of a fish when they move. They may sound kind of cool and interesting, but ultimately, they're pests. These insects want three things: food, water, and shelter. Here are some tips for preventing silverfish from infesting your Dublin property:
Clean up and vacuum any particles of food or dust.

Cover cracks, holes, and other openings.

Eliminate piles of wood and dead vegetation.

Eliminate exposed piles of paper and cardboard boxes.

Frequently dust around the home.

Keep your clothes stored in a dry area.

Open windows and doors to rid the room of warmth and moisture.

Store dry food in sealed containers in the cupboard.

Use a dehumidifier in moisture-rich areas.
Neighborhoods We Service
Alameda | Albany | Berkeley |Castro Valley | Emeryville |Fremont | Hayward | Livermore |Newark | Piedmont | Pleasanton| San Leandro |
| San Lorenzo | Sunol | Union City |
Zip Codes Included
94501 | 94502 | 94606| 94706 |94701| 94702 | 94703 | 94704 | 94705 | 94706 | 94707 | 94708 | 94709 | 94710 | 94712 | 94720 |94541|94568|94608|94536| 94540|94550|94560| 94610| 94611 | 94618 | 94566|94577|94541|94552| 94536|94568
Request Your Free Quote
Complete the form below to schedule your no obligation quote.
Latest Blog Articles
Stay informed about pests and pest related issues in our area!