Trust The Professionals At Pro Active Pest Control To Protect Your Dixon, CA Property From Pests
Dixon is a city located in the northern half of Solano County and is only 23 miles away from California's state capitol, Sacramento. A few benefits of our area include our warm, year-round climate, strong economic values, and our close proximity to San Francisco. Dixon is also known for being a desirable commuter community. Despite all of the benefits of living in our area, however, we still face the problems caused by pest infestations. No home or business owner should have to deal with the disease, destruction, and disturbances that pest cause, which is why the professionals at Pro Active Pest Control are ready to assist you with all of your residential or commercial pest control needs.
Complete Pest Control Solutions Dixon, CA
Pro Active Pest Control offers a variety of pest control options for home and business owners in the community of Dixon. Whether your property is experiencing problems with rodents, spiders, roaches, fleas, stinging insects, or ants, the licensed pest experts here at Pro Active have you covered. Our 100% service guarantee ensures pests stay away from your Dixon home or business year-round. If pests return, so do we, at no additional cost to you. Keep your home or business running smoothly when you reach out to Pro Active Pest control for all of your pest control needs!
Residential Pest Control In Dixon, CA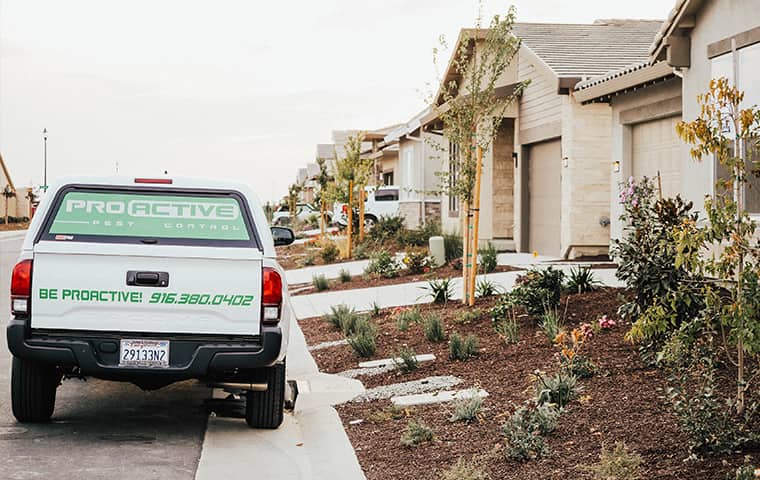 The most effective form of pest control is preventing pest infestations before they happen. Unfortunately, keeping your Dixon home 100% protected from pests can be impossible without a trusted pest control provider on your side. Pests are capable of damaging property, contaminating food items, and spreading diseases to your family, which makes pest control an important factor for every Dixon home. Pro Active Pest Control offers pest control treatments and management options for homeowners in our service area. Avoid the problems pests bring to residential properties by contacting the pest technicians here at Pro Active Pest Control!
Have You Been Struggling With Cat Fleas In Dixon, CA?
Despite their name, cat fleas can affect cats, dogs, rats, humans, and many other animals. Although most flea infestations occur in homes with pets, rodent infestations are also a way fleas get onto Dixon properties. While identifying a flea infestation in your home or business is often easy, removing fleas is much more difficult. To identify whether or not you have a flea infestation, keep an eye out for the following signs:
If you have pets, do they seem to be scratching more than normal? Check their fur for fleas.

Infested animals may have pink or reddened skin. Excessive scratching may also lead to hair loss.

Fleas also bite humans if other hosts become unavailable. Most flea bites are red, round, and occur on the lower legs.

If you don't own pets but are being bitten by fleas, you may have a rodent infestation on your property, which requires separate pest control solutions.
For fleas or any other pest infestation, it's important to contact the professionals here at Pro Active Pest Control for effective pest solutions. Consider reaching out to us today for a pest-free property year-round!
Commercial Pest Control In Dixon, CA
Whether you need professional pest control services for your office space, retail business, daycare, warehouse, or medical facility, Pro Active Pest Control has the perfect pest control plan for you. We offer customizable services to ensure we cover all of your pest control needs. If your Dixon business is facing the damage and frustration created by pests such as rodents, cockroaches, or carpenter ants, the professionals here at Pro Active Pest Control have everything you need to eliminate your pest problems. We use Integrated Pest Management methodology when conducting commercial service visits. We target pest infestations and apply treatments in the most effective and eco-friendly way possible. Remove the threat of pests in your Dixon business by giving the state-certified pest technicians here at Pro Active Pest Control a call today!
Guide To Avoiding Problems With Paper Wasps In Dixon, CA
In nature, paper wasps are beneficial for the environment. They pollinate plants by feeding on nectar and they kill insect pests to feed to their larvae. Most paper wasps will not sting you when they are flying about, however, the risk for being stung increases dramatically when you wander near their nests. When paper wasps build their nests around your Dixon property, they become more troublesome to handle. To avoid attracting paper wasps to your property, avoid these few common mistakes.
Paper wasps are attracted to meats and sweets. Pick up soda cans, seal your trash bins, and store pet food in plastic containers to avoid providing paper wasps with a reason to stick around your property.

Paper wasps are also attracted to properties with a high insect population. Avoid attracting insects to your property by reducing excess moisture around your Dixon home or business.

Reach out to professional pest control.
Paper wasp stings are painful and may cause serious reactions in people who are allergic to their venom. It is best to seek the help of a pest control provider for your paper wasp problems in order to avoid the risk of being stung. Contact Pro Active Pest Control for effective stinging insect solutions and control options!
Neighborhoods We Service
Allendale | Benicia | Birds Landing |Collinsville |Cordelia |Elmira |Fairfield |Liberty Farms |Rio Vista |Suisun City | Vallejo |Vacaville


Included Zip Codes
95688 | 94510 |94512 |94585 |94534 |95620 |95625 |94533 |95620 | 94571 |94585 |94589 | 94533
Request Your Free Quote
Complete the form below to schedule your no obligation quote.
Latest Blog Articles
Stay informed about pests and pest related issues in our area!