Trust The Professionals At Pro Active Pest Control To Protect Your Citrus Heights, CA Property From Pests
Citrus Heights, a city located at the Sierra Nevada foothills is ideally located just 15 miles from the state capital of California. This city offers its residents the benefits of diversity, economic prosperity, and a community of people that work together for the greater good. To protect your Citrus Heights home or business from the rodents and insects that also, unfortunately, reside in the Sacramento Valley, partner with the local pest control experts at Pro Active Pest Control. We provide the reliable, modern, and eco-friendly services needed to protect your Citrus Heights residential or commercial property from pest invasions and damage. To learn more about our effective approach to pest control, give us a call today.
Complete Pest Control Solutions In Citrus Heights, CA
There are a number of pests that call Citrus Heights home. The pest control experts at Pro Active Pest Control have developed several services to help you eliminate and control pests such as ants, fleas, occasional invades, rodents, spiders & stinging insects. Give us a call today for a free quote!
Residential Pest Control In Citrus Heights, CA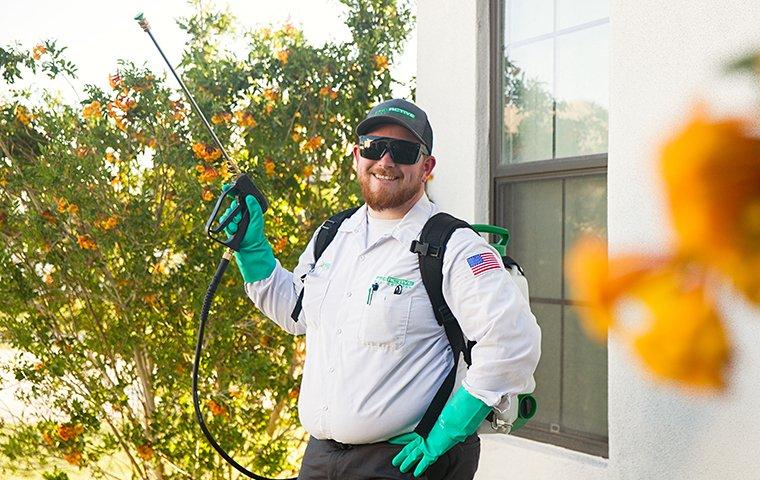 Enjoy a pest-free home with your friends, family, and pets with help from the professionals at Pro Active Pest Control. Our Integrated Pest Management (IPM) approach provides effective pest control delivered in an eco-friendly manner. To guard your Citrus Heights home against the year-round threat of pests we offer three different pest protection plan options.
Quarterly Service - This service provides year-round protection for more than 20 pests, 4 service visits & spider de-webbing.

Bi-Monthly Service- Our most popular, this program includes everything in our quarterly service with 6 service visits and rodent control as needed.

Monthly Service - With this service, you will receive 12 visits per year to assure your home remains pest-free thorughout the entire year.
Each of these plans offer an eco-friendly solution combined with regular inspections to keep pests away from your home.

To learn which of our 100% guaranteed service plans is the right fit for your home and family, reach out to Pro Active Pest Control today!
Problems Ants Cause For Property Owners In Citrus Heights, CA
Ants are one of the top nuisance pests found invading homes. There are many different ant species found living across the country and across Northern California and they, unfortunately, are more than just a nuisance. Some species are destructive, some are dangerous, and others have the potential to introduce serious bacteria and disease into a home they decided to invade. An ant infestation is frustrating to deal with as they are a particularly difficult pest to completely eliminate from homes and properties. To get rid of a current ant problem or to prevent a future problem with ants partner with the pest professionals at Pro Active Pest Control. We use modern and eco-friendly pest control methods and products to control ants throughout the year. To learn more about how you can enjoy a home that is free of ants and other common household pests through our 100% guaranteed home pest control solutions, contact us today and speak with one of our friendly and helpful professionals.
Commercial Pest Control In Citrus Heights, CA
Pro Active Pest Control offers customized green pest control options to protect a wide variety of commercial properties from pests. Facilities that we serve include office buildings, warehouses, daycares, retail and shopping centers, religious buildings, and more. We believe in providing eco-friendly commercial pest control solutions that are effective against disease spreading, damaging pests, and that are completed in a manner that is safe for the environment. By Choosing Pro Active Pest Control, you will have peace of mind knowing that we will develop a sustainable pest control program that is unique to your business and industry. To learn more about how our local, family-owned company can provide your Citrus Heights business with an honest and effective approach to pest control, give us a call today.
How To Keep Roof Rats From Invading Your Citrus Heights, CA Home
The roof rat's name gives some good insight as to how these rodents gain entrance into homes and buildings. The roof rat's light frame allows them to be quite agile and great climbers. They climb up trees, utility poles, drain spouts and more to gain access to a home's roof. Once on the roof, it is only a matter of time before they find their way inside. Roof rats can climb their way in through an open chimney, shimmy their way in through broken roof shingles, or get inside through a space found along the roofline or at a roof intersection. To help keep roof rats from finding their way into your Citrus Heights home, we want to offer prevention tips:
Trim trees limbs, bushes, and shrubs back away from the exterior of your home.

Repair any holes found in the roof or along the roof line.

Place caps on all chimneys.

Seal any spaces found around exterior windows and doors.

Fix leaky pipes and drains and maintain gutters so they do not have access to easy water sources.

Reduce food sources by keeping locking lids on all trash cans, keep lids on compost piles and pick up fruits and vegetables that have fallen to the ground in garden areas.

Remove bird feeders from your property.
If roof rats have become a problem in or around your Citrus Heights home, contact Pro Active Pest Control today. Our professionals can eliminate problems with these potentially damaging and disease spreading rodents through routine inspections and pest control services.
Neighborhoods We Service
Allenwood| Antelope Downs | Apple Valley Estates | Arcade Creek | Arcade Lake Condominiums | Arlington Heights| Arlington Heights East | Autumn Ridge | Bramblewood | Bella Sunrise | Bridgemont | Capell Heights | Cambridge Manor | Carol Estates | Chant | Chess Player Estates | Creekridge | Crosswoods | Doral Point Estates | Dunmore Estates | Fountain Village | Garryanna Oaks | Greenback Estates | Greenback Townhomes | Greenback Wood | Greengate | Green Leaf Terrace | Hidden Ridge | Imran Woods | Kimberly Manors | Lost Oaks | Lutheran | Madison Vista | Mariposa Avenue Estates | Mariposa Grove | Mariposa Village | North Grand Oaks | Northridge Oaks | North Ridge Terrace | Northwest | Oaks Grove Estates | Old Orchard | Park Oaks | Park Van Maren | Patton Meadows | Rusch Park | South Grand Oaks | Stacey Hills Estates | Sunrise East | Sunrise Oaks | Sunrise Ranch | Sylvan Meadows | Sylvan Old Auburn Road | Twin Creeks | Vernon Oaks | Villa Creekridge | Westwood Park | Woodridge Hills


Included Zip Codes
95610 | 95611 | 95621 | 95841
Request Your Free Quote
Complete the form below to schedule your no obligation quote.
Latest Blog Articles
Stay informed about pests and pest related issues in our area!