Trust The Professionals At Pro Active Pest Control To Protect Your Chandler, AZ Property From Pests
Located just southeast of Phoenix, Chandler, Arizona is a growing city that serves as a home for many commuters. Winters are mild and summers are hot but dry, creating an active and vibrant community year-round.
Unfortunately, those same climate factors can lead to problems and infestations from the many pests that call Arizona home. Pests are always on the lookout for food, water, and shelter. While those resources can be scarce in the wilderness, they can be found in abundance inside human dwellings.
Don't leave your Chandler home or business to the mercy of pests: call the pest elimination professionals at Pro Active Pest Control for help. No matter the size or shape of your pest problem, we have the tools and training to protect your property today, tomorrow, and beyond.
Home Pest Control In Chandler, AZ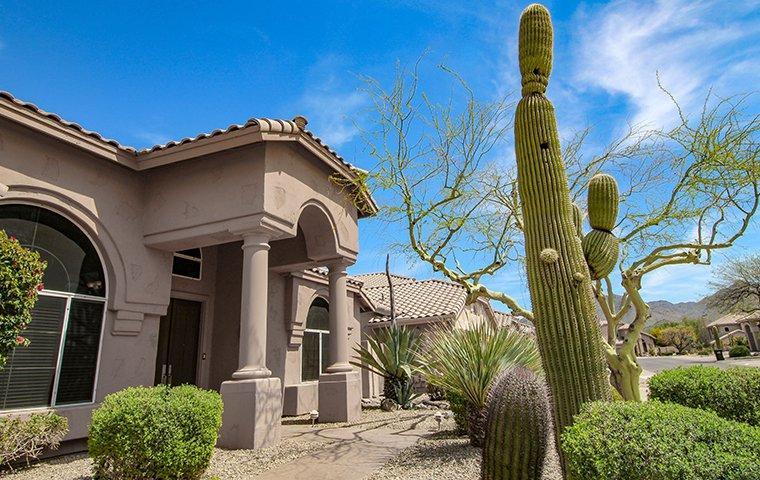 If you own a home in Chandler, AZ, you have to be wary of pests and the threat they pose. Pests in the wild are always on the hunt for the resources your home provides, and once one pest gets inside, they'll call all of their friends inside to join them, leading to property damage, food contamination, disease, allergies, and numerous other potential problems.
To protect your family, your home needs complete residential pest control services. Pro Active Pest Control has a variety of service plans that can each be customized to suit your needs. Each and every one of our treatment plans include:
Exterior inspection
Exterior spider de-webbing
Foundation treatment
Interior and garage treatments (as needed)
Rodent control (as needed)
Seasonal pest treatment
No matter what kind of pest situation you're facing, Pro Active Pest Control has the tools to eliminate it. We offer complete pest control solutions that provide year-round coverage from a wide variety of pests. We can keep your Chandler home protected from:
Ants
Fleas
Rodents
Spiders
Stinging insects
Worried about pests in your home or on your property? Call us today and tell us what your situation is, and from there, we'll work with you to establish a treatment approach that's just right for you. We utilize IPM (Integrated Pest Management) strategies that effectively target and eliminate pest problems and Green Pest Services that are eco-friendly, pet-friendly, and always safe for you and your loved ones. Give us a call today and secure your Chandler home against pests!
Commercial Pest Control In Chandler, AZ
All the problems pests bring to homes they infest are only multiplied in a commercial setting. Between destroyed inventory, scared customers, and dangerous working conditions for employees, a pest infestation is a problem no business owner can afford to have. At least, not for long.
Don't let pests impact your business: get professional protection from the experts at Pro Active Pest Control. We have years of experience eliminating pests from commercial properties across various industries and protecting them for the future. Some of the businesses we've helped include:
Daycares
Funeral homes
Medical facilities
Office buildings
Pharmacies
Religious buildings
Retail and shopping centers
Warehouses and storage facilities
Don't leave your business at-risk: protect your investment today with the help of a professional commercial pest control program from Pro Active Pest Control.
Guide To Avoiding Rodent Problems In Chandler, AZ
Rodents are among the worst pests you can have inside your Chandler home. Between the diseases and parasites they bring inside with them and the destruction they leave behind, they're a problem that only gets worse with time - making prevention essential.
Here are some effective tips you can use to minimize the possibility for rodents inside your home:
Seal off any holes in your walls or lining.

Eliminate any water leaks or excess moisture in your home.

Ensure your pipes, faucets, and downspouts are working effectively.

Clean up any spilled food or drinks immediately.

Keep all food stored in sealed containers.

Keep wood and compost piles stored more than ten feet away from buildings.

Take out the trash regularly and keep all trash stored in sealed containers.

Keep trees, bushes, and shrubs well-trimmed.
If you've seen one rodent, chances are there are many more hiding in the walls. Don't wait: call us immediately and find out why Chandler homeowners trust Pro Active for all their rodent elimination needs.
How Dangerous Are Black Widow Spiders In Chandler, AZ?
Black widow spiders can be a serious problem for homes they infest. Their venomous bites can cause serious harm to people, with reactions including:
Abdominal pain

Clammy skin

Delirium

Diaphragm hypertension/paralysis

Difficulty breathing

Excessive sweating

Muscle spasms

Nausea

Severe back and shoulder pain

Weak pulse
Despite their name, black widow bites rarely lead to death. After experiencing eight to twelve hours of pain, most people recover fully within three to five days. The most at-risk people for serious reactions are the very old, the very young, and the very sick.
Have you started seeing black widows around your home, or started finding spider webs in vulnerable areas of your home such as your garage, attic, or basement? Don't wait: call Pro Active for professional spider control and keep your family protected from spiders and the dangers they bring.
Neighborhoods We Service
Alamosa Estates | Amberwood II | Arizona Reflections | Balboa Way | Boardwalk of Chandler | Brittany | Cambric Courts | Cantabria Shores | Cantabria Shores At Octillo | Carino Estates | Chandler Crossing Estates | Colonial Coronita | Comanche Ranch | Cove At Tiburon | Crescent Village | Downtown | Festival Celebration | Fonte al Sol | Galveston Neighborhood | Golden Key East | Grand Reserve | Heatherbook | Ironwood Vistas | Island at Ocotillo | Kerby Estates | Las Casitas del Sur | Oasis Neighborhood | Ocotillo | Ocotillo Association | Old West Manor II | Park Promenade | Parkside East | Paseo Crossings | Provinces Master Community | Pueblo Santa Fe | Riggs Ranch Meadows HOA | San Marcos Estates | Silk Socking Neighborhood | Silverton Ranch | Springfield Lakes Reflection | Stonegate Crossing | Stonegate Crossing II | Sun Groves | Symphony II Estates | Townes at South Meadows | Vineyards | Warner Ranch Phase | West Chandler | Windmills West | Windrose East | Woodglen


Included Zip Codes
85224 | 85225 | 85226 | 85244| 85246 | 85248 | 85249 | 85286
Request Your Free Quote
Complete the form below to schedule your no obligation quote.
Latest Blog Articles
Stay informed about pests and pest related issues in our area!