Fleas are tiny parasites found throughout the country that can become a significant concern in homes. Among the most common types are cat fleas that have a shiny exterior and appear in shades of red or brown. Cat fleas are wingless; however, they rely on strong hind legs to jump onto hosts to consume their blood.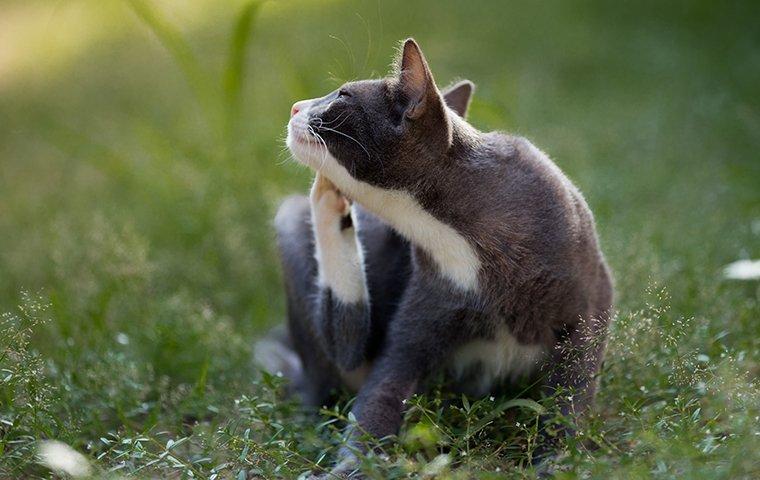 Why Should I Have To Worry About Fleas?
Fleas have proven to be dangerous creatures that may cause severe allergic reactions among both humans and pets. Fleas are known to carry murine typhus, tularemia, bubonic plague, and many other dangerous conditions. In some cases, pets that are constantly being victimized by fleas will develop anemia.

For many years now, Pro Active Pest Control has proudly assisted residential and commercial customers in the local Lincoln community plagued by pest-related concerns involving fleas, ants, rodents, bed bugs, and many other troublesome critters. Our commitment to using an Integrated Pest Management (IPM) approach allows us to offer customized solutions tailored to the circumstances. We encourage you to speak with one of our friendly professionals regarding how we can keep your property pest-free.
How Flea Infestations Start
Fleas will feed on the blood of cats, dogs, and many other types of wild animals. Pets can encounter fleas when outdoors and then carry them back indoors within their fur. There is a common misconception that homes without pets will not develop problems with fleas. Fleas can enter a home within the clothing of those who are returning from the outdoors. Fleas or their eggs could also exist within second-hand clothing, rugs, or furniture that is brought indoors. Fleas can lay more than a dozen eggs at a time and hundreds over their lifetime, meaning that intrusions can quickly get out of control.
Best Methods Of Prevention
Our team has some tips to help you avoid getting a flea infestation:
After spending time outdoors, closely inspect your clothing and your pet's coat for any fleas before reentering the home.

Pets should be on a preventative treatment plan that prevents fleas and ticks under the care of a veterinarian and should also be regularly bathed and brushed.

Regularly vacuum the carpets and other upholstered items, and dispose of the vacuum bags in a sealed trash container.

Wash bed beds regularly with soap and water.

Remove bird feeders, birdbaths, and other objects that may attract animals to your yard.
Is It Time To Speak With A Professional Pest Controller?
Too many property owners fail to realize how a slight problem with fleas can quickly become a full-blown infestation that poses major health risks. Others will purchase treatment options that are cleverly promoted using embellished claims of being a quick and easy solution. Unfortunately, many of these sprays, traps and baiting systems prove ineffective against more extensive pest intrusions and might contain harsh chemical formulas.

When you consult with a licensed pest control professional, they will thoroughly inspect the property to determine the best treatment options. A professional will also conduct a prompt follow-up to ensure the treatment was successful.
Licensed Provider Of Pest Extermination Services In Lincoln
Did you know that the team of experts with Pro Active Pest Control is equipped with many of the latest products available in the industry today? We now use many natural and organic formulas that have been recommended by many of the organizations at the forefront of the pest-control market, such as the National Pest Management Association (NPMA) and others that provide education and conduct research regarding product safety. Our technicians strive to ensure that we operate in a manner that protects our customer, their pets, and the local ecosystem. Contact our office today to schedule an onsite inspection and receive a no-obligation estimate.