Does your home have an active termite infestation? If you don't know how to identify these invasive pests, this question might be hard to answer. In order to spot termites, you have to know what they look like, what signs they leave behind, and how to find them in the first place. This is not an easy task. If you are up for a challenge, here is how to identify termites on your Gilbert property. If you know you have an active problem, do not hesitate to call the professionals at Pro Active Pest Control. We will schedule your home for an appointment and find a quick solution to your infestation.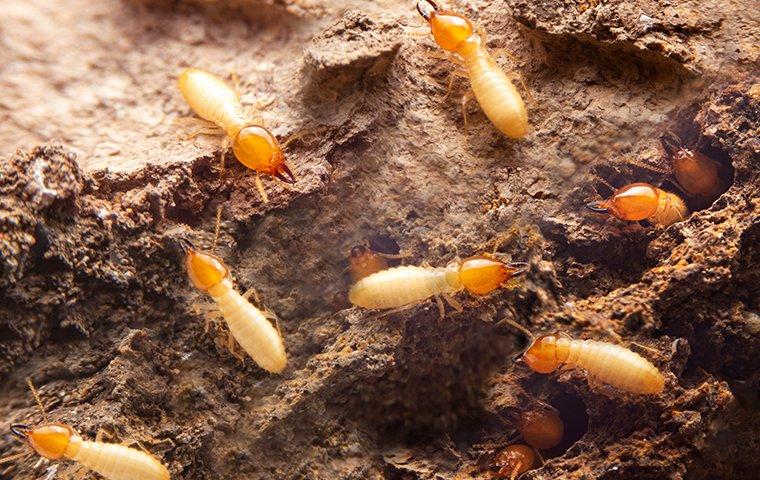 How To Identify Termite Damage
Termite damage appears after termites have had time to chew into a wooden structure. When these pests first start nibbling on a home, the damage they cause is not obvious. As time progresses, however, infested wood becomes hollow and takes on water damage from the moisture that termites spread. This water damage causes windows and doors to swell, making them harder to open, damages floor boards to the point that they begin to squeak and move, and causes wallpaper, paint, and drywall to become discolored and even saggy. If you do not see any of these signs of termites indoors, it does not mean you do not have an active problem. We recommend scheduling your home for an annual wood-destroying insect evaluation. We offer this service at Pro Active Pest Control.
Why Termites Infest And Destroy Wooden Structures
A termite's main job is to turn old wood into fertile dirt. In nature, these pests chew on fallen trees, dead stumps, and other cellulose-based items until they are fully returned to the earth. The problem comes when termites deem homes as "old wood" and take it upon themselves to return them to the ground. The most common termite species in our area, subterranean termites, typically infest wood that is water-damaged, rotting, or in decay. If your home's wood is affected in these ways, have it repaired and schedule a termite inspection. This is one of the best ways to avoid future problems with these destructive pests.
Factors That Attract Termites To Your Home
Although termites do eat homes, they don't always invade properties with this intention. Often termites find small tasty treats before identifying a man-made structure as a food source. Here is a short list of tasty items that might attract termites to your property.
Leaf litter
Sticks
Stumps
Fallen trees
Cardboard
Newspapers
Untreated lumber
Firewood piles
Buried wood
In order to avoid a termite infestation, you need to remove as many of these items from your property as possible. The fewer reasons these wood-destroying insects have to settle near your home, the less of a chance there will be of you finding them indoors. For more help deterring termites, get a pest control professional involved.
The Best Thing To Do If You Spot Signs Of Termite Damage
Once termites get into your home, there is not much you can do to stop them—at least not on your own. By partnering with the experts at Pro Active Pest Control, you gain access to years of training and advanced termite control strategies. We would be happy to identify a problem inside your home and suggest some short and long-term strategies to deal with these destructive insects. We will make sure you and your property are well taken care of and that termites get the boot.
Call today and schedule a termite control visit for your home. We will talk you through what pest control in Gilbert looks like and make sure you get the best results possible.