Fleas are not just a danger to your furry friends; they can become a very dangerous pest for you and your entire family, as well. While you may be most worried about the itching associated with flea bites, fleas are also known to transmit many diseases to both humans and pets. Fleas have been known to spread murine typhus, tularemia, bartonellosis, tapeworm, and even plague. Learn how to spot the signs of fleas in your home and how to prevent or manage a flea infestation.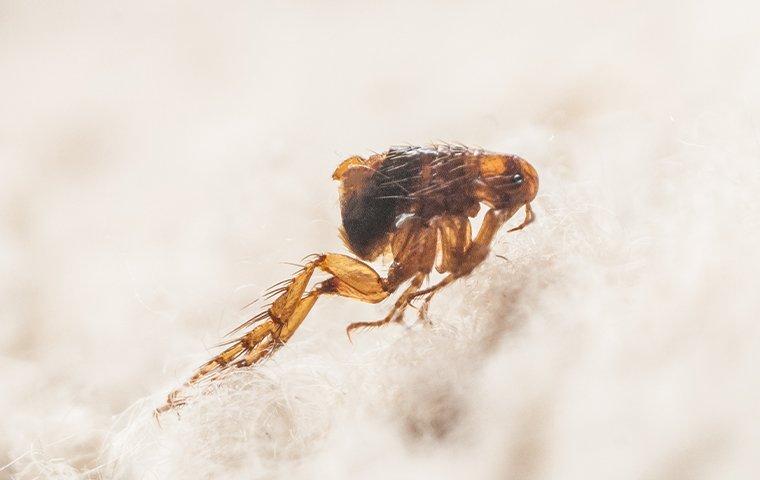 How To Identify Fleas
You might wonder how to distinguish fleas from other tiny pests that might look similar. You will likely see a number of signs to help you identify fleas in your Elk Grove home. At Pro Active Pest Control, our experts can quickly and easily identify your pests and create pest control treatment plans to rid your space of pests for good.
Some signs that you have fleas in your home may include:
Small, red bites, particularly around the feet, ankles, calves, or shins will be noticeable on humans.
You might spot fleas themselves, looking like small black dots, leaping in the carpet or from soft surfaces.
Try wearing clean white socks (it is best to use high socks to prevent bites) and shuffling across your carpet; if you have fleas they will likely become visible on your socks.
If you have pets, you may notice that they are restless and frequently scratching. They are not likely able to rest for long periods and seem restless when trying to sleep.
How Fleas Get Into Your Home
There are a number of ways that fleas may come into your Elk Grove home. Most frequently, fleas will come into your home by hitching a ride on infected animals, such as your household pets, like cats and dogs. Make sure your domestic pets are up-to-date on all flea and tick medications, whether it is a treatment applied to the neck, an oral medication, or a medicated collar. No matter the method, be sure they are always on schedule. Ask your veterinarian if you have any specific questions regarding their care.
DIY Flea Control Tips
If you want to try to attempt to prevent fleas in your home, there are a few tips you can try in order to stop fleas from becoming a problem in the first place. In addition to year-round flea prevention for your pets, you can also frequently vacuum any carpeted spaces to prevent any laid eggs from continuing on to a hatching phase. Additionally, wash all upholstery and carpets with a steam cleaner, and launder pet bedding regularly on high heat. If you already have an infestation, we highly recommend that you reach out to the professionals. At Pro Active Pest Control, we can create a plan tailored to your precise needs and rid your home of fleas for the long run.
How To Completely Get Rid Of Fleas
Ultimately, the only way to be sure you eliminate fleas completely is to trust the professionals. In order to fully rid your Elk Grove home of fleas, as well as pests of any kind, Pro Active Pest Control can create comprehensive treatment plans catered to your unique needs. Our experts will inspect your property inside and out to discover the extent of your infestation, as well as search for any other pests that may be residing on your property. From there, our professional technicians will create a comprehensive treatment plan to quickly and effectively get rid of all fleas and their eggs. The total pest control care of our experts at Pro Active Pest Control doesn't stop there. We will continue checking in with routine follow-up visits to be sure your Elk Grove home is pest-free for a long time to come.