Trust The Professionals At Pro Active Pest Control To Protect Your Arden-Arcade, CA Property From Pests
To help protect your Arden-Arcade home or business from the insects, rodents, and other pests that also choose to call Sacramento County, California, their home, partner with the local pest control experts at Pro Active Pest Control. We have the experience needed to protect homes and businesses from pests through our eco-friendly, guaranteed, year-round residential and commercial pest control programs.
At Pro Active, we are committed to only using pest control solutions that are safe for your family, your pets, and your home. To learn more about protecting your Arden-Arcade home or business from the dangers and damage that pests can impose, reach out to Pro Active Pest Control.
Complete Pest Control Solutions In Arden-Arcade, CA
There are a number of pests that call Arden-Arcade home. The pest control experts at Pro Active Pest Control have developed several services to help you eliminate and control pests such as ants, fleas, occasional invades, rodents, spiders & stinging insects. Give us a call today for a free quote!
Residential Pest Control In Arden-Arcade, CA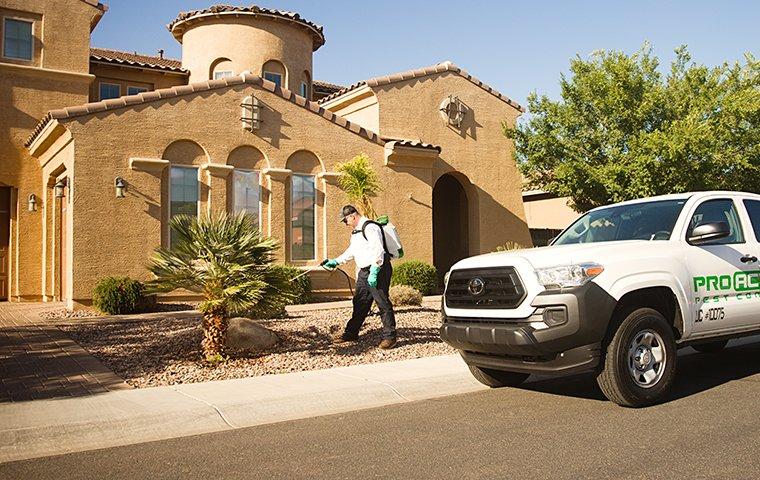 Protect your Arden-Arcade home, family, and pets from local, invasive pests by putting a year-round pest protection plan in place. The experienced professionals at Pro Active Pest Control can help!
Some of the many benefits of choosing us to keep pests out of your home throughout the entire year include:
Eco-friendly and green pest control services.

100% guaranteed year-round programs.

State-certified rodent and pest specialists.

We treat each of our customers like they are an extension of our own family.
To control pests and keep them out of Arden-Arcade homes, we offer 3 different plan options:
Monthly Service (12 schedule exterior treatments).

Bi-Monthly Service (6 scheduled exterior treatments).

Quarterly Service (4 scheduled exterior treatments).
No matter which plan you choose, you can be sure that you will receive our 100% service guarantee and coverage against more than 20 pests. These year-round plans also provide exterior spider de-webbing, plus interior and garage treatments and rodent control on an as needed basis.
To get details about each of our year-round residential pest control options, reach out to us at Pro Active Pest Control and speak with one of our helpful experts. We are here to help!
Problems Roof Rats Cause In Arden-Arcade, CA
Roof rats are a common pest problem for property owners in the Sacramento area. Their small, thin body frame provides them with agility and great climbing skills. These rats typically enter homes and other buildings through openings found on or along the roof. They climb trees, downspouts, and utility poles to gain access to homes.
Once inside these rats take up residence inside chimneys, attic spaces, or in spaces behind walls. Once inside, roof rats can create a whole host of problems for you and your family.
Some of those problems include:
Damage to the structure of your home from chewing through flooring, drywall, and insulation.

Causing fires and water damage by gnawing through wires and plumbing pipes.

Introducing bacteria, disease, and parasites into your home.

Contaminating your family's food, food prep areas, and other surfaces of your home with their urine, feces, and saliva.

Causing physical harm, as they may bite or scratch when trapped or if feeling threatened.
If you are experiencing problems with roof rats inside your Arden-Arcade home, the easiest way to get rid of them is to contact the rodent control professionals found at Pro Active Pest Control. Our rodent control services include identification, the blocking of entry points, sanitation, and attic clean-up services.
Contact us to learn how we can solve your home's rodent problems once and for all.
Commercial Pest Control In Arden-Arcade, CA
Working with a professional, licensed pest control company to protect your Arden-Arcade business from pests is vital to your business's bottom line, to the health and safety of your employees, and to protect its reputation. A business whose reputation has not been harmed by pests will keep their current customers returning and will enjoy a steady stream of new customers.
By partnering with Pro Active Pest Control you can have peace of mind, knowing we will supply your business with a long-term solution against pest problems. We offer customized green pest control solutions that are guaranteed to meet your business's unique requirements.
Our eco-friendly commercial pest control services include:
Services performed by highly-trained, state-certified, friendly professionals, a 100% Pest-Free Guarantee, and exceptional customer services.

Integrated Pest Management to control and eliminate pest populations in and around your commercial facility, requiring only minimal amounts of pesticide use.
Give us a call today to learn more about working together to maintain a pest-free environment inside of your Arden-Arcade commercial property.
Are Wolf Spiders In Arden-Arcade, CA Dangerous
The short answer to the question of whether or not wolf spiders living in Arden-Arcade are dangerous, is no. Wolf spiders pose no danger to people and, unless they are being directly handled, there is very little chance you will receive a bite. Even if a bite occurs, their venom is not strong enough to cause any problems in most people.
However, just because wolf spiders aren't dangerous, that doesn't mean you should be okay with these pests taking up residence near or inside your home. Their presence is a good indicator that, along with a spider problem, you probably have large populations of insects living in and around your home.
The best solution to eliminate wolf spiders and the insects they are feeding on is to secure a year-round pest control program from the experts at Pro Active Pest Control. Year-round pest protection works to eliminate current problems you may be experiencing with wolf spiders and other pests. Additionally, it will provide the routine services needed to prevent their return.
If you are currently experiencing problems with large, hairy wolf spiders on your property, call Pro Active Pest Control. We will get started right away implementing a long-term solution to your problem!
Neighborhoods We Service
Anna Bell| Alta Gardens Condominiums | Arden Acres | Arden Estates | Arden Glen | Arden Hood Condominiums | Arden Manor | Arden Oaks | Arden Park Vista | Arden Square | Arden Town | Bell Executive Plaza | Belmont | Beverly Terrace | Carro Village Townhouses | Clairidge Oak | Country Club Vista | Cypress Manor | Del Norte Oaks | Del Paso Manor | Edison Park | Engle Villa | Highland Oaks | Hurley Estates | Hurley Place | Laruel Hurst | Marilyn Gardens | New Broadmoor Estates | Parkland Estates | Park Ridge Estates | Penland Park | Pierce-taber | Rio Del Oro | Rio Tinto Acres | Rolling Meadows | Sierra Oaks Vista | Sierra View | Thornwood Estates | Thornwood Terrace | Timberlake Condominiums | Trimble Orchard | Village | Villaggio | Vista Del Verde | Watt Avenue Gardens | Whitney Acres | Wilhaggin | Wilhaggin Bluffs | Wilhaggin Lake Estates | Willara Estates | Wyda Woods


Included Zip Codes
95821 | 95825 | 95841 | 95860 | 95864 | 95865 | 95866
Request Your Free Quote
Complete the form below to schedule your no obligation quote.
Latest Blog Articles
Stay informed about pests and pest related issues in our area!