Trust The Professionals At Pro Active Pest Control To Protect Your Apache Junction, AZ Property From Pests
Apache Junction is a historic scenic community best known for its location forming the junction of the Apache Trail and the Old West Highway. Unfortunately, the beautiful landscape that surrounds Apache Junction doesn't only attract people, but many insects, rodents, and other pests as well.
To prevent your Apache Junction home or business from being invaded by dangerous and destructive pests, partner with the area's local pest control experts at Pro Active Pest Control. We are a family-owned company committed to providing our customers with industry-leading pest control services needed to keep their residential or commercial property free of all the pests that call Arizona home. Give us a call today and find out how we can protect your property from pests!
Residential Pest Control In Apache Junction, AZ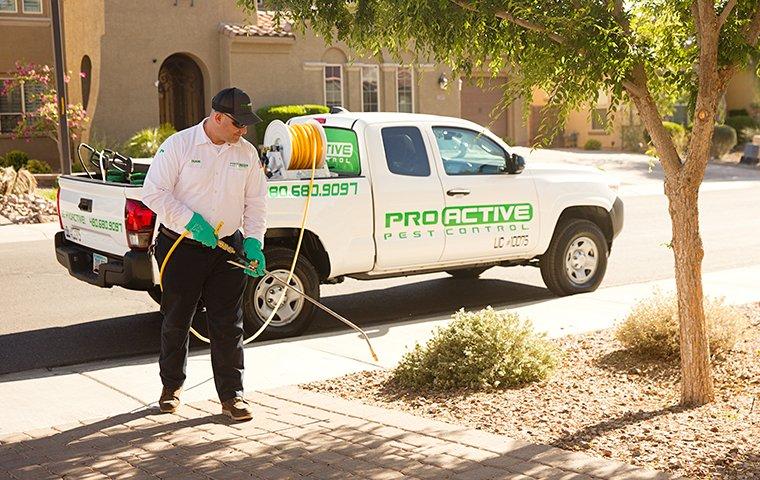 Apache Junction is home to numerous pests, including rodents, spiders, roaches, ants, and more. Each one of these pests can be a disturbing and destructive force in your home, and each of them is looking to get inside.
Luckily, no matter what pest you're up against, Pro Active has the tools to make it disappear. We offer bi-monthly or quarterly service plan options, and exterior services, to meet all your general pest control needs. Protect your home and family with green pest control services specifically designed to accommodate your home's unique needs.
All residential pest control treatments from Pro Active Pest Control include:
Exterior inspection and elimination of spiders, spider webs, and wasp nests
Foundation treatment to create a protective barrier around the home against pest infestation
Application of a seasonal pest treatment in the areas of your yard where pests are likely to live or hide
After our initial visit, we'll discuss your options moving forward, including repeating quarterly or bi-monthly treatments designed to create a lasting barrier against pests in the future. Don't leave your home and family at risk for the problems pests bring: give Pro Active a call today and schedule an inspection!
Commercial Pest Control In Apache Junction, AZ
As a business owner, you know that there are a number of challenges you have to face every day just to keep things running smoothly. The last thing you need are pests scurrying around ruining inventory, spreading disease, and scaring customers away - often for good.
Let Pro Active Pest Control take care of your commercial pest control needs so that you can focus on running your business. As our name illustrates, we emphasize using proactive prevention techniques to not only remove existing pests from your business but keep them from coming back using Integrated Pest Management (IPM) practices. We treat the environment, not just pests.
The commercial pest control experts at Pro Active have experience protecting businesses across a wide range of industries, including office buildings, warehouses, retail stores, daycare centers, and more. To learn more about our commercial pest control solutions, reach out to Pro Active Pest Control today!
Guide To Avoiding Ants In Apache Junction, AZ
Ants are almost unavoidable in the spring and summertime, making them a problematic pest to avoid because our homes and yards offer them everything they need to survive. Once they get into your yard, it's only a matter of time before they find their way into your home in search of food, water, and (worst case scenario) a new home.
Don't let ants colonize your home. Follow these helpful steps to deter them:
Remove any excess moisture or water sources by maintaining gutters and fixing leaky pipes
Keep tight-fitting lids on trash cans and compost bins
Clean up any spilled food or drinks immediately
Do not leave dirty dishes in the sink
Store all food (including pet food) in sealed airtight containers
Remove fallen trees, stumps, and other debris from your yard
Maintain at least 12 inches between the foundation and any mulch or soil
Seal any cracks in the foundation and exterior walls of your home
Install screens on exterior windows and doors
If prevention fails and ants invade, don't fret: just call us immediately for help. Contact us today and find out more about how Pro Active Pest Control protects homes and businesses across Arizona from ants.
Common Rodent Invaders In Apache Junction, AZ
Rodents are one of the most common pest problems Apache Junction homeowners come up against. Unfortunately, they're also among the worst, bringing disease and parasites inside while leaving a trail of destruction anywhere they go.
Two of the most common rodent invaders in Arizona are the field mouse and the roof rat. The roof rat is significantly larger than the field mouse, and is quite adept at climbing, leading it to wreak havoc in attics. However, while field mice are physically smaller, the problems they bring are no less destructive and dangerous. Both types of rodents are constantly gnawing holes in your home and leaving droppings throughout it, leading to serious damage over time.
The best way to prevent problems with mice and rats in your Apache Junction home or business is through a year-round pest prevention plan from Pro Active Pest Control. These plans will not only remove your current rodent problem but also provide your home with routine services and exclusion measures that keep them from returning. To learn more about our rodent control service, get in touch with our friendly experts today!
Neighborhoods We Service
Apache Village | Cimmarron at Superstition | Cortez Ranch | Desert Harbor| Desert Village | Dolce Vita | Dutchman Park | East Junction Street | E Junction | Foothill | Goldfield | Ironwood | Jacob's Ranch | Lamplighter Mobile Village | Crescent Village | Downtown | Festival Celebration | Fonte al Sol | Galveston Neighborhood | Golden Key East | Grand Reserve | Heatherbook | Meridian North | Palmas Del Sol | Roundup | Royal Palm | Saguaro Canyon Village | San Marcos | Sierra Del Saguaro | Sonoma Valley | Sunrise Canyon | Superstition Mountain | Thunderbird Dr | Tomahawk | Tonto Forest Estates | W Superstition Blvd
Included Zip Codes
85118 | 85119 | 85120
Request Your Free Quote
Complete the form below to schedule your no obligation quote.
Latest Blog Articles
Stay informed about pests and pest related issues in our area!