Trust The Professionals At Pro Active Pest Control To Protect Your Antelope, CA Property From Pests
To keep your Antelope, California home or business protected from insects and rodents found throughout Northern California, turn to the pest control experts at Pro Active Pest Control. We provide eco-friendly, modern, affordable pest control solutions that are guaranteed to keep pests out of any home or business. Protect your Antelope residential or commercial property from pests with the help of our local, family-owned company. Reach out and speak with one of our knowledgeable professionals today.
Complete Pest Control Solutions In Antelope, CA
There are a number of pests that call Antelope home. The pest control experts at Pro Active Pest Control have developed several services to help you eliminate and control pests such as ants, fleas, occasional invades, rodents, spiders & stinging insects. Give us a call today for a free quote!
Residential Pest Control In Antelope, CA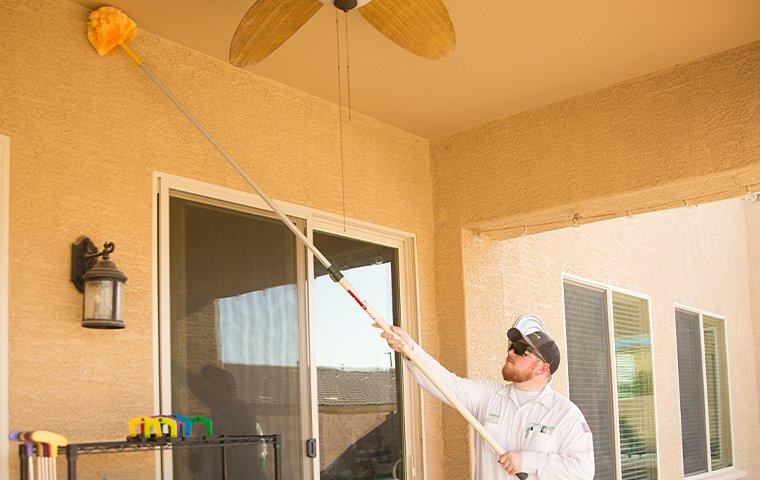 To keep your Northern California home free of problematic pests like ants, spiders, fleas, mice, centipedes, and wasps, implement a year-round pest protection plan to eliminate current pest problems and keep future infestations from plaguing you and your family. At Pro Active, we offer three different year-round pest control plans, allowing each of our customers to choose a plan that is a perfect fit for their unique household. Our most popular plan is our Bi-Monthly Service. It offers 6 scheduled exterior treatments, coverage against more than 20 pests, a 100% service guarantee, exterior spider de-webbing, interior and garage treatments (as needed) and rodent control. To learn more about this program or any of our other quality options, contact Pro Active Pest Control today. We would love to help you protect your family and property from invasive Northern California pests!
Guide To Preventing Field Mice In Antelope, CA
As their name suggests, field mice are most likely to be found outside in fields, but they can also be found on farmland, in tall grasses, and in dense vegetation. Like most rodent species, they will take any opportunity to find their way into a home to build a nest and have easy access to food sources. To help prevent these small, pointy-eared mice from getting into your Antelope home, here are some easy-to-execute prevention tips:
Make sure your lawn is well-maintained and cut short.

Remove overgrown vegetation from your property line.

Trim overgrown bushes and shrubs from your foundation.

Place mesh screens over vents entering into your home.

Make sure weather stripping is placed around doors and windows.

Place a tight-fitting cap on all chimneys.

Repair loose or missing roof shingles, holes along the roofline, or holes at roof intersections.

Install door sweeps under exterior doors, paying special attention to basement doors.

Seal any cracks and crevices found in the foundation of your home.
If you notice that field mice have become an issue on your property or have found their way into your Antelope home, give Pro Active Pest Control a call right away. We can provide the inspection, treatment, and preventative services needed to exclude these pests from your home as soon as possible!
Commercial Pest Control In Antelope, CA
The professionals at Pro Active Pest Control are trained and ready to protect your Antelope business from pests that can spread disease, damage your facility and equipment, and prevent customers from returning. At Pro Active, we offer guaranteed, customized green pest control solutions that will meet the unique needs of your commercial property. More benefits to choosing us for your commercial pest control needs include:
We set the needs of people and the environment as our #1 priority.

We protect a wide variety of industries from pests.

We use IPM techniques. These allow us to use fewer pesticides while still providing long-lasting results.

We have a 100% service guarantee to give you the peace of mind to know that your commercial buildings will become and stay pest free.
To learn more about implementing a commercial pest control plan into your Antelope business from the pest experts at Pro Active Pest Control, get in touch with us today.
Are Earwigs In Antelope, CA Dangerous?
Earwigs, while a bit unnerving to see scurrying across your bathroom, basement, or kitchen floor, are not dangerous pests. These nuisance insects are moisture-seeking pests that get inside homes and other buildings to take up residence in damp dark areas. Earwigs have long flat bodies and are reddish brown in color. They have pincer-like appendages called "cerci" that extend off of their abdomen. The pincers are what often lead people to believe that they pose a danger. The good news is the pincers are used to defend themselves from each other and are not strong enough to cause harm or serious pain to people. Earwigs, while not dangerous, are a nuisance to have in your home. To prevent problems with these and other household-invading pests, it is a good idea to implement a year-round home pest control plan. Through year-round pest control, our professionals can quickly eliminate earwigs and keep them out. To learn more about how we can work together to control and prevent problems with earwigs in your Antelope home, give us a call today.
Neighborhoods We Service
Antelope Estates | Antelope Glen | Antelope Heights | Antelope Highlands | Antelope Highlands Villas | Antelope Parkside | Antelope Pointe | Antelope Ranch | Antelope Ridge | Antelope Run | Antelope Station | Antelope Trails | Avonlea Estates | Barrett Ranch West | Brentwood | California Homestead | Carriage Oaks | Cottages At Antelope Park | Deer Park | Driver Ranch | East Antelope Orchard | East Antelope Woods | East Antelope Woods North | Falcons View | Gibson Ranch Estates | Highland Estates | Highland Greens | Highland Hill | Highland Manor | Larchmont Antelope Creek | Live Oak | Midtown Village | North Country | North Country Village | North Country Vista Condos | North Park Country | Oak Ridge | Old Downing Place | Orchard Woods | Parkview | Pearl Heights | Quail Park | Rapozo Court | Roland Downs | Tiffany Park | Tolman Acres | Westwood Village Condos | Winje Estates | Woodcreek Crossing


Included Zip Codes
95621 | 95842| 95843
Request Your Free Quote
Complete the form below to schedule your no obligation quote.
Latest Blog Articles
Stay informed about pests and pest related issues in our area!